Leila vs. The Bull Ride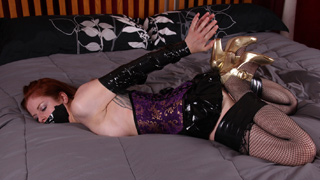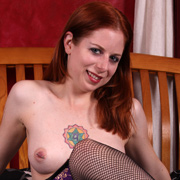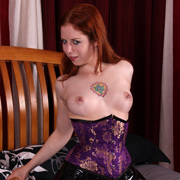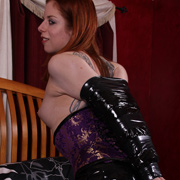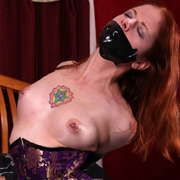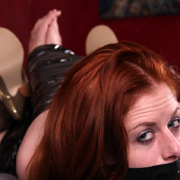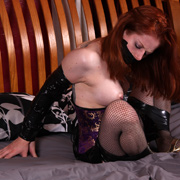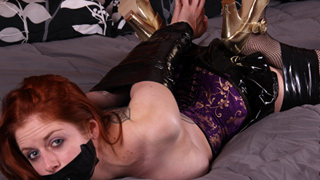 I had a surprise for Leila but first things first. I needed her bound tight, especially those elbows. They are first wrapped in several layers of pallet wrap before squeezed together with electrical tape. Her legs are frogtied with more tape leaving her quite helpless on the bed. As she struggles to get free, I pull out my new Orgasmatron and toss it on the bed. It bucks around the bed like a bull, putting any Hitachi to shame in power. Even in her helpless position, Leila tries to wrestle it under control. If she can do it, she's in for one hell of a ride... and orgasm!

Hana vs. The Light Touch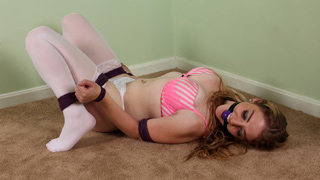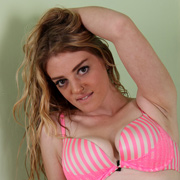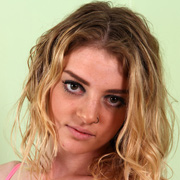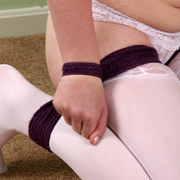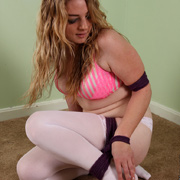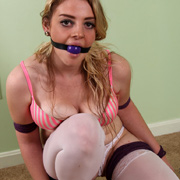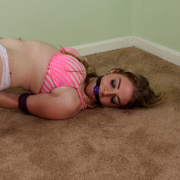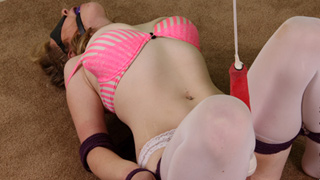 Having never been tied up before I started her off simple with a wrist to frogtie tie with a slight elbow cinch. Hana fights the ropes for a while and it's obvious that she's enjoying herself. Taking things up a notch, I bring out a Magic Wand and suspend it right above her forcing her to raise her hips in the air if she wants to feel anything. In Hana's awkward position however, the vibe only lightly brushes against her sensitive pussy seemingly building more frustration than orgasm. Somehow I doubt she is going to take no, that is, no orgasm for an answer!

Hannah vs. Red & Black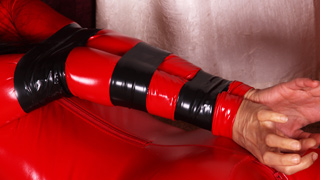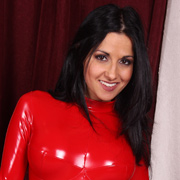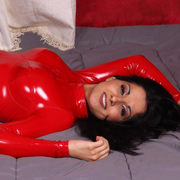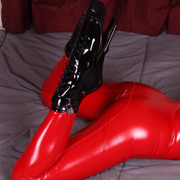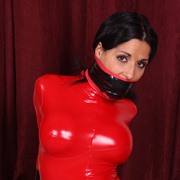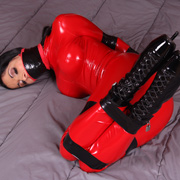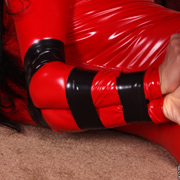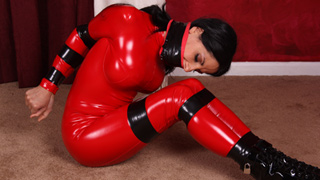 There's something incredibly sexy about catsuits and ballet boots. That goes double with a girl like Hannah who can fill out every curve perfectly. Folding up some of her panties, I stuff them into her mouth wrapped vetwrap and electrical tape. With her well gagged her arms are next; the tape stretching and cinching her elbows tightly together. Hannah squirms on the floor hoping for a weak spot but the tape is too strong. Tossing a roll in my hand I can't help but wonder, is there such a thing as too much tape? Hannah's about to find out!

Cali vs. Tethered Troubles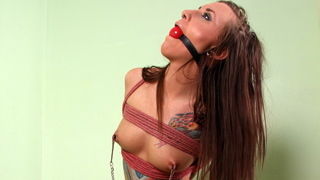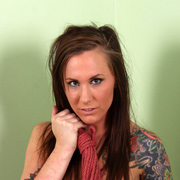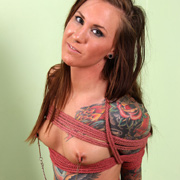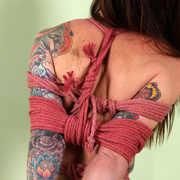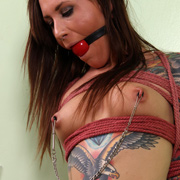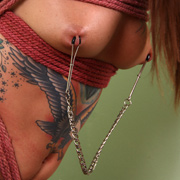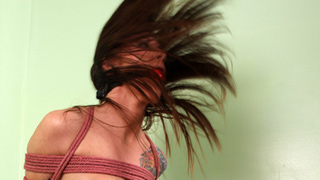 As soon as Cali walked through my door I couldn't wait to get her sexy body in ropes. I started by tightly tying her elbows and wrists behind her before I move on to her crotch rope. With a strong eyebolt in the floor I cinch her crotchrope tight leaving her helpless in the corner. Last, a big red ball gag and nipple clamps on her perfect tits complete her predicament. Cali seems like a strong and determined girl, I wonder if a crotch rope tether will keep her tame?

Nyxon vs. The Opposing Ropes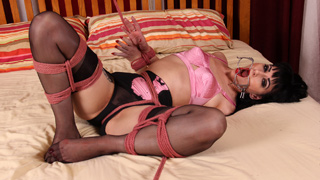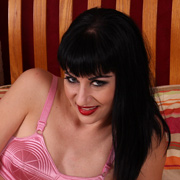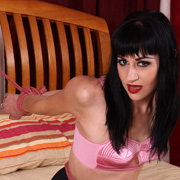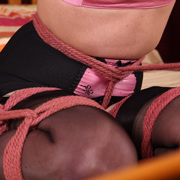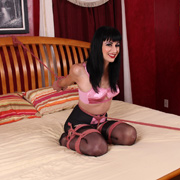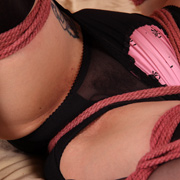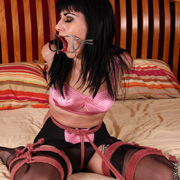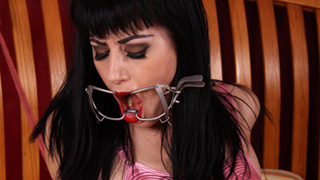 Choice is a funny thing and almost your worst enemy at times. For Nyxon there were only two. Pull her arms higher into a strappado or tighten her crotch rope. The knots seemingly miles out of reach she can't help but struggle to find a comfortable position. When a dental gag is added Nyxon's mouth is spread wide open and helpless. As her luck would have it, she is faced with new choices. Drool, or not the drool?