Miss Crash vs. The Couch Spread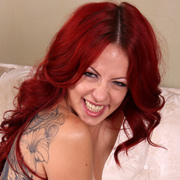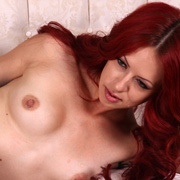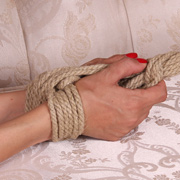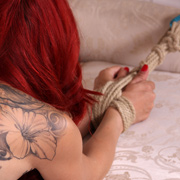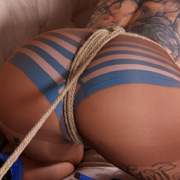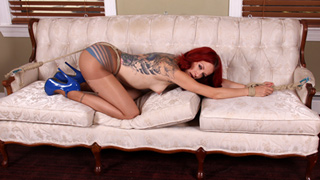 When you discover your girl has an love of crotch ropes, well, you give her a crotch rope! I rigged her up with a tight one and tied it off to one side of the couch while tying off her wrists to the other. Crash is going nowhere which is just the way she wants it. As she struggles I can't help myself but to add more ropes leaving her whole body wide open. As if her crotch rope wasn't pulled tight enough already by now I really get her jumping with some tickling. In the end I leave her to molest her crotch rope which Crash is all too happy to do!

Ariel vs. The Simple Tie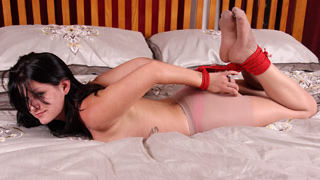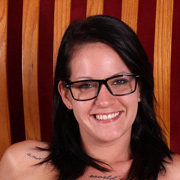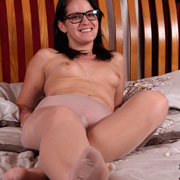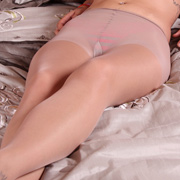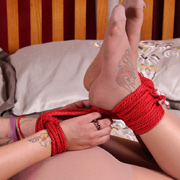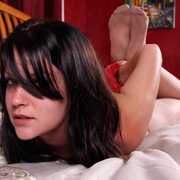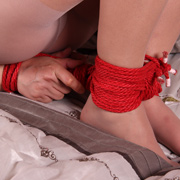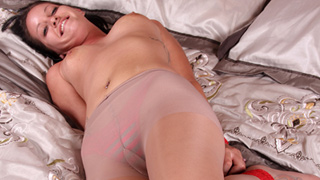 Everyone has to start somewhere and lucky for me I got to be the first to tie up Ariel. Poor girl had never even had a pair of handcuffs put on her wrists! With her only wearing pantyhose and panties I use a single red rope to hogtie her on the bed. I let her struggle for a bit and put on a nice show until it was time for the ballgag. The helplessness of her situation was really sinking in now but deep down I don't think it mattered. She was having too much damn fun.

Dixie Comet vs. Her Naughty Trick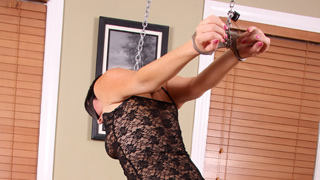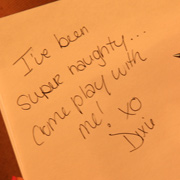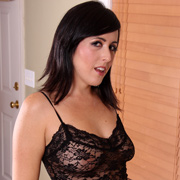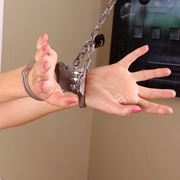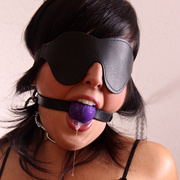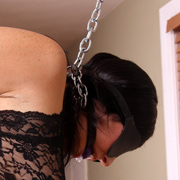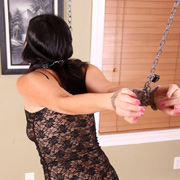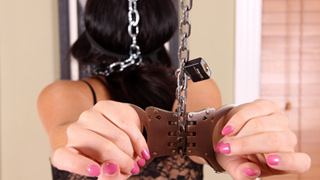 Even the best of us can get tricked, but that's not always a bad thing as I found out. With the intention of getting me out of the house, Dixie asked if I could grab a few things from the store. No sooner was I out the door when she sprang into action and did a damn fine job of getting herself stuck. Pleasantly surprised when I returned I hoisted her arms into a strappado leaving her drooling profusely. Playtime is no fun without toys though so before I undo her chains I give her a magic wand to play with. It's not long before Dixie uses the chain around her neck to her advantage as she brings herself to a massive orgasm!

Leila vs. The Chain Prayer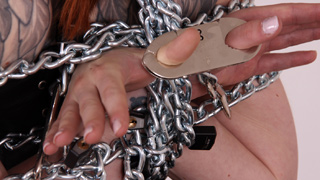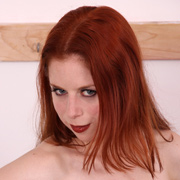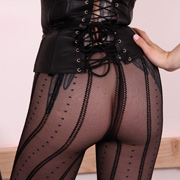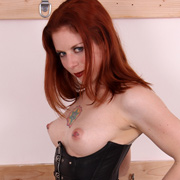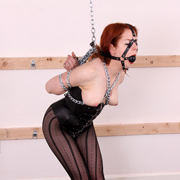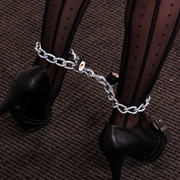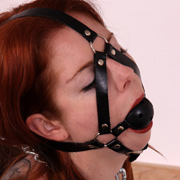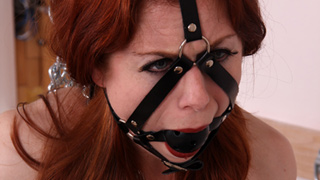 So what do you get when you mix a redhead yoga girl and a bunch of chain? Well in my case I went for broke and put Leila in a chained reverse prayer peppered with padlocks. Escape but a distant dream which is squashed when I ratchet on her thumbcuffs. A wiffle ball trainer gag leaves her drooling and moaning while attached to the ceiling with more chain. As she struggles helplessly I tempt her with a pole mounted vibrator and throw in a pair of nipple clamps free of charge. With Leila's nipple clamps tethered to the pole I'm left with one question. When will she realize that she can't back off the vibrator without pulling off the clamps?92

Harmony vs. The Chain Jacket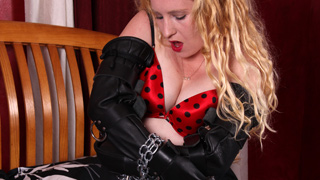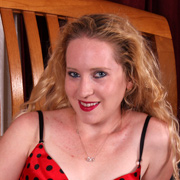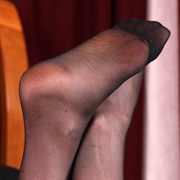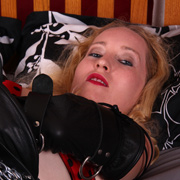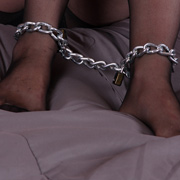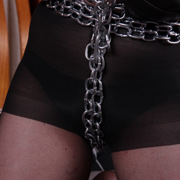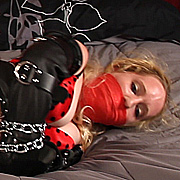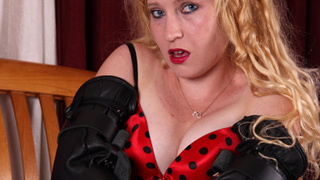 It has been a while since I last had Harmony over and she was hungry for a challenge. Inescapable was that word I she used and took a fancy to one of my straightjackets. With a knowing grin I lace her into a pair of armbinders, cross them in front and hold them in place with heavy chain. Several meters of chain are added around her waist, between her legs, and locked tightly in place. Locking a final chain between her legs I give her some time to test things out. Right away she notices the effect each pull of her arms has on her crotch chain. That's my queue to add a vetwrap and panty gag and let the fun begin.