Summer vs. Her Crotchrope Tether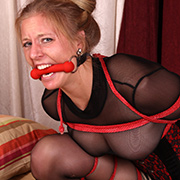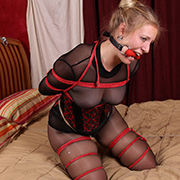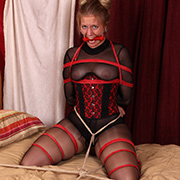 Red rope encircles Summers body and highlighted by her sheer black pantyhose and leotard. A red bit gag would normally be the final touch but I have a special treat for her today. Since there is no plan to release her anytime soon it's only fair to keep her entertained. The rope is cinched tight to the bed leaving a center knot. Perfect for anchoring a crotchrope. With just enough slack to tease her, Summer tries her best to escape but is only rewarded with sharp yanks of her crotchrope. I'm certain it will be plenty to keep her entertained for a few hours.

Summer vs. A Minor Tilt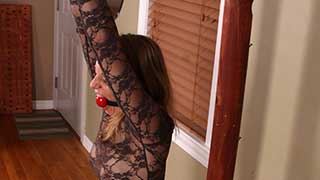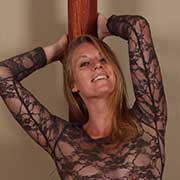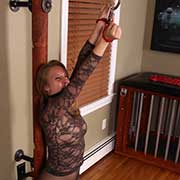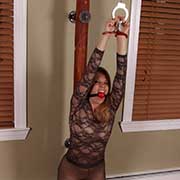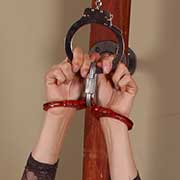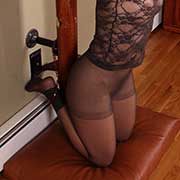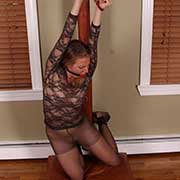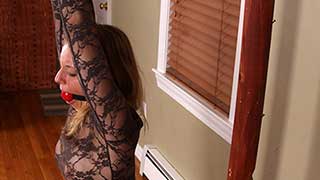 Summer knows all too well by now that the easier the bondage seems the worse it will be for her. With only a pair of leg and handcuffs use Summer's prediction comes to fruition sooner than she hoped. While her leg cuffs keep her on her knees she's forced to keep balance with her handcuffed hands above. The padding below her only providing a minimal amount of comfort. Just as he starts to feel the worst is over her handcuffs are reconnected to a ring slightly in front of her. A casual look and nothing much has changed but to Summer, everything has. Unable to support herself against the post behind her whole body is enlisted to keep herself steady now. The brunt of her efforts and weight being supported by her delicate wrists.

Summer vs. Bondage Bait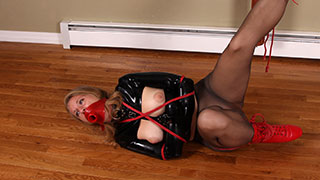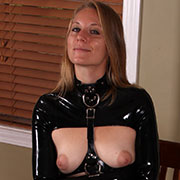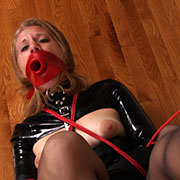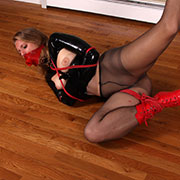 Struggling in her straitjacket, pantyhose, and ballet boots Summer looks as sexy as ever. More importantly, she has no chance of escaping, her inability to stand in her boots limiting her movement. Given such a helpless subject one has to wonder what you can capture with such tasty bait. Using a rope to frogtie one of her legs, another strings her other leg high in the air. Still helpless in her straitjacket there's no hope for escape now. Dangling on the end of a string and twisting under its hold one has to hope, will her friends come to help? My ropes will be ready if they do.

Summer vs. Her Rainbow Wrap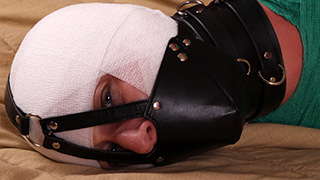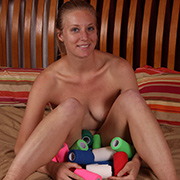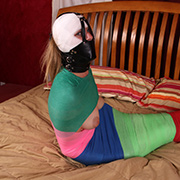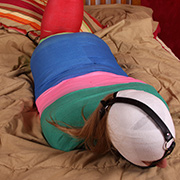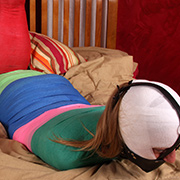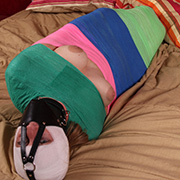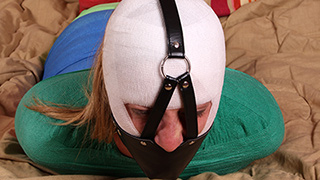 For Summer's inaugural mummification I thought it would be nice to add some flair. Having boxes of vetwrap handy in a rainbow of colors the choice was obvious. Summer didn't seem to appreciate the effort that went into her bindings. With her head wrapped and a muzzle gag over her mouth, her musings were not exactly intelligible. Nevertheless, the sounds of struggle are universal even behind a gag. It didn't take long for her to figure out what makes vetwrap so special. Despite all her effort in trying to get free the wrap bounces back without losing a fraction of tightness. Another special properly is with enough heat and sweat the layers start to fuse together making them stronger than over. Poor Summer thinks she's attempting to free herself but only making things worse.

Summer vs. Stocks and Boots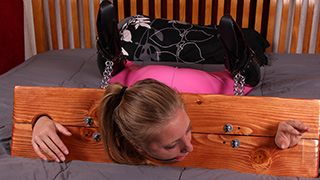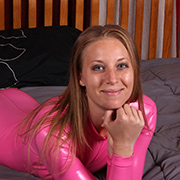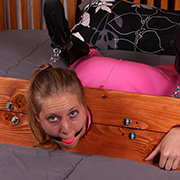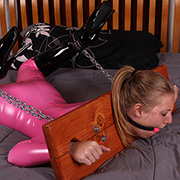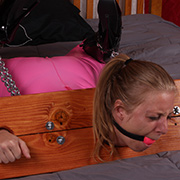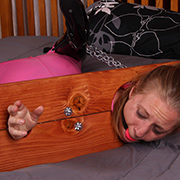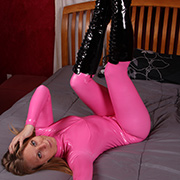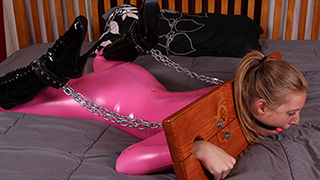 Summer wasn't under any illusion that she would be getting free anytime soon. Looking pretty in her catsuit already a few accessories will bring her over the top. Wooden stocks, ballet boots, chains, and a matching ball gag. Just the basics really. With just a handful of items, you wouldn't think Summer would complain so much. Something about not being able to move at all. She doesn't give up despite the long odds against her escape.