Naomi vs. Her Simple Task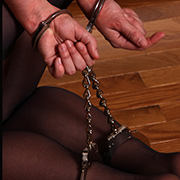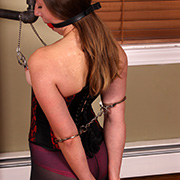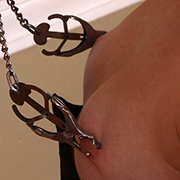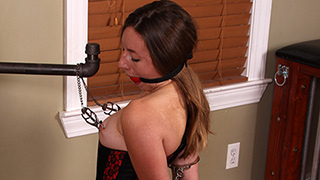 After complaining all day she was bored with nothing to do her tone implied it was my problem to fix. All she needed was a task to keep her occupied. Something engaging to keep her focused for at least a couple hours. Nipple clamps seemed appropriate, hooking them on a pipe in front of her. With her hands cuffed behind her they wouldn't be aiding in her escape. There were only two ways out. Flip the chain over the pipe or pull the clamps off to reach the nearby key. Technically Naomi could wait for me to feel sorry for her and set her free. Somehow I don't see the Vegas odds being in her favor for that happening.

Summer vs. Her Festive Chains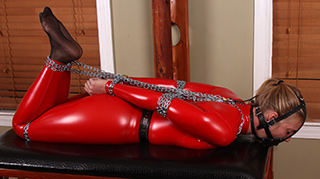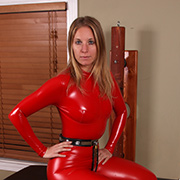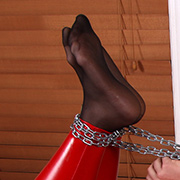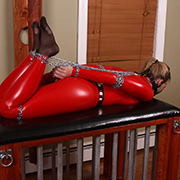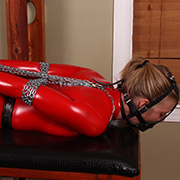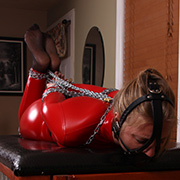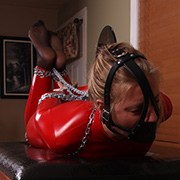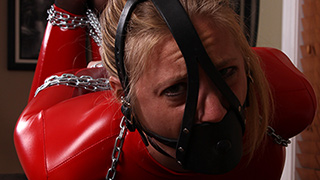 Silver and Red are holiday colors, right? They are in my book. Just like chain is the perfect decoration for Summer in her shiny catsuit. She's even wearing her chastity belt to really tie her whole outfit together. The grunts behind her trainer gag hint she doesn't approve of her new situation but isn't in much of a position to argue. Maybe I'll open the windows so the neighbors can enjoy my decoration as well.

Rachel vs. Her Chastity Tryout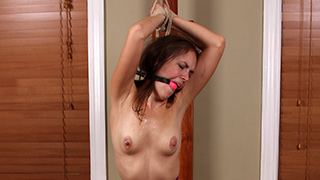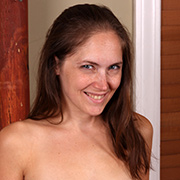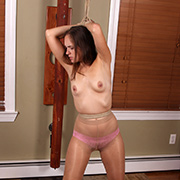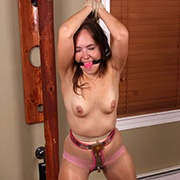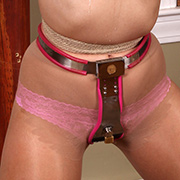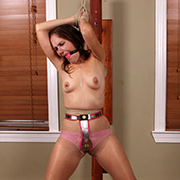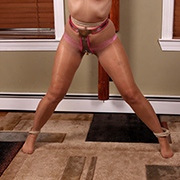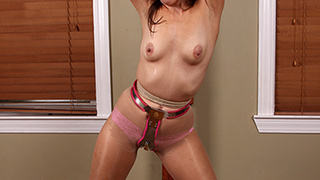 Like with many things in life it can always be worse. Struggling in rope it was clear from her struggling and noise that she wasn't happy with her situation. A ballgag easily took care of that problem but she was still persistent. To give her something to really complain about I brought out a chastity belt for her to wear. Immediately she twisted and turned to prevent it going on. A few tugs of the knots and her legs pulled wide severely limiting her movement and an easy target for the chastity belt. With it locked on she renews her fury to get free but it's no use. While sit back and watch her burn off her frustration I can't help but wonder how she'll react when I tell her how long the belt is staying on.

Maggie vs. A Shiny Afternoon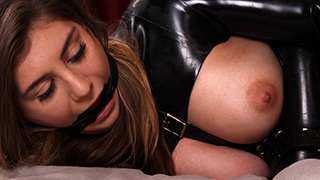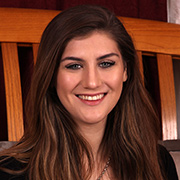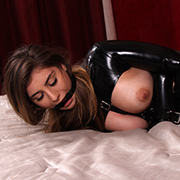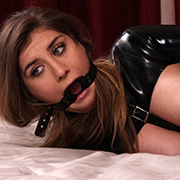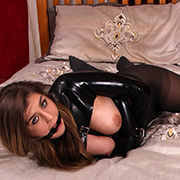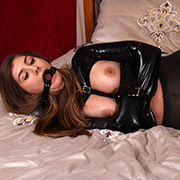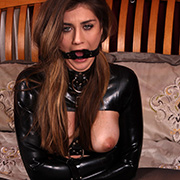 With winter coming on fast the potential for fuzzy sweaters goes through the roof. Luckily for Maggie, a latex straitjacket is the perfect weapon against the chill. Struggling to get free and drooling through her ring gag it might be hard to tell, but she's happy to be warm. Just to be sure that she doesn't accidentally struggle herself off the bed a pair of legcuffs are added. Caught in a hogtie she tosses around even more but the restraints hold tight, ensuring she'll keep snug all winter long.

SB Challenge: Summer's Pantyhose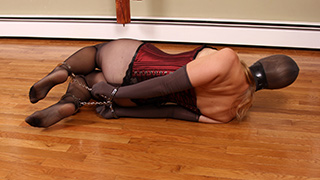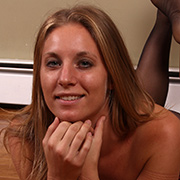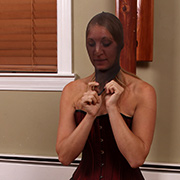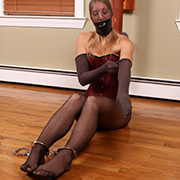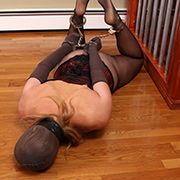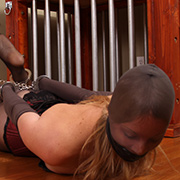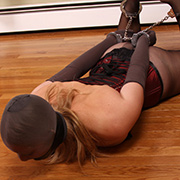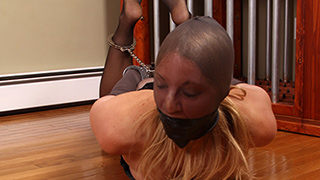 Summer was already excited to take on a self-bondage challenge but elated to find out it was a pantyhose challenge. Starting with pantyhose over her head she stuffs her mouth with a rag and sealing it with vinyl tape. Next, she puts her hands in a double layer of pantyhose before handcuffing herself into a hogtie. Knowing the key was only a few meters away she was fairly confident escape would come easy. At least until she tried to move. While the hogtie was limiting the real challenge came from a satin corset and pantyhose supplying her traction on hardwood floors. After 10 minutes she was only halfway there but her woes are just beginning. Summer's in for a surprise when she tries to unlock her cuffs behind her back wearing two layers of pantyhose.