Stasha vs. Her Puppet Predicament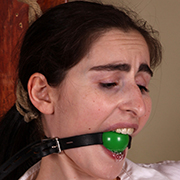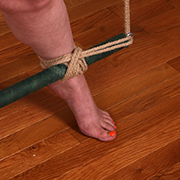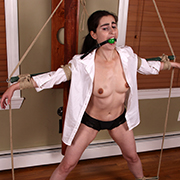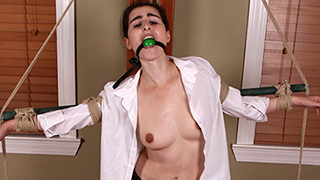 It's been a while since Stasha has visited and I wasted no time getting her tied up. Spreader bars keep her legs spread and arms held wide. What makes her predicament special is the two ropes connecting the two bars together and lifting her to her toes! The little bit of mobility she has doesn't spare her feet but only serves to frustrate her more. Within minutes her legs were shaking from exhaustion but her adventure was just starting. Another rope finds its way around her ponytail binding her head to the post behind her. On top of trying to keep on her toes, her hair constantly pulls her off balance. With all this attention being paid to her I'm sure she feels very welcome for her return.

SB Challenge: Kaecie's Risky Tie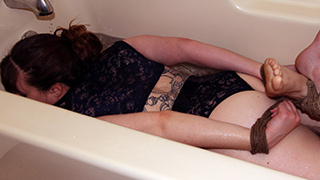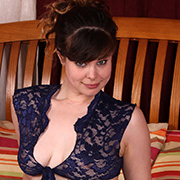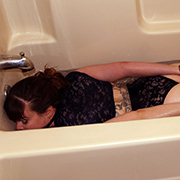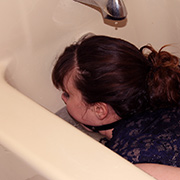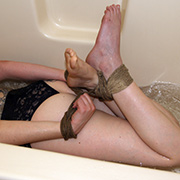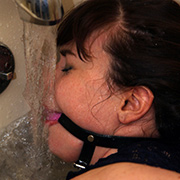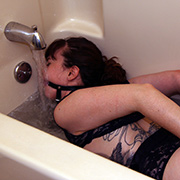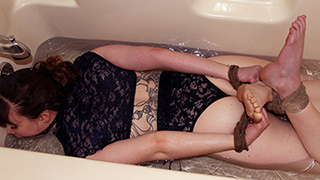 Kaecie is no stranger to challenging self-bondage adventures. For this challenge, she's asked to try something she's always wanted to try but never wanted to risk it. On the surface it seems simple enough, just a ballgag and a rope hogtie. It's a tie she's escaped from before although with a fair amount of effort. What makes this special is she's doing it in a bathtub with a rising level of water. Making sure her scissors are handy she cinches the last knot. With the water halfway up she gives everything a test to make sure she's secure before a much-needed escape. Despite her planning and skill, there's a reason self-bondage is dangerous. First, her scissors fall with her hogtie preventing her from reaching them under the water. Her attempts to do so only manage to soak her ropes causing them to cinch up tight. Realizing the dire situation she's in she looks for help. Kaecie is reminded, like all self-bondage challengers, I'm there to keep her safe and not to set her free. Where's the challenge in that?

Gmoras vs. A Delicate Balance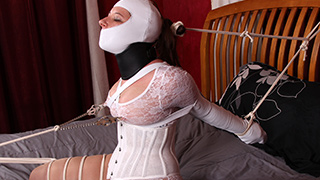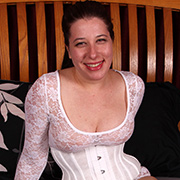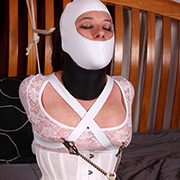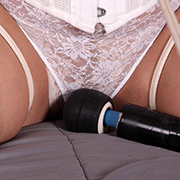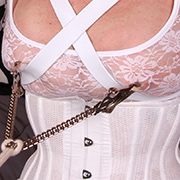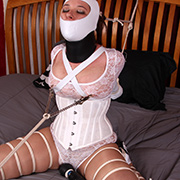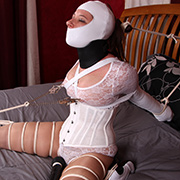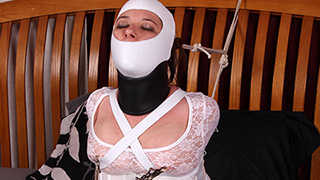 This was one of the more elaborate rigs I've done in a while. Then again, when you have a canvas to work on like Gmoras it's hard not to throw everything at her possible. Hood, posture collar, armbinder, nipple clamps, corset, strappado, and some fun with the magicwand thrown in. With everything in place, she finds herself pulled back by her arms and hair and slightly off center. Her clover clamps pulling her forward she must use her stomach muscles to keep from falling backward. The wand does its part in keeping her distracted though. All in all, it makes for a very happy Gmoras. You can't see it, but trust me, there's a big smile under that hood.

Peach vs. Fruitless Struggles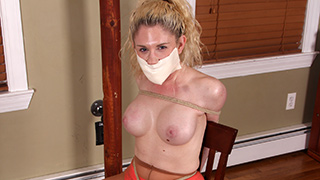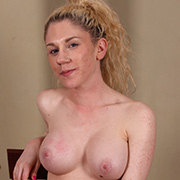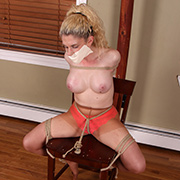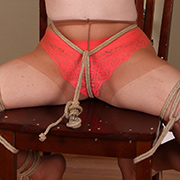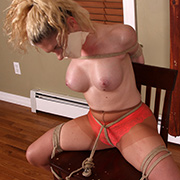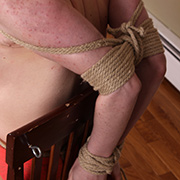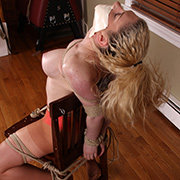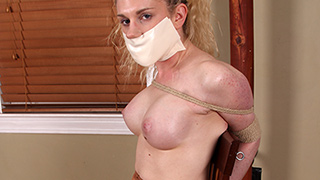 There's nothing like a good chair tie to put a girl on display. Elbows touching, crotch-rope, and Peach's huge tits ensure there is plenty of eye candy to go around. Best of all she actually thinks she can get free! Twisting and pulling against her ropes she gives it her best shot. The thought of spending the next hour in her predicament can understandably be plenty of motivation. Still, in the end, the ropes effortlessly keep her in place. Maybe after some rest, she'll be ready for round two?

Hannah vs. An Easy Sell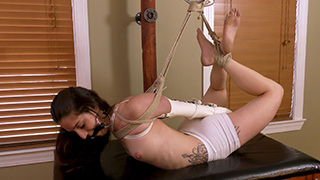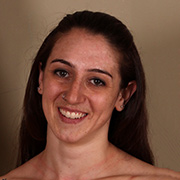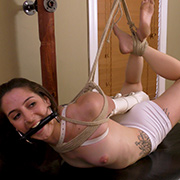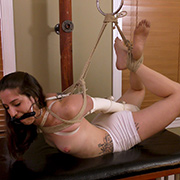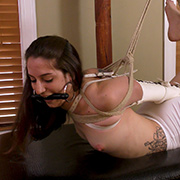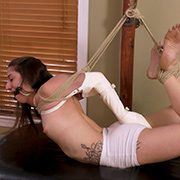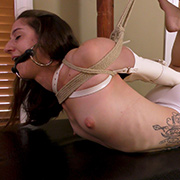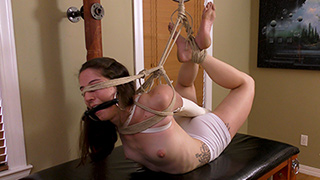 After spending the afternoon tormenting Hannah with strenuous predicaments I gave her the option for the next one. Instead of going easy on herself she couldn't help but ask for her favorite position of all, a back-bending hogtie. Not having to be asked twice I slipped her into a tight armbinder and went to work. Using the suspension ring above her and a few ropes Hannah had exactly what she wanted. Almost everything anyway as I suspect she could have done without the bit gag. As the rigger, I always reserve that right along with the option to make anything tighter. Speaking of which, that arch looks like it has a bit of slack...