Peach vs. Fruitless Struggles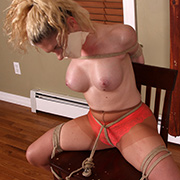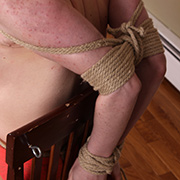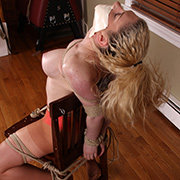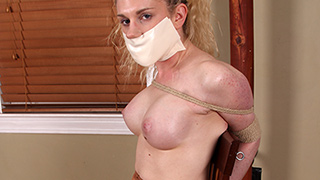 There's nothing like a good chair tie to put a girl on display. Elbows touching, crotch-rope, and Peach's huge tits ensure there is plenty of eye candy to go around. Best of all she actually thinks she can get free! Twisting and pulling against her ropes she gives it her best shot. The thought of spending the next hour in her predicament can understandably be plenty of motivation. Still, in the end, the ropes effortlessly keep her in place. Maybe after some rest, she'll be ready for round two?

Hannah vs. An Easy Sell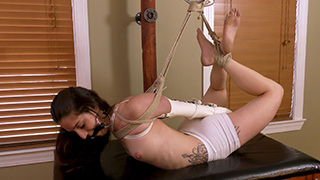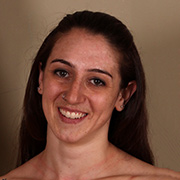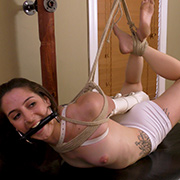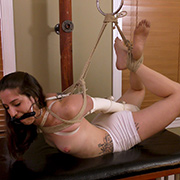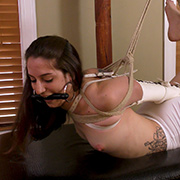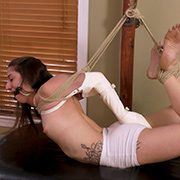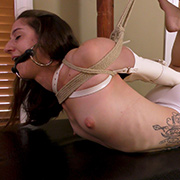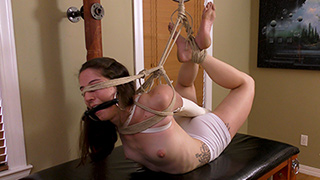 After spending the afternoon tormenting Hannah with strenuous predicaments I gave her the option for the next one. Instead of going easy on herself she couldn't help but ask for her favorite position of all, a back-bending hogtie. Not having to be asked twice I slipped her into a tight armbinder and went to work. Using the suspension ring above her and a few ropes Hannah had exactly what she wanted. Almost everything anyway as I suspect she could have done without the bit gag. As the rigger, I always reserve that right along with the option to make anything tighter. Speaking of which, that arch looks like it has a bit of slack...

Peach vs. Leg Day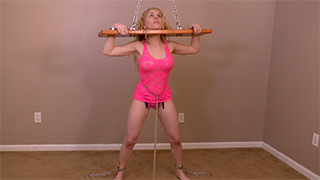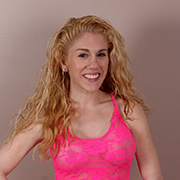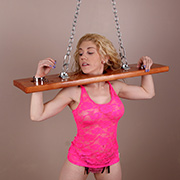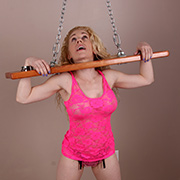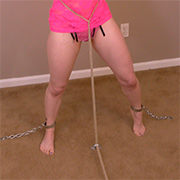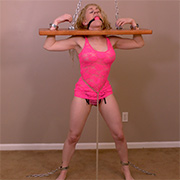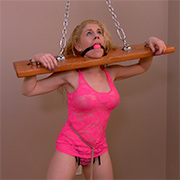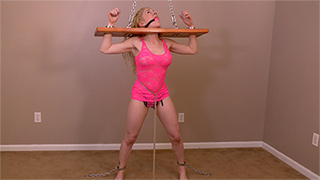 One of the many things that I love about bondage is that one tweak or rope can change the entire dynamic of a scene. As Peach struggles in her stocks trying to figure a way out she assumes this is it, the worst of it. While not uncomfortable in the short 15 minutes she's been struggling one little rope will change all that. Wrapped around her waist the rope doesn't catch her attention until it's cinched to the rings below. As it's slowly pulled tighter she instinctively bends her knees allowing what little slack she had to be ripped away. Within minutes her legs begin to tire as she struggles to keep pressure off her neck. How long can she last?

SB Challenge: Gmoras's Ball Tie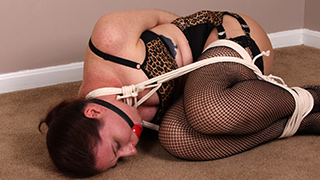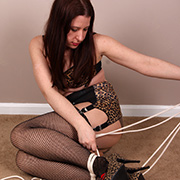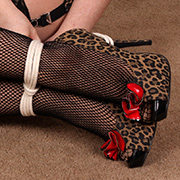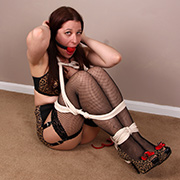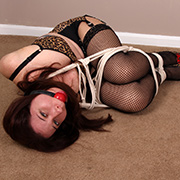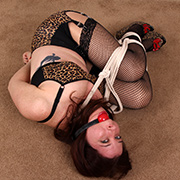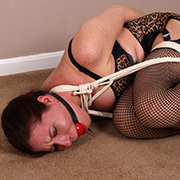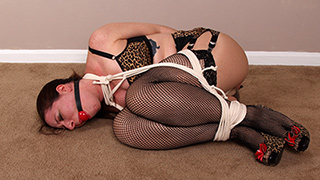 Self-bondage guru Gmoras stops by to try another self-bondage challenge. A ball tie is on the menu for today and a predicament she's never tried before. Strapping her gag in she doesn't think twice as she flings her escape key across the room. Taking her time with her ropes, Gmoras makes sure everything is tight and secure. While she hopes to escape, doing so from poor rigging is paramount to cheating. The final step has her slip her hands into steel handcuffs with a long trek to her key. It's obvious from the grunts and groans she would have appreciated a more conservative key toss. Just like a turtle, her slow and steady persistence will hopefully get her free.

Lilah vs. Her Own Breath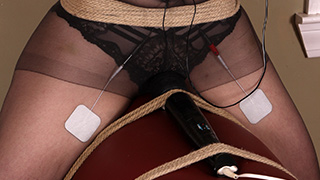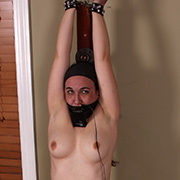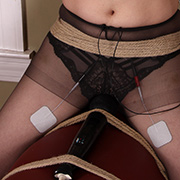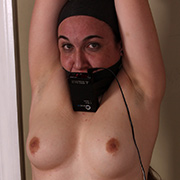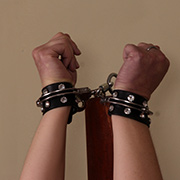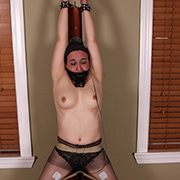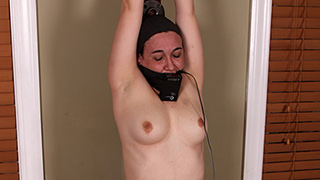 Straddling a padded horse Lilah knew her comfort was only an illusion. Even with a vibrator tied between her legs she knew it was not there for her benefit. Noticing the setting on the TENS she wished her gag was far more effective. Nothing in her rigging was by accident, however. As Lilah watched the sound activated TENS taped in front her mouth she knew it was time to be quiet. Quiet as a mouth as the TENS would activate if she even breathed too hard. Even without the magicwand, it was obvious she was struggling with her predicament. I'm sure she'll figure it out when the time comes.