Billie vs. The Belt Struggle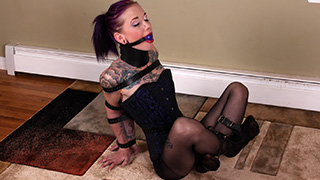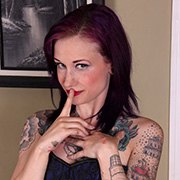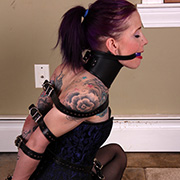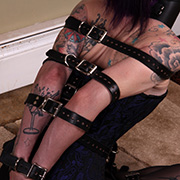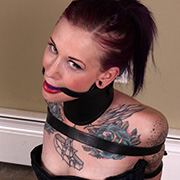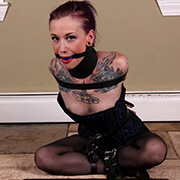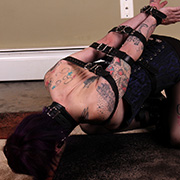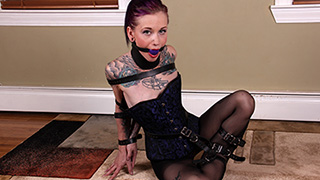 With belts circling her wrists, elbows, legs, and body Billie was already fit to be tied. Always looking for a way out she tries every buckle she can reach without much success. The corset cinched around her waist doesn't help her efforts much either. Twisting and turning, struggling and falling over, Billie eventually makes some progress on on the one buckle she can reach. It doesn't help her much, but maybe in a few hours she'll get to the other six.
Raquel vs. Billie's Home Video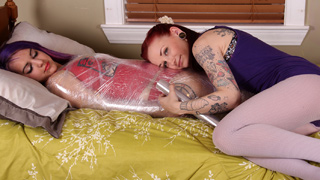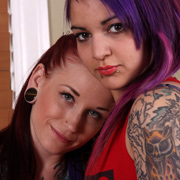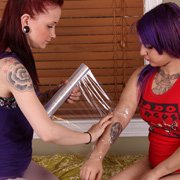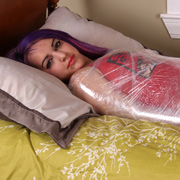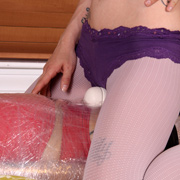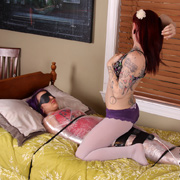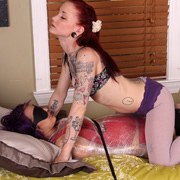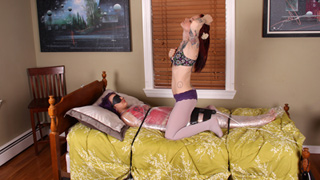 It had been weeks and Raquel still hadn't paid Billie back the money she owed her. She decides to take matters into her own hands. Having sold videos online before, Billie decide to wrap her friend up in plastic wrap and strap her to the bed. Helpless and gagged, Raquel is at her mercy especially when Billie discovers how ticklish she is. As a reward for being good, Billie tapes a magic wand over Raquel's pussy and hops on top so they both can enjoy the ride.
Billie & Raquel vs. The Novice Binds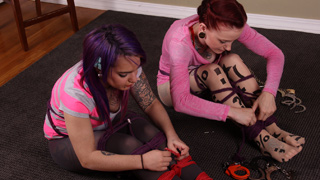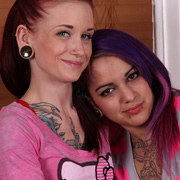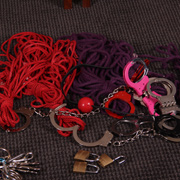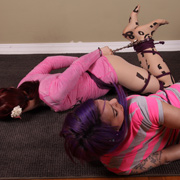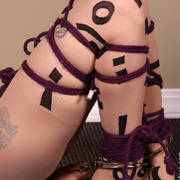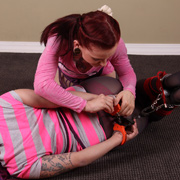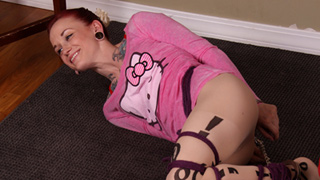 Both Billie and Raquel have been on the receiving end of my restraints before. I wanted to see how they would fair on their own with a pile of toys. Both start out with lots of rope on their legs and do a good job making sure they are secure. Next they got the good idea to handcuff their wrists but did it in front which, well, simply will not do. Like the gentleman I am I give them both a hand by repositioning their cuffs behind their backs and into a nice hogtie. Now all they have to do is squirm to the key!
Billie vs. Her Quiet Time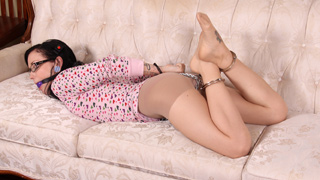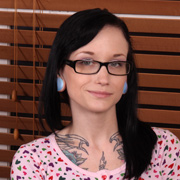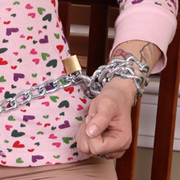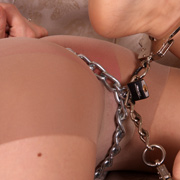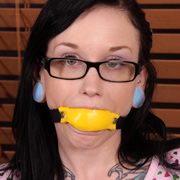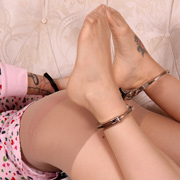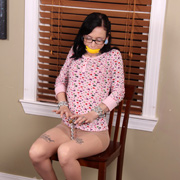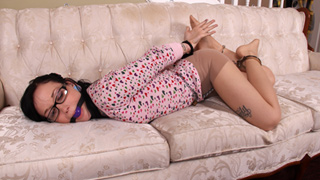 After the 10th question from Billie it was clear I wasn't going to get any work done. She was in dire need of some quiet time. Once I had her trussed up in chains and a big yellow bean bag gag all she could do was try and kill some time... in silence. Billie can only squirm hopelessly in her pantyhose and chains trying to find a comfortable position.
Billie vs. The Red Ropes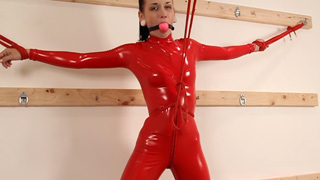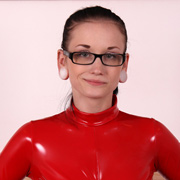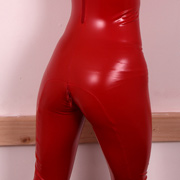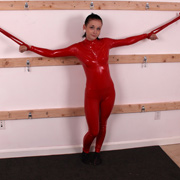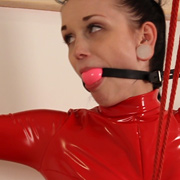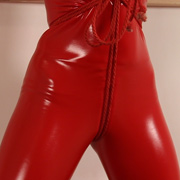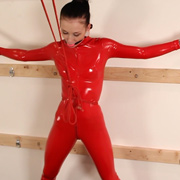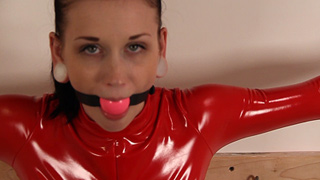 All she wanted was a little play time in the red catsuit. Billie knew that playing dress up had its price, or maybe that was her plan all along? I secure her arms to tethers on either side of the wall somewhat loosely at first and soon followed by a pair of leg spreaders. When more rope is coiled around her waist and between her legs tied off to an overhead pipe everything is pulled tight. With all her slack gone every movement makes the crotch rope pull a little tighter.