Johannie vs. A Little Cooldown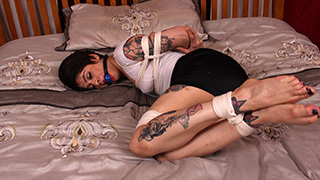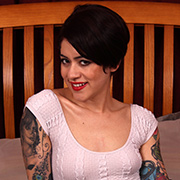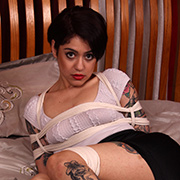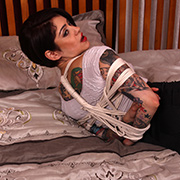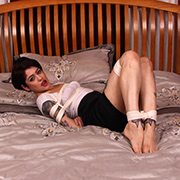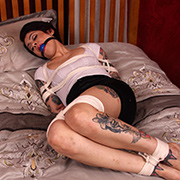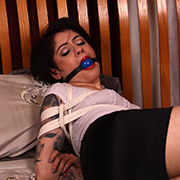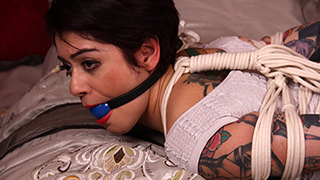 Almost immediately after putting ropes on her Johannie wanted out. It had all been fun and games to her when she assumed she could just wiggle free whenever she liked. Once the last few knots were tied, however, reality snapped into place. Escape wasn't going to be so easy. The large ballgag pushed into her mouth did nothing to improve her mood. She was showering me with unintelligible insults, so there was only one thing to do. Picking her up, I brought her up to the bedroom and tossed her onto the bed. It was obvious Johannie just needed a little time to cool down. Shutting the door behind me, I was confident her attitude would vastly improve in a couple of hours.
Johannie vs. Her Cage Rage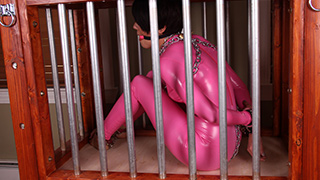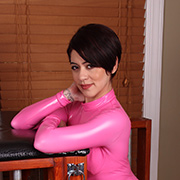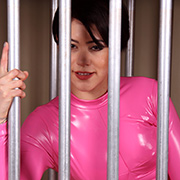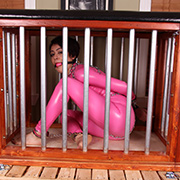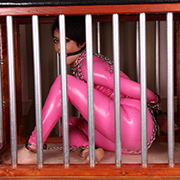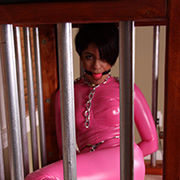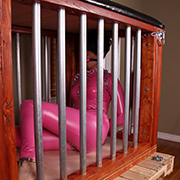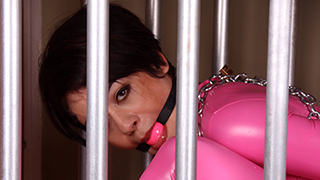 From the moment I cuffed Johannie's wrists, she wasn't happy about it. By the time I finished adding some chains, she really wasn't pleased. A ballgag helps, but sometimes pretty girls just need some time alone to adjust to their situation. Luckily for her, my cage has plenty of space for her to vent her frustrations while not wandering too far. Cuffed and chained hand and foot, the cage's calming effects didn't take long. Despite her efforts even just to escape her bonds, let alone the cage Johannie was just where I left her some time later. Only now, she was far more docile.
Johannie vs. Her Rocking Isolation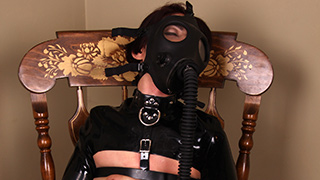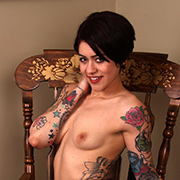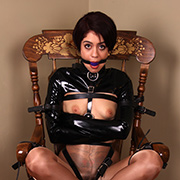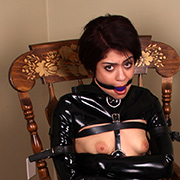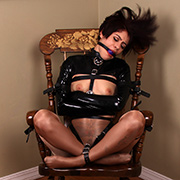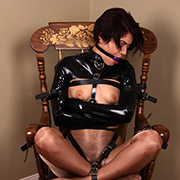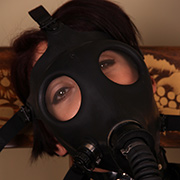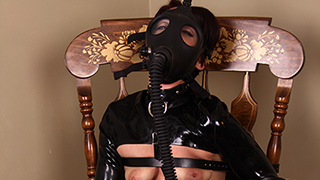 Johannie had hoped her bondage might stop after the straitjacket went on. Her hopes soon dashes as she's covered in belts tightly securing her to the rocking chair she was sitting in. Every struggle frustratingly voided by the chair's movement. Drooling profusely through her gag she could only shake her head when she could see what came next. The rubber gas mask easily goes onto Johannie's head forcing her breathing through a small tube. Struggling harder than over now, I simply sit back and enjoy Newton's 3rd law in all its glory.
Johannie vs. The Chastity Terms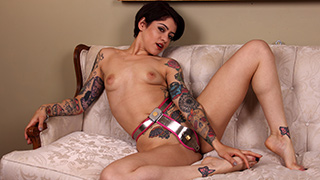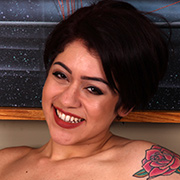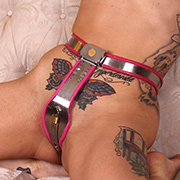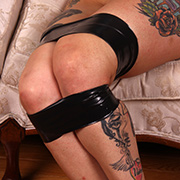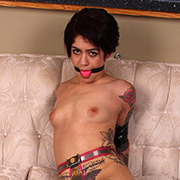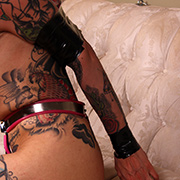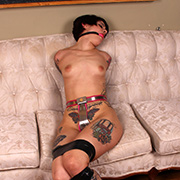 Even before she stripped her clothes off Johannie knew the terms of her chastity belt. Pleading eyes wouldn't help her here. It had been another week and she had another chance to try and get the key back. Only one little thing stood in her way, the roll of tape sitting next to her. She doesn't have to wait long before it's wrapped around her legs, wrists, and elbows leaving her helpless as always. Her frustration is clear as she a goes into a frenzy pulling and twisting at her bonds. The vinyl tape is not a forgiving foe however and contracts her limbs back together with ease. As her hour to escape comes closer to ending the first signs of resignation start to show on Johannie's face. She knows another week in the belt is in her future.