SB Challenge: Peach's Attempt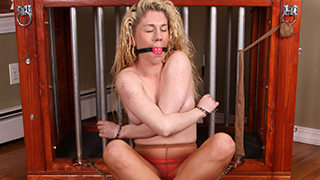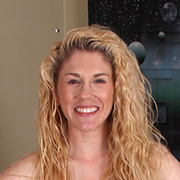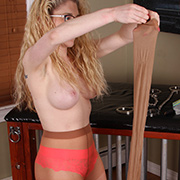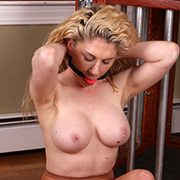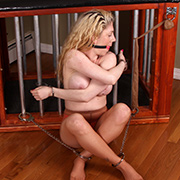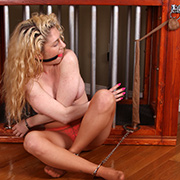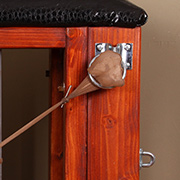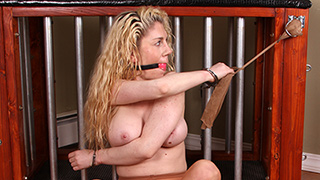 Peach seems to be taken with self-bondage and can't wait to jump into another challenge. The task before her is one that Abby attempted a few years ago, which didn't end well for her. Peach thinks she can do better, and is willing to put her freedom at stake to prove it. Within minutes of locking herself up it is clear that she used far too much ice. Unaware that even one cube of ice at room temperature can take over an hour to melt, the eight she used might be overkill: a fact that she realizes within minutes. Knowing she's set herself up for several hours of uncomfortable struggling, she can't help but panic a bit. Peach pulls on her pantyhose release harder and harder. Will she suffer the same fate as Abby?
Abby vs. The Hanging Treat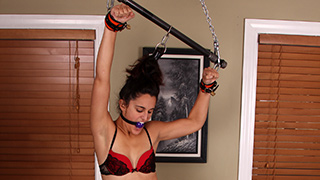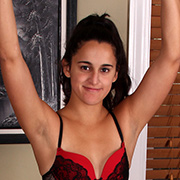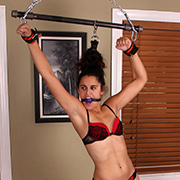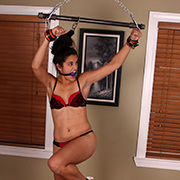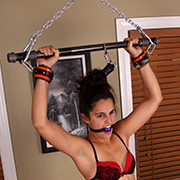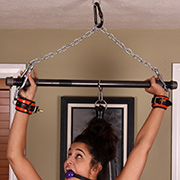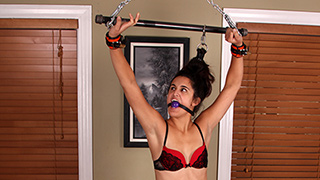 It doesn't take much convincing to get Abby into bondage. Stripped down to her underwear, her arms and legs are cuffed to iron bars, leaving her in a standing spreadeagle. A ring is secured to her hair allowing it to be strung up to the bar as well. Once the bolts are tightened down, she won't be getting free. At first she's amused by her new situation while playful struggling. Abby hasn't realized that I'm just getting started. She's just a tasty treat, hanging helplessly, waiting to be tormented.
Abby vs. An Afternoon Spread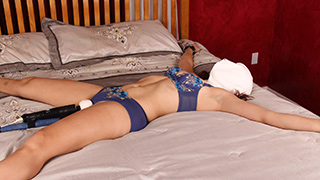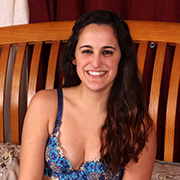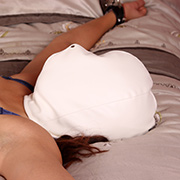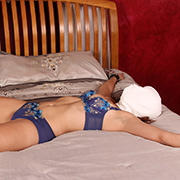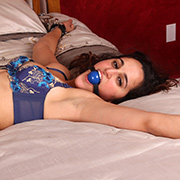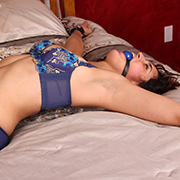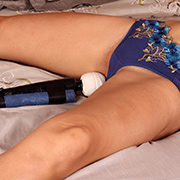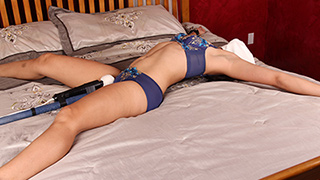 Sometimes all you need is a few pairs of handcuffs and a sexy girl like Abby writhing in anticipation. As I secured each of her limbs to the bed corners, I could see her glancing at the wand nearby. She knew full well that she'd have to wait a while; there wouldn't be any instant gratification today. A white insect hood was then put over her head and a ballgag in her mouth, leaving her one thing to focus us. When the Hitachi was eventually pressed against her pussy, her reaction was immediate with the first of many orgasms soon to follow. From the muffled moans under her hood it was hard to tell at first if she wanted more, or wanted out. I'll just have to assume more is always better and keep her cumming.
Abby vs. Her Rope Ball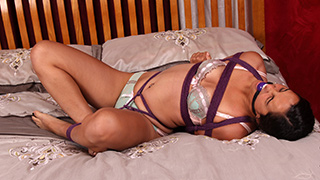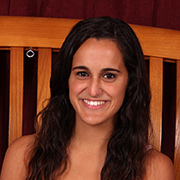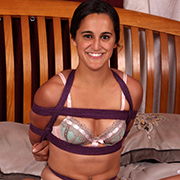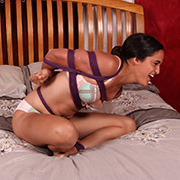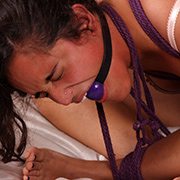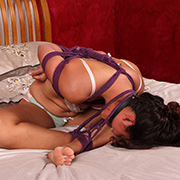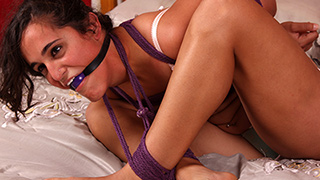 Given her abysmal success (or should I say failure?) rate of escaping from my binds, it's impressive how cocky she still is. Maybe that's my fault for being too easy on her and giving her the illusion that escape was possible. That was a mistake I am eager to rectify. I start her in a secure boxtie with her legs crossed and tied in front. It's not clear what her escape plan is, but I let her struggle. It's soon obvious that she has no master escape plan, so it's time to dash any hopes she had. I untie the rope holding her legs and loop it around the back of her neck. With her head pulled down to her toes, her mobility goes from 20% to 0%. Her confidence quickly fades, but she knows she's stuck for a long while.
Abby vs. Her Leg Shake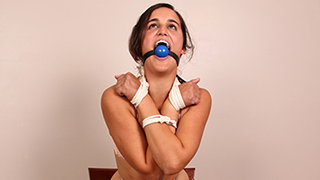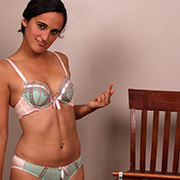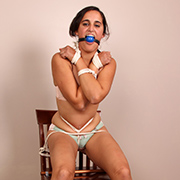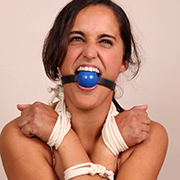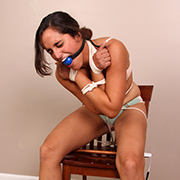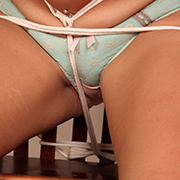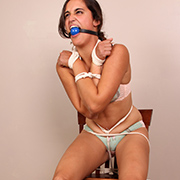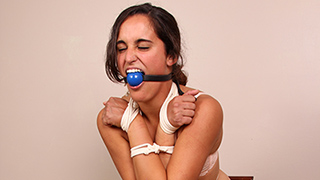 Abby was understandably nervous having been shocked before. Tied loosely to her chair, she can stand, but only just. Her crotch rope makes sure her movement is restricted. Vulnerable, she sees the remote in my hand and tries to prepare herself. Without warning, Abby jumps up, or at least tries to. The crotch rope stops her hard and Abby must use her leg muscles to hover over the charged copper bar. Her legs start to shake in trying to hold the position, the fear of getting shocked keeping her afloat. Little does she know that it was actually turned off a minute ago. Eventually, she realizes she can sit down, only for the power to come back on, and the process to be repeated all over again.