SB Challenge: Aimee's Clover Clamps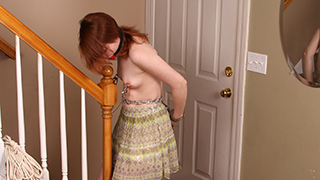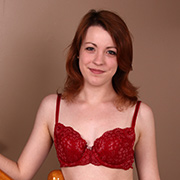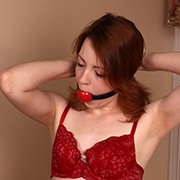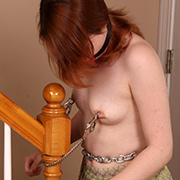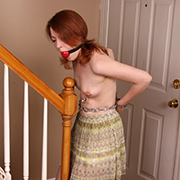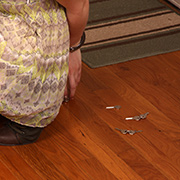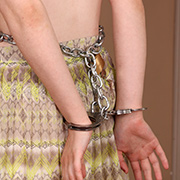 Aimee knew when the challenge called for nipple clamps that she was in trouble. Gritting her teeth, she put them on anyway, tethering her nipples to the banister. After gagging herself, she locks her hands behind her back with handcuffs. Thumbcuffs are added just to make it a real challenge before dropping her escape key on the floor. Sitting below are a dozen dummy keys. While it should have been easy to find the right key, the thumbcuffs prove to be more of a hindrance than she expected. Worse, the chain she used for her handcuffs is just a tad too short to reach the keys. Pulling hard against her clamps, she manages to get one. The wrong one. Only 11 more sets to choose from!
Aimee vs. Handcuff Experiment #2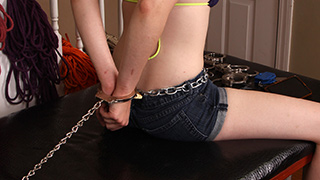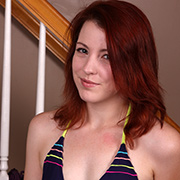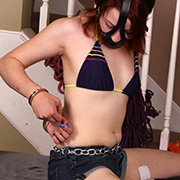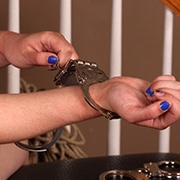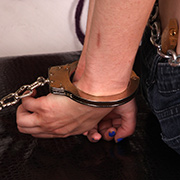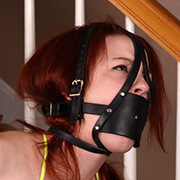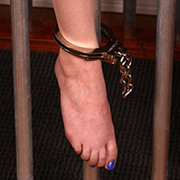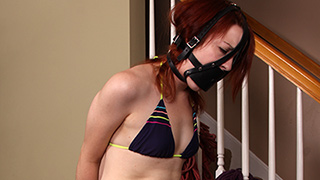 Handcuffs do a pretty good job of keeping hands secured without a key. But how about with a key? Law enforcement has procedures to mitigate an escape if someone has a key, but how effective are they? To find out, I volunteered Aimee to be my escapee. Starting with hinged handcuffs and working into more difficult escape scenarios, Aimee tries her best to get out. I know this because she has a TENS connected to her inner thighs that will shock her if she doesn't make a timely escape. Aimee is quite nimble in her attempts to get free, but as the muffled noise behind her gag indicates, she's not always quick enough.
Aimee vs. Her Heavy Hands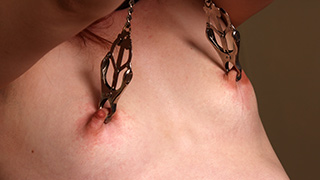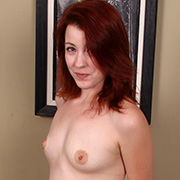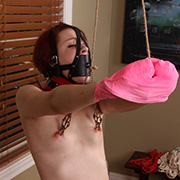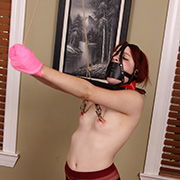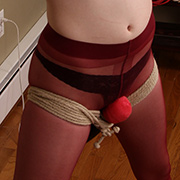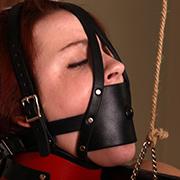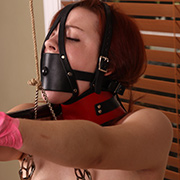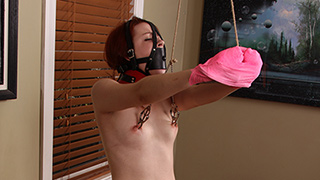 Gravity can be a bitch, and a painful one at that, as it has its way with Aimee's poor nipples. A small string is all that connects her cuffs to her nipple clamps through a ring above. As her arms become tired, the clamps are more than happy to give them a rest. Just to make sure that Aimee doesn't get bored, a magicwand is tied tightly against her pussy. Buzzing away on high, her knees buckle, her arms shake, and of course her moans of orgasms paint her predicament well. How long can she last?
Aimee vs. A Reluctant Struggle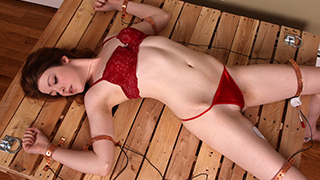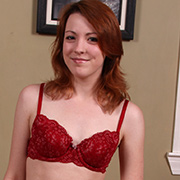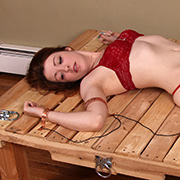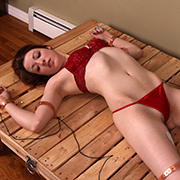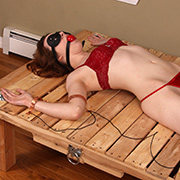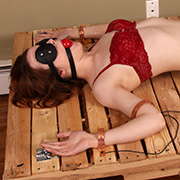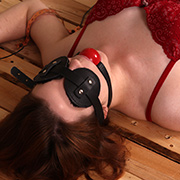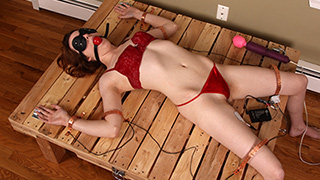 Lying on the pallet table bound in copper strapping, Aimee's limbs quiver as she tries to keep still. She can feel water being sprayed on her arms and legs. This only makes her more nervous as she struggles to hold still. Then there is the tickling. The goddamn tickling. Aimee can't help it and her arm contracts, making contact with her restraint and thus completing the circuit. A grunt of displeasure escapes her gag while trying to center herself between the straps again. Her true test lies ahead as the unmistakable sound of a magicwand clicks on high. Orgasms are inevitable, it's only a question of whether or not she can keep still as they consume her body.
Aimee vs. The Last Notch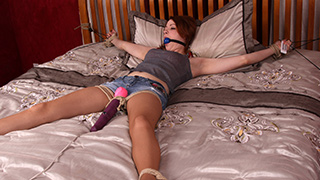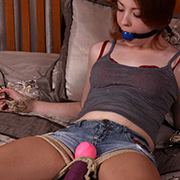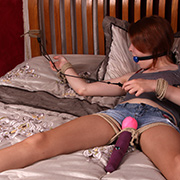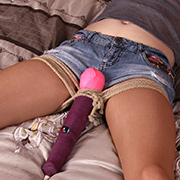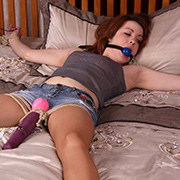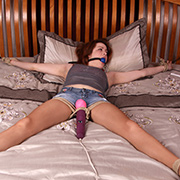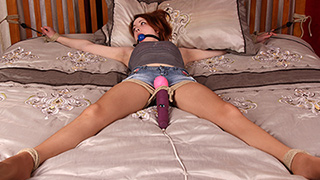 Knowing her roommate will be home later, Aimee decides to try some strict selfbondage. An extra-tight spreadeagle with a dash of orgasms mixed in for fun is a delightful prospect. With everything in place, she pulls on the rope ratchets to pull her arms tight. Twisting and struggling, she reaches the last notch before turning on her vibe. At first Aimee only teases herself, but soon the need overwhelms her and she's having her first orgasm. Wishing that it would never end, she tosses the remote aside to enjoy the many orgasms to come. Only after her fifth or sixth does she decide she's had enough and paw for the remote. Can Aimee reach the remote, or is she in for dozens more orgasms until she's rescued?