Raven vs. Perpetual Motion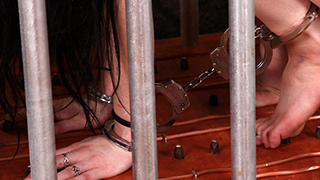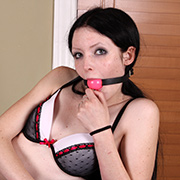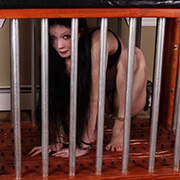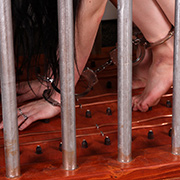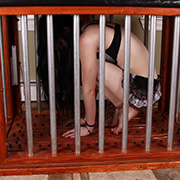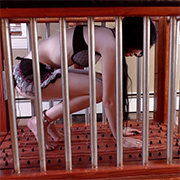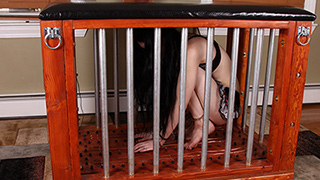 After playing around with bondage toys instead of cleaning the house I decided to give her a little incentive. Cuffed hand and foot she's put into the cage without a special floor. Without only skimpy clothes on she's forced onto her toes to avoid the spikes. Her real punishment begins when the copper rails are powered on making the floor even more treacherous. Awkwardly she finds purchase between the spikes and copper rails but it doesn't last long. Raven's legs begin to shake within seconds and she's forced to try again. After the first ten minutes she wants nothing more than to collapse and take a break but knows the consequences will be dire.
Cher vs. The Tilted Pallet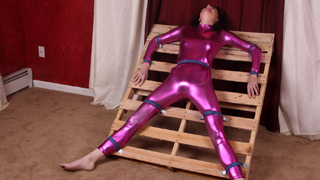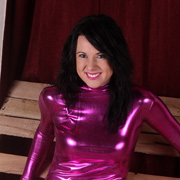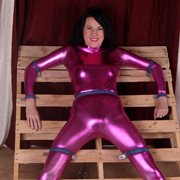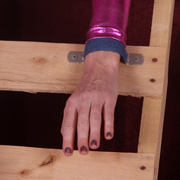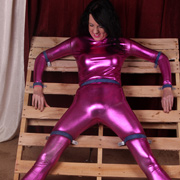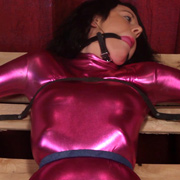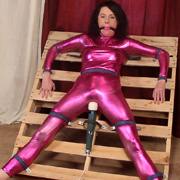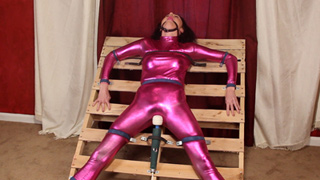 Throw a girl in some ropes and she'll struggle to find the knots. Bolts a girl wrist, limbs, and body to a chunk of wood and all you get is a look of defeat. With only millimeters of wiggle room Cher found herself in just this very predicament. With her resigning so early I had to give her some incentive. Bolting a Hitachi to her vulnerable body seemed like the perfect motivator. Try as she might though, it looks like she was right, there is no getting free. There was no escaping her bondage or the Hitachi for the matter.
Serene Isley vs. The Hair Pin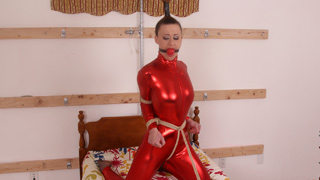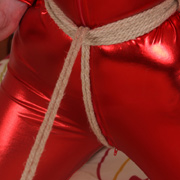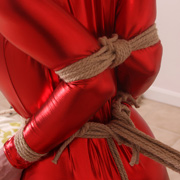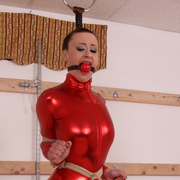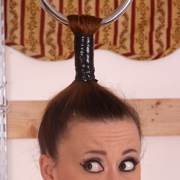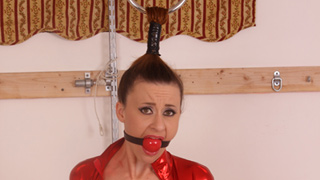 Serene had no idea she was about to put a whole new meaning on the phrase 'stuck in the middle'. She starts with both legs tied apart on on her knees. Elbows cinched back and wrists at her sides. One rope pulls her elbows and body back while a crotch rope pulls her body forward... tightly. The cherry on top is her hair is firmly secured to a suspension ring above her leaving her completely stuck. A fact soon confirmed by lots and LOTS of tickling.
Cher vs. The Head Wrap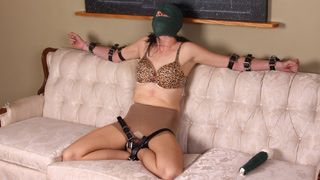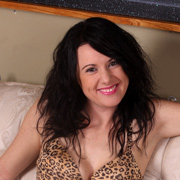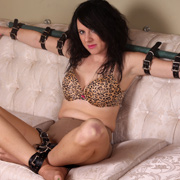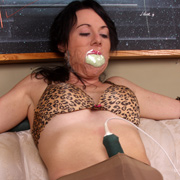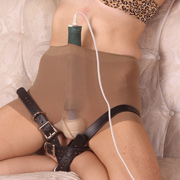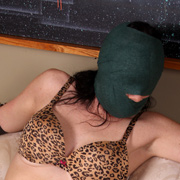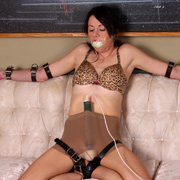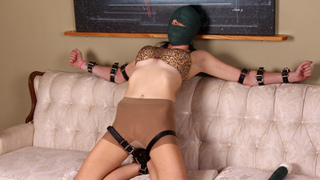 Having just met Cher for the first time I soon found out she was a total bondage newbie. Never even a pair of handcuffs in the bedroom. I should take it slow and ease her into things but where is the fun in that? Once I have her rigged with belts and spreader bar on the couch Cher is all giggles with excitement still. Her first test is having her mouth stuffed with panties and taped tightly into place. Seemingly taking it well I decide to go for broke. Wrapping her head next, layers of vetwrap circle her head leaving her blind and severely gagged. As a reward for good behavior, I stuff a magic wand into her pantyhose and leave her to experience another first... the forced orgasm.
Tracey vs. The Hitachi Cherry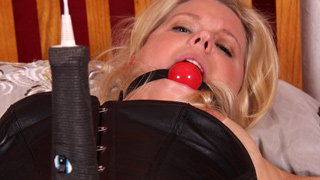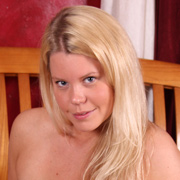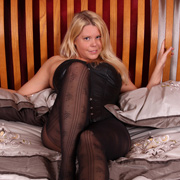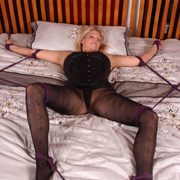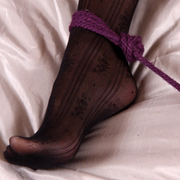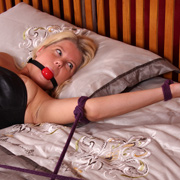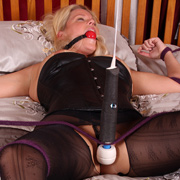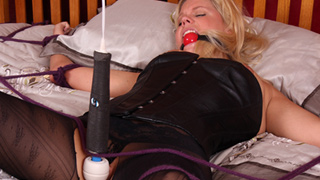 It always put a smile on my face when a girl is excited to try something new. Tracey had been tied, bound, gagged and restrained more than one can count but somehow never encountered the Magic Wand. This was an injustice that I simply could not let pass. Ballgagged and bound in a web of ropes I let her struggle for a bit. Satisfied she wasn't getting free I hung the Hitachi in place and turned it on low. Her eyes widened with surprise as the Magic Wand performed its, well, magic. As her first orgasm built I tightened up the ropes and sat back to watch the ride.