Gianna vs. Her Pleasure Spin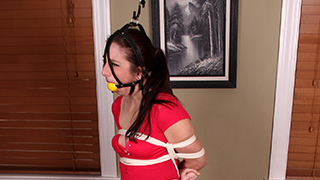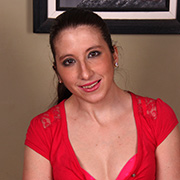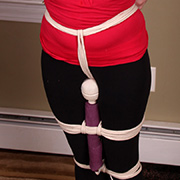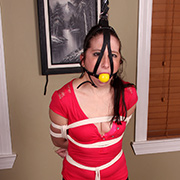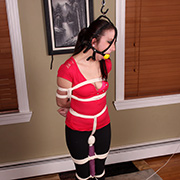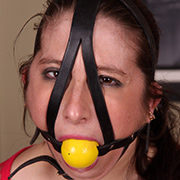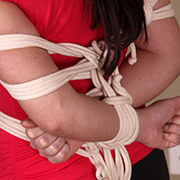 Held up by a ceiling hook, Gianna twists around trying to figure a way out. With all the ropes holding tight she knows it's only a matter of time before the vibrator tied firm between her legs comes to life. It didn't take long before the buzzing began causing her to squirm even more. Listening to her protesting to have it shut off, I remind her that a few twists on the hook can easily unplug it. For some unknown reason Gianna never does so, instead allowing orgasm after orgasm to overtake her.
Gianna vs. Her Desire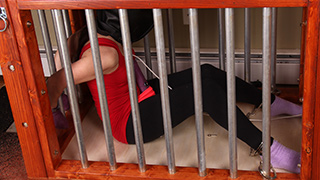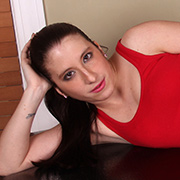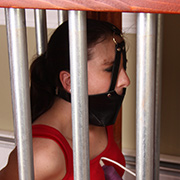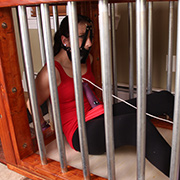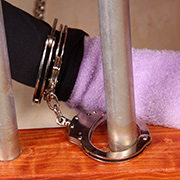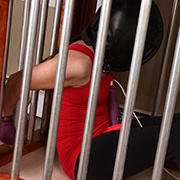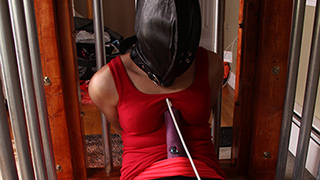 After a long day a lot of girls just want to relax and put their feet up and relax with a massage. Not Gianna; inescapable bondage and sensory deprivation is what she desired. Her hands are first wrapped into vetwrap balls, ballgag strapped tight, and leather hood over her head. Making her way into the cage her hands are cuffed behind her along with her ankles securing her inside before the door is locked. Before leaving her to enjoy her evening, a magic wand is stuffed down her yoga pants and left on high. I expect her to be extremely relaxed in a couple hours.
Gianna vs. The Hooded Tease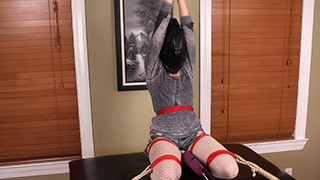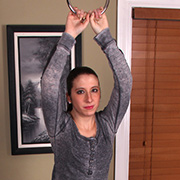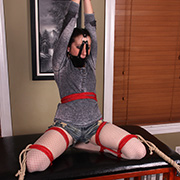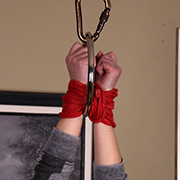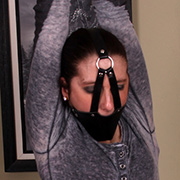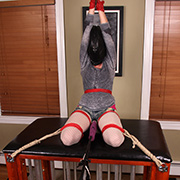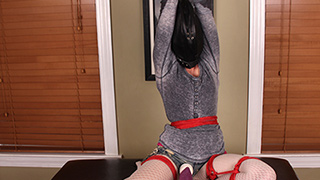 Squirming and moaning through her gag Gianna was determined to get some attention. As she found out, she should have quit while she was ahead. Right away her ropes are tightened up before a leather hood is pulled over her gagged head. To ensure she is well distracted, a magic wand is put on a pole between her legs. Between the jeans and awkward position frustration builds quickly. Well distracted now I leave the vibe to buzz away. Maybe she cums, maybe she doesn't. Maybe she'll regret the extra attention, only time will tell.
Gianna vs. The Pretzel Bind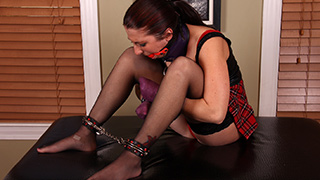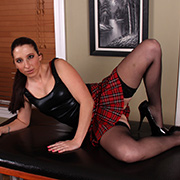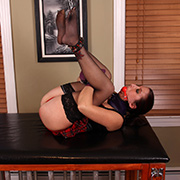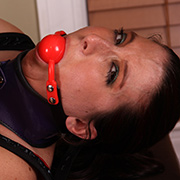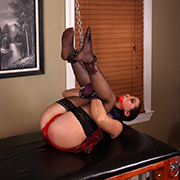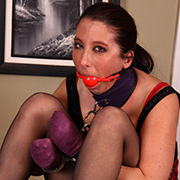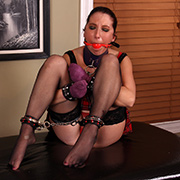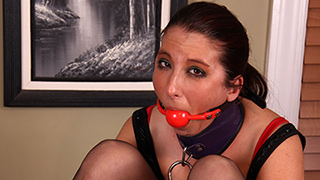 The position started awkward for Gianna with her hands cuffed behind her legs and her hands tightly vetwrapped into balls. Her position quickly escalated to uncomfortable once the cuffs were linked to her posture collar. Sitting on top of her cage high above the floor Gianna struggles while trying to keep from falling. After a few near misses some pity is taken on her situation. Moved to her back a chain is added to a hook above stopping any change of falling over now. She's left to struggle as much as she wants for as long as needed.
Gianna vs. The Mummy Chains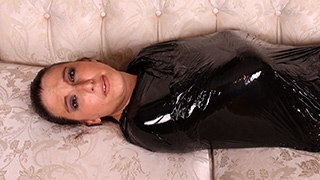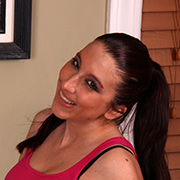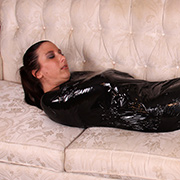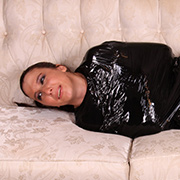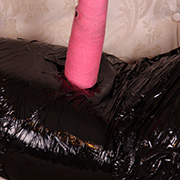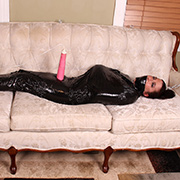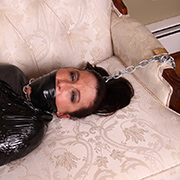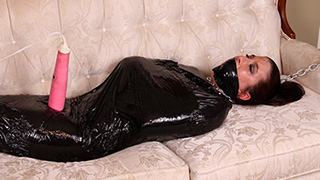 For most girls, having several layers of pallet wrap encase them would be enough to admit defeat. Even after filling her mouth with panties and taping them in Gianna was determined to get free and squirm away. Tossing her back onto the couch two chains are added around her feet and neck. If Gianna thought she was immobile before, every struggle or squirm would now cause the chains to go taught. To help encourage plenty of squirming, a magic wand is secured against her pussy and set on high. In her strict position there's no escape, and certainly no reprieve from the many orgasms to come.