JEM vs. The Frogtie Pull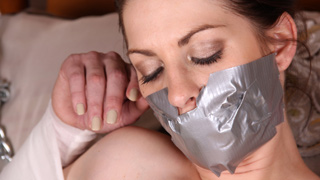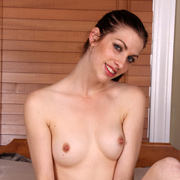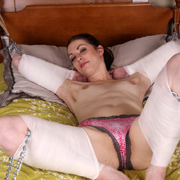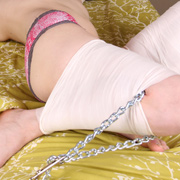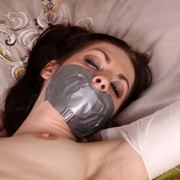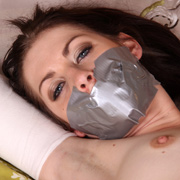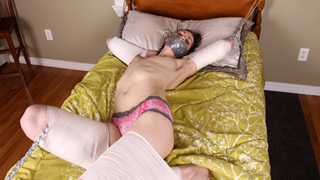 I start Jem's arms and legs out in a frogtie using plenty of vetwrap to keep them secure; chains looped around her limb as convenient attachment points. At first Jem didn't understand why I used rubber bands to connect her limbs to the four corners of the bed. She might have asked too if not the panties taped in her mouth. I didn't take long in satiating her curiosity by adding another set of rubber bands pulling her limbs tighter apart. When I held up a pair of nipple clamps she really pulled against the bands but it was no use. Jem was helpless in my web.
Jem vs. The Ice Water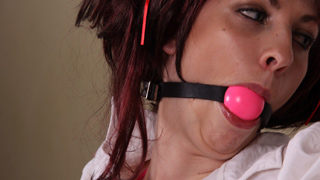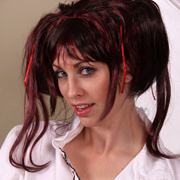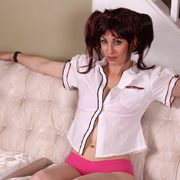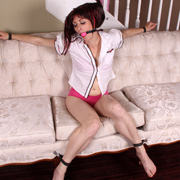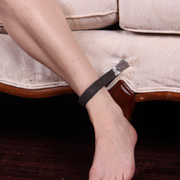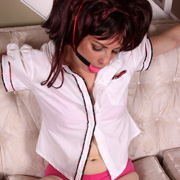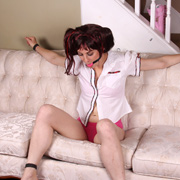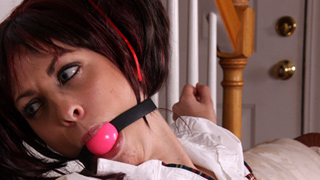 A good couch is there for any of life's comforts. Watching TV, taking a nap, or providing support to bolt your girlfriend to it. I start by strapping a pink ballgag tightly into her mouth. Next I wrap each of her limbs in flexible aluminum and bolting each one to the couch with 3" deck screws. Just to be sure I add some more around her arms... can't have her getting out! As Jem's drool starts to soak her panties and bra I figure why not add a little more? Some crushed ice and water bottle later I have her hopping all around.
JEM vs. The Toy Box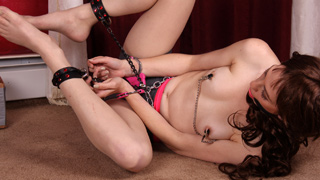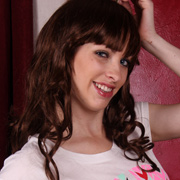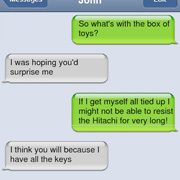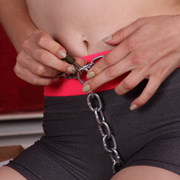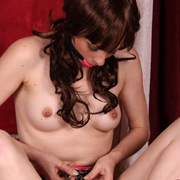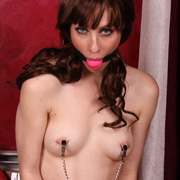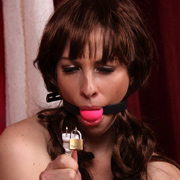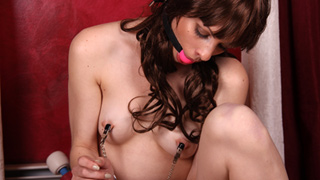 When JEM noticed the box in the spare bedroom she had to investigate. A quick text she confirmed her hope... that he would want her to tie herself up. JEM got started right away, pulling everything from the box purposely leaving the vibrator for last. Gagged, handcuffed, chained and even her nipple clamps were locked in place. Every movement giving her nipples a delicious tug. Minute after minute JEM played with her restraints knowing she'd have to wait for him to get home with the keys. Pulling out the Hitachi to pass the time reveals his final trick... a padlock on the plug! Furious (and frustrated), there's nothing she can do but hope he's home soon.
JEM vs. The Ballet Boots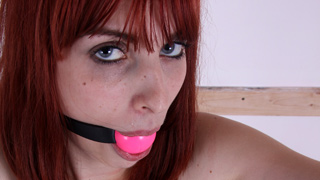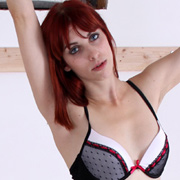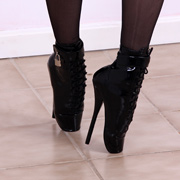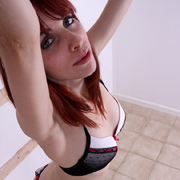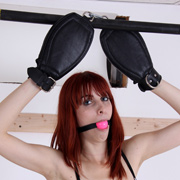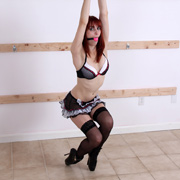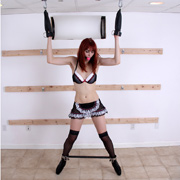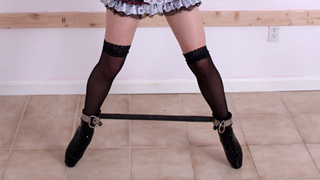 One simple job, that's all she had. Instead of cleaning my house while I was out she spent the time trying on shoes and outfits. When I returned I found her in nothing but some lingerie and ballet boots. What better punishment than to let her spend some quality time in the outfit of her choice! I put leather mittens and a gag in her mouth to prevent any objections and led her to the basement. Once there I attach JEM's mitten to the ceiling and she's left with two options. Stand in the ballet boots or hang by her mittens. Either way, she's going to have a long... long time to think about it!
JEM vs. The Bed Anchor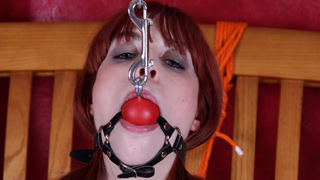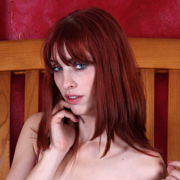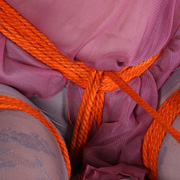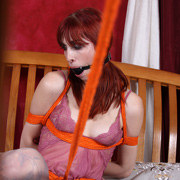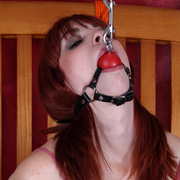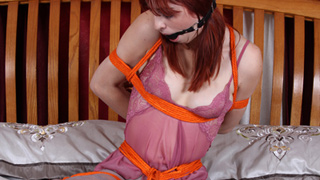 Without stating the obvious, JEM is a feisty girl who loves nothing more than to escape. Wise to her ways I setup a special tie just for her. I first bound her in a box tie to get things started. Next came her crotch rope, tied and knotted at the foot of the bed. Another rope secures her arms to the headboard while more pull her pantyhosed legs apart. It's about now when she realizes that all the knots are well out of reach but I'm not done yet. After a good struggle I change out her gag which leaves her completely anchored to my bed... yum!