Kaecie vs. The Booby Trap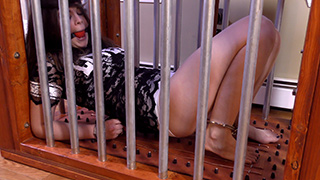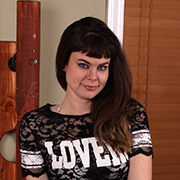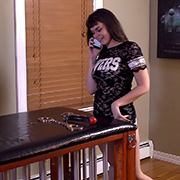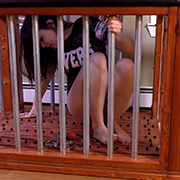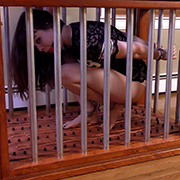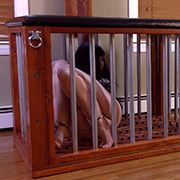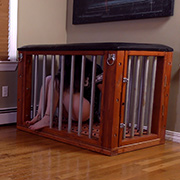 I should probably feel bad. I knew full well that Kaecie wouldn't be able to resist playing with my toys when I gave her keys to my place. The cage was programmed to activate 3 minutes after the pressure switch on the floor was hit. I expected to give her a good shock for her curiosity. What I didn't expect was her to lock herself in as well. With electricity buzzing in the copper rails and wooden spikes under her seconds feel like minutes as Kaecie desperately struggles to find comfort. Out of desperation, she kicks the door a few times but the 1200lb magnet doesn't even flinch. The good news for Kaecie is the cage will automatically deactivate in an hour. If she can hold herself up off the floor that long is a whole different story.
SB Challenge: Kaylee's Taped Key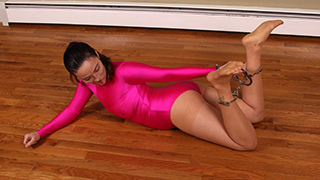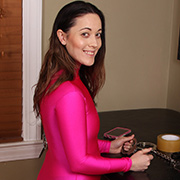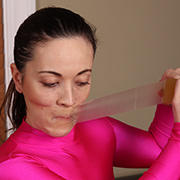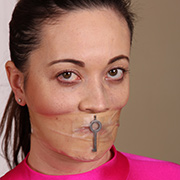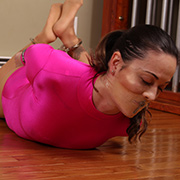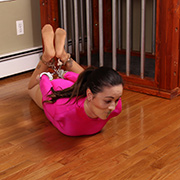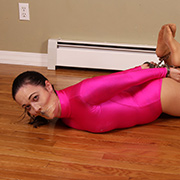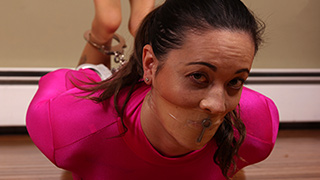 Kaylee takes on a new challenge. On the surface it seems easy enough; just a hogcuff, but with a twist. Her release key is taped to her tape gag. All she'll need to do is rub it off and she's free. Easy, right? Despite all the bondage equipment around her there's not a single sharp edge in sight. Just rounded bars, floor boards, moulding, and furniture. To make matters worse, her pantyhose and leotard outfit doesn't allow for quick movement across hardwood floors. After 10 minutes Kaylee's obviously getting frustrated, but that won't get her key free any faster. Kaylee will just have to try harder to find a way out.
Kaylee vs. Her Perilous Hose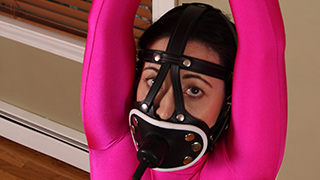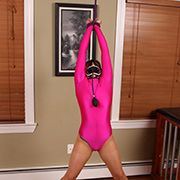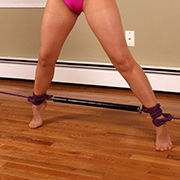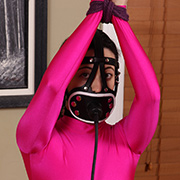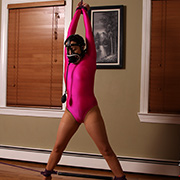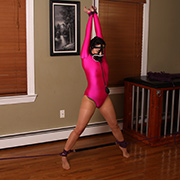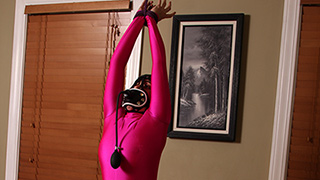 For a bondage newbie, Kaylee is as tough as nails. Starting right off with a heavy hardness pump gag her arms are tied above her head, and her legs spread apart. With pantyhose on her feet and hardwood floors under her, traction is at a minimum. Once everything is pulled tight, poor Kaylee is left on her toes struggling for purchase. A few pumps of her gag really get her struggling. Despite her very uncomfortable position, the magicwand has no problem in sending her to orgasmland in no time. They seem to keep her mind off her situation, so I see no need to stop. The gag only allows some muffled moans, so it's hard to tell if she wants more or wants free. I'll just assume that more is always better.
Kaylee vs. Her Indoctrination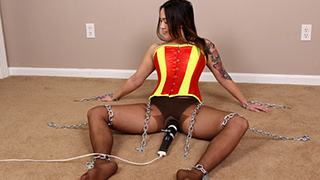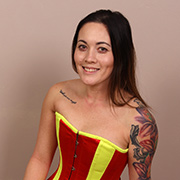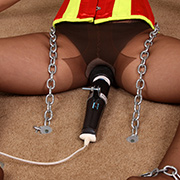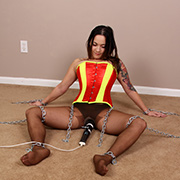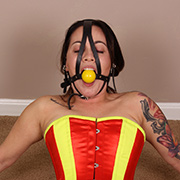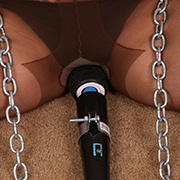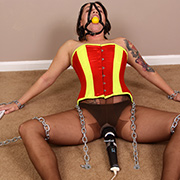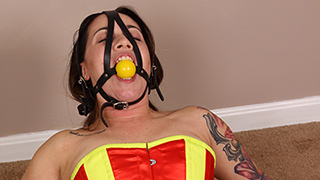 The great thing about being a newbie to bondage is everything is new and exciting. Kaylee had heard plenty of good reviews of the magic wand, but had never had the chance to try it out herself. I could toss her one and let her loose, but where's the fun in that? Bolting her to the floor with her arms chained apart forcing her to hold her weight seems much more fun. With the wand bolted firmly between her legs, Kaylee is in for quite a ride. Letting her stew a bit I click the wand on low; her expression is one of shock and instant gratification. After mere seconds it's obvious she is hooked. It not a question of if she will orgasm, but how many times.
Kaylee vs. Pole Orgasms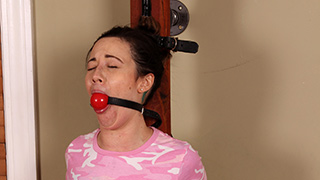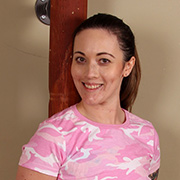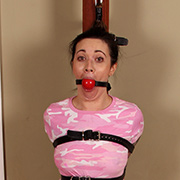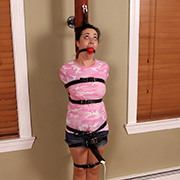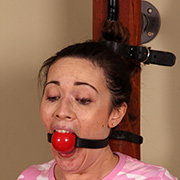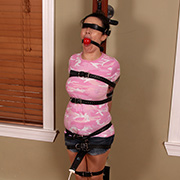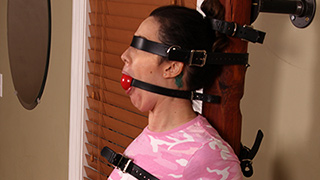 Belts cover Kaylee's body, holding her tight to the wooden pole. She tries to figure out what's next, the anticipation killing her. She doesn't have to wait long to find out. With her hair tied above her, the heels come off, leaving her on her toes. Kaylee can't even relax a tiny bit without something in her binds reminding her it's a bad idea. Drool now flows freely from her mouth as she's given up all hope of preventing it. When the magicwand is finally introduced, she's got nothing left. Her will to resist is long shattered and all that's left are endless orgasms.