Kim vs. Catch and Release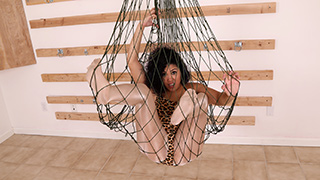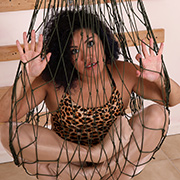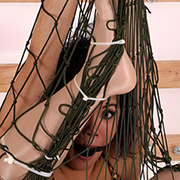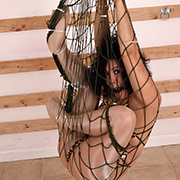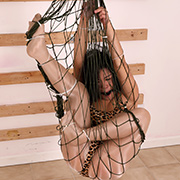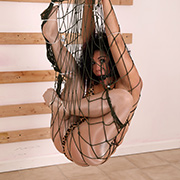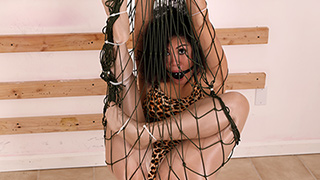 It shouldn't be a surprise that Kim's mouth got her into trouble again. Suspended inside of a fishing net her situation was pretty comfortable until the zip ties came out. One by one her freedom slipped away leaving her in an awkward, uncomfortable, and helpless position. Just to be sure a little flogging and tickling helped confirm Kim was good and stuck. After tormenting her for a while I figured it might be fun to see her try and escape. So, with a little help, I left her to do just that.
Kim vs. Slippery Fingers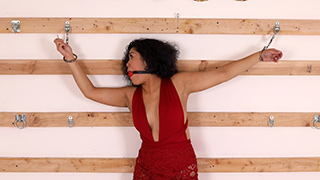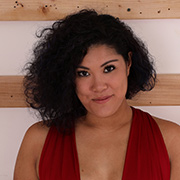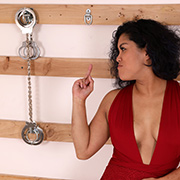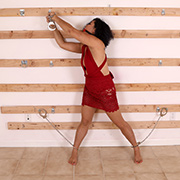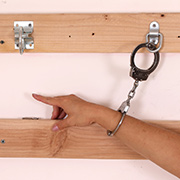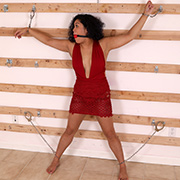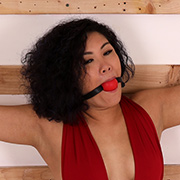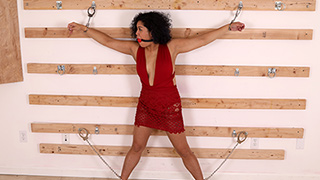 Overconfidence and self-bondage are a dangerous mix as Kim will soon find out. As a frequent practitioner of self-bondage, she was a bit disappointed with the challenge. Locking herself up would be quick and unlocking her cuffs with one hand might take a few seconds extra but overall pretty easy. This reckless attitude blinded her to the possibility of dropping the key. One that would become all too real. Her playful and almost bored attitude to the challenge soon changes tone when the key is lying on the floor at her feet.
Kim vs. The Rebound Wall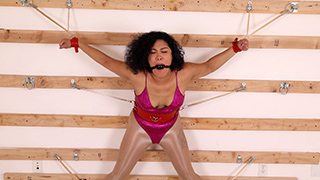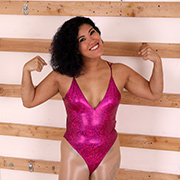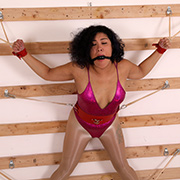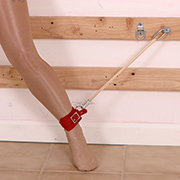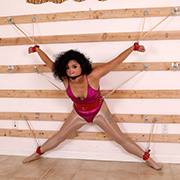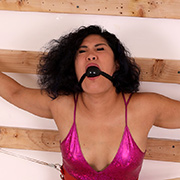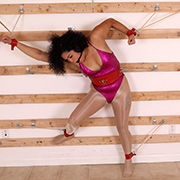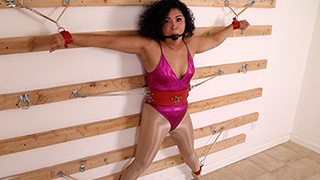 Rubber bands on the surface don't seem like a likely or even effective restraint. That's the mistake Kim made as well. With bands securing her wrists and ankles to the wall in a semi-spreadeagle position she wasn't going anywhere. Unlike most restraints, rubber bands give a false feeling that you can break free. The resistance eventually fatigues her muscles making it hard to keep a comfortable position. Before long the very bands that kept her secure keep her from falling to the ground. In the end, she is given scissors to escape but put just out of reach. It's not long before the last of her energy is used up and slumps down in exhaustion.
Kim vs. Her Zipped Nap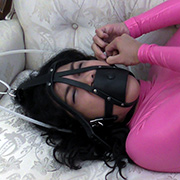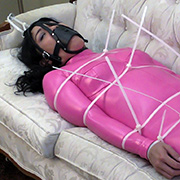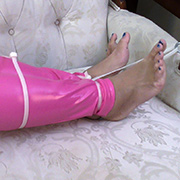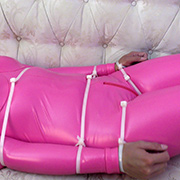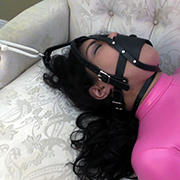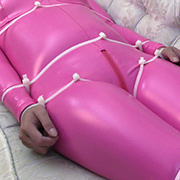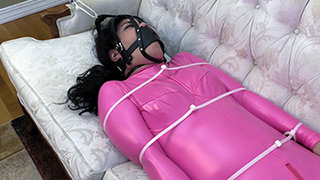 Kim had been cranky all day and just needed a nap to reset. Getting her to do it was another matter so creative solutions were needed. Once she had the gag secured and zipties in place it was just a matter of laying her down on the couch. That and a few more zipties to ensure she couldn't get back up. Sure, she struggles for a while to get free but eventually, she gets bored and let's sleep take her. The real question is should I let her go before she wakes back up or keep her secure to make sure she's in a good mood.
Kim vs. Her Sliding Chair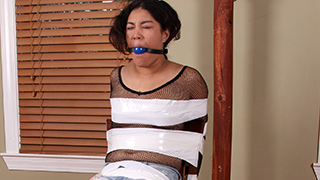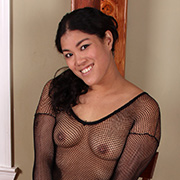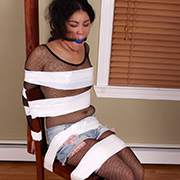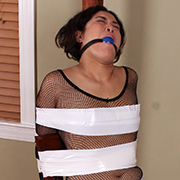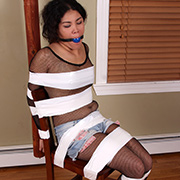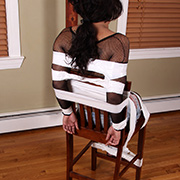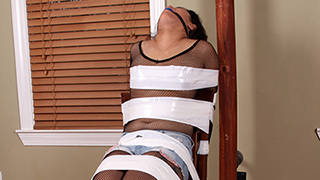 With duct tape the strength is in the layers. A detail Kim wasn't fully aware of when she agreed to be taped to a chair. Being very strong and seeing how one layer could easily tear this challenge was going to be cake. As each limb was wrapped in tape her certainty of escape dropped. Not until her elbows were being wrapped did she realize the extent the tape would be used. Waiting until the ballgag was firmly strapped in her mouth wasn't the ideal time to voice these concerns, however. As she was so confident minutes before that she could break free it seems a shame to rid her of that victory. A couple hours should be enough time. To start, at least.