SB Challenge: Krystal's Lost Key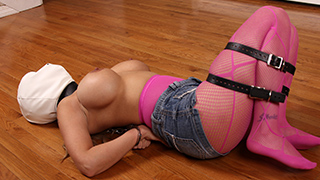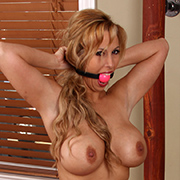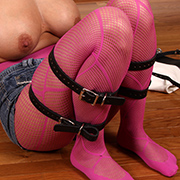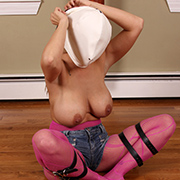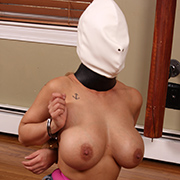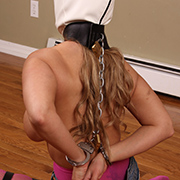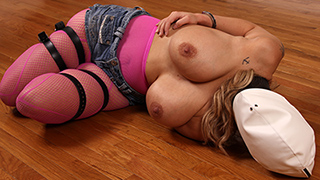 Getting herself into the bondage was easy. A few belts on her legs, handcuffs locked behind, and a sightless hood, the latter seemingly throwing a wrench into her escape plans. After accepting the challenge, she planned on using the hardwood floors to her advantage. The problem with hoods and a little struggling is that it is easy to get yourself turned around. Suddenly, what seemed like a small area for Krystal to find her key became an empty desert. Quelling her panic and ignoring the building heat in her hood, she pawed at her restraints, hoping she had made a mistake. It was no use, as she had done her job all too well. There's only one way out, and Krystal will have to finish what she started. The hard way.
Krystal vs. Black & Tan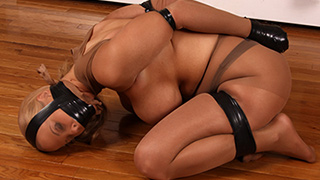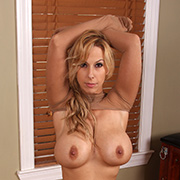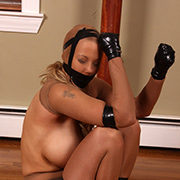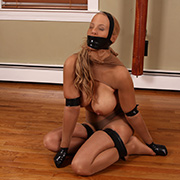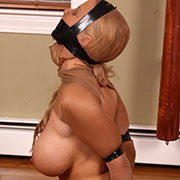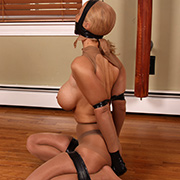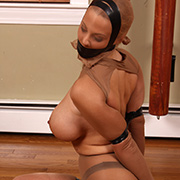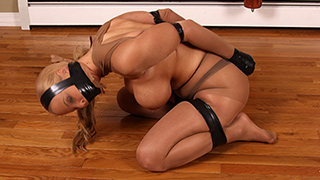 It's not that Krystal doesn't look incredible wearing just pantyhose. It's that bondage makes everything better. So with vinyl tape in hand I set to making her look perfect. Her legs are frogtied first, with her hands taped into tight fists afterwards. There won't be any prying fingers trying to grant her any escape. More tape follows around her head, silencing any protests and ensuring the nylon on her head stays in place. Finally, several wraps are put around her elbows with more cinching it tighter. Moments later she's covered in panythose bound tight with tape. Perfection.
Krystal vs. The Cage Bait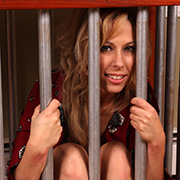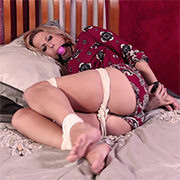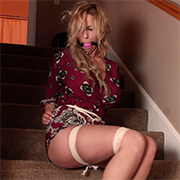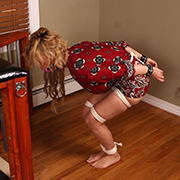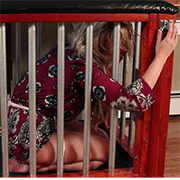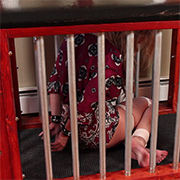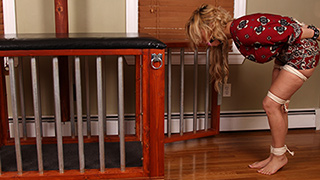 It's a given rule that anybody who sleeps in is subject to random adventures. So, when Krystal wakes up with her legs tied, hands handcuffed behind her, and gagged, she isn't surprised. Making her way off the bed, she looks for the key she assumes is hidden nearby. After striking out, she heads downstairs and spots it almost immediately. Dangling in the middle of the cage, it taunts her. After climbing inside she realizes she still can't reach it and will have to use more desperate measures. Little does she know she's falling for the bait and will soon have bigger problems to deal with.