Laci Star vs. Her Slow Crawl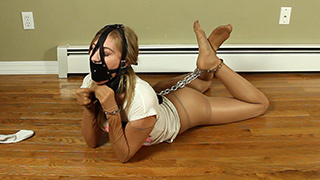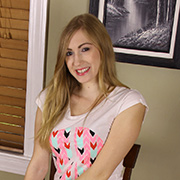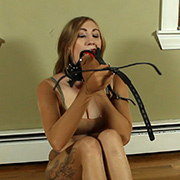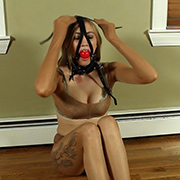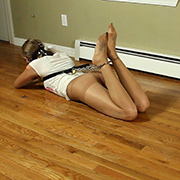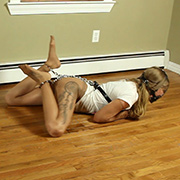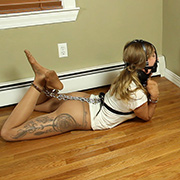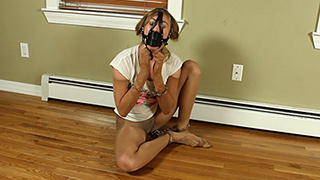 With a couple hours to kill before her friends came over Laci decided on a little self-bondage to pass the time. Gathering her toys she starts off by spreading keys all over the room. One final key is stuffed into the toe of her pantyhose. With her ankle cuffed she won't be able to reach until she she finds the one correct key in the dozens scattered around. Once she clicks the last lock in place there's only one way out. Laci's goal is to be free in an hour, but if her friend finds her still helpless that wouldn't be so bad either.
Star & Laci vs. A Tug of War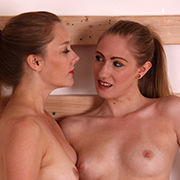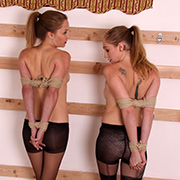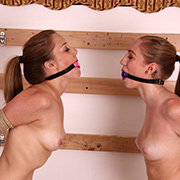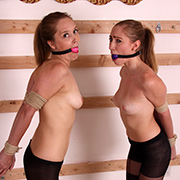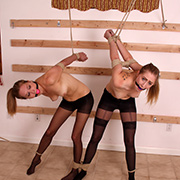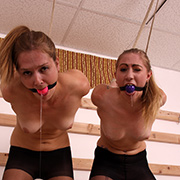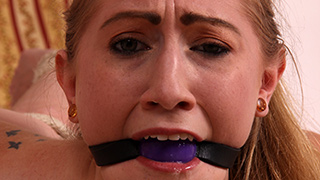 Only we the viewers are the winners in this game. There is no escape for Star or Laci with their arms tied tightly behind their back. Both are pulled into strappados, ankles tied to each other. Every movement, shift, or struggle pulls to the other. If one strappado rope is pulled down, the other goes higher. It certainly doesn't help when they are tickled over and over forcing an ebb and flow of pulling and tugging against each other.
SB Challenge: Laci's Denial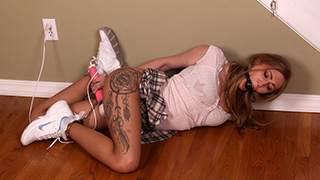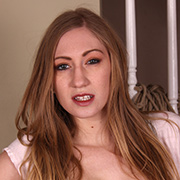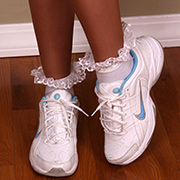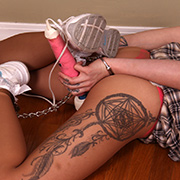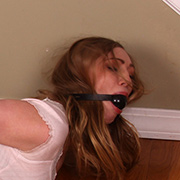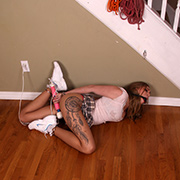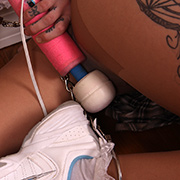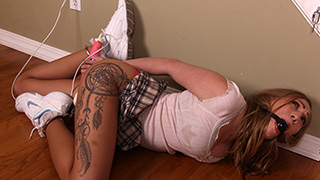 For this week Laci's self-bondage challenge is to gag, and handcuff herself into a hogtie. She's encouraged to use a vibrator to keep her distracted, but not allowed to orgasm. To top it off, she must endure her self torment for 30 minutes. After securing herself she starts the timer with her nose, careful not to drool on her phone. With the clock right in front of her, time moves slow and goes right to the magic wand for a distraction. Laci's orgasm builds quick forcing her to toss it away before breaking the rules of the challenge. A cycle that get's her more than worked into a frenzy as the clock ticks away. Squirming on the cusp of climax for so long she no longer cares about getting free; she's cumming first!
Laci vs. The Forced Experiment #2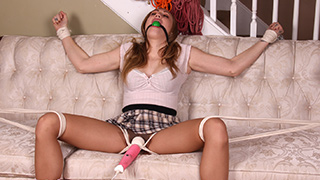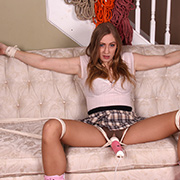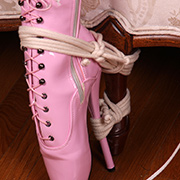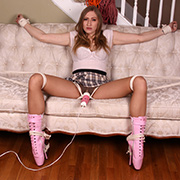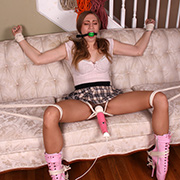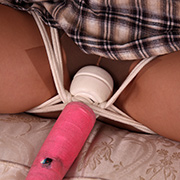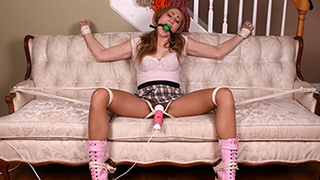 As with any scientific experiment, repetition of results is key. In our last forced orgasm experiment the subject was quite easily forced to orgasm with no ability to resist. This time the experiment is repeated with Laci Star in the couch, bound, gagged, and ready to resist the urge. She starts off strong, resisting the lower setting of the magic wand with ease. As the durations keep increasing it's quite obvious by her struggles the urge to give into temptation is irresistible. Was the results of our last experiment a fluke? Laci puts up a good fight and the results are quite definitive.
Laci vs. The Table Tickles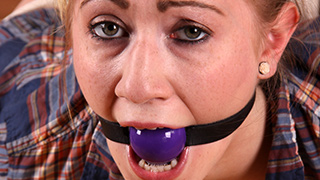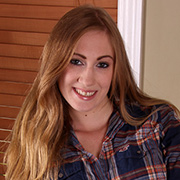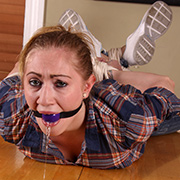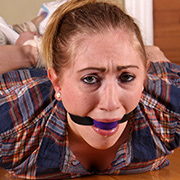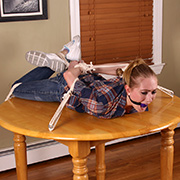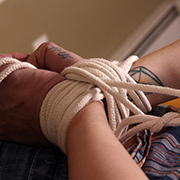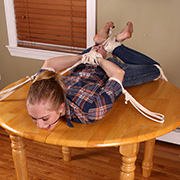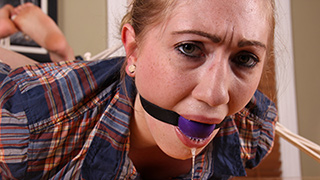 By the time the pool of drool under Laci's mouth started to spill onto the floor the last knots were tied. To be sure that she couldn't avoid the onslaught of tickling she was first put into a hogtie. Further ropes tying her limbs off to the tables four corners made even the shortest of struggles exhausting. Two final ropes were used on her toes, pulling them back and exposing the soles of her feet. Running a finger up on down her feet, Laci immediately tried to react. For all her effort she barely could move and inch and I was just getting started.