Maggie vs. Kaecie's Toys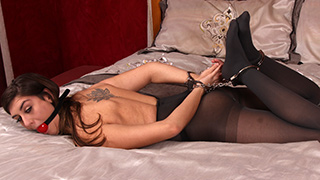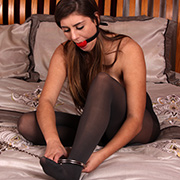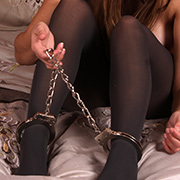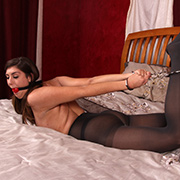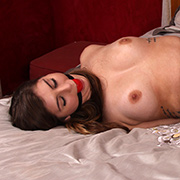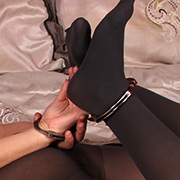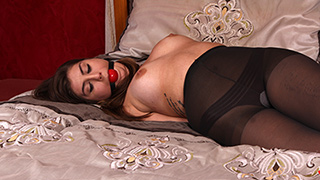 Looking for her hair brush Maggie finds it in her roommate's room but not before her foot finds her bag of toys. Looking through the bag she starts to figure out what her roomie is doing with the door locked. Curious what could be so entertaining she used the pictures in the magazines to put herself into a hogtie. Struggling and giggling behind her gag Maggie starts to see how her roommate enjoys being tied up. Still, after a few more minutes she decides it's time to get free and goes for the keys. In her eagerness, they go flying off the bed stripping away all fun she was having. Her luck really turns sour when her roommate shows up and she doesn't sound happy.
Maggie vs. Her Chastity Prayer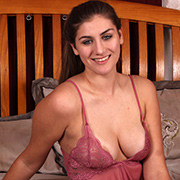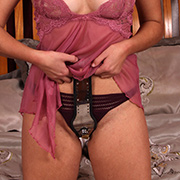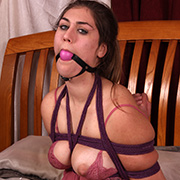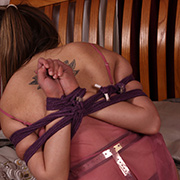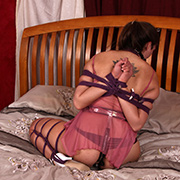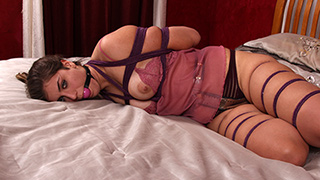 I could tell you that Maggie deserved to be punished. That if she manages to get free of her ropes that I'll have mercy and give her the keys to her belt. I could say these things, but they wouldn't be true. Maggie is tightly bound in a reverse prayer because I want her bound that way. She's in a chastity belt until I decide it comes off. While it's no secret I do these things for my own enjoyment but more importantly, I do them because she wants me to.
Maggie vs. The Mummy Blues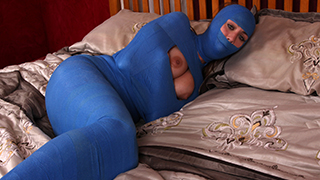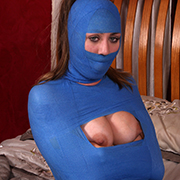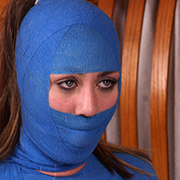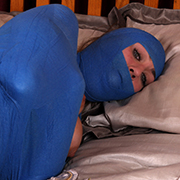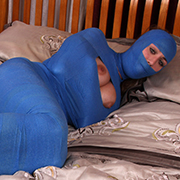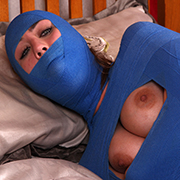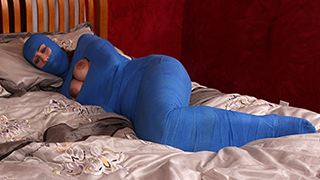 Maggie has not only never been mummified before she never imagined it was still a practice alive and well in the modern era. Starting with her chest and taking extra care not to cover her breasts the vetwrap is wrapped around her body. Soon she's covered to her ankles. A few giggles escape her lips as she tests out her bonds until the gag goes in. Now I feel like letting out a giggle as she thought I was done. Another couple rolls wrap her head and neck pressing her ballgag further in leaving only her eyes exposed. Once her feet are wrapped up, she's a complete mummy. A damned sexy one at that.
Maggie vs. A Shiny Afternoon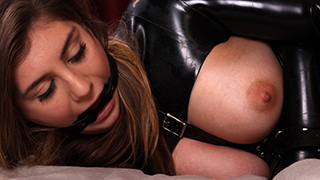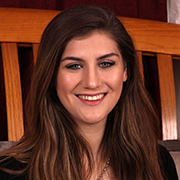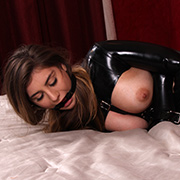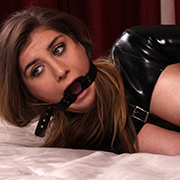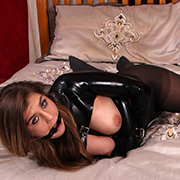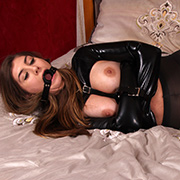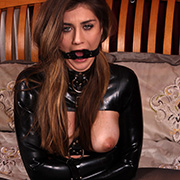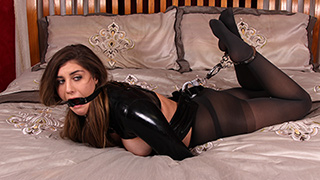 With winter coming on fast the potential for fuzzy sweaters goes through the roof. Luckily for Maggie, a latex straitjacket is the perfect weapon against the chill. Struggling to get free and drooling through her ring gag it might be hard to tell, but she's happy to be warm. Just to be sure that she doesn't accidentally struggle herself off the bed a pair of legcuffs are added. Caught in a hogtie she tosses around even more but the restraints hold tight, ensuring she'll keep snug all winter long.
Maggie vs. A Twine Situation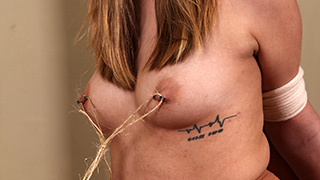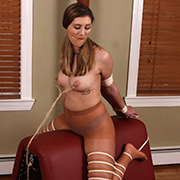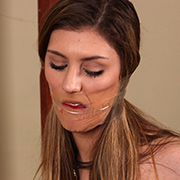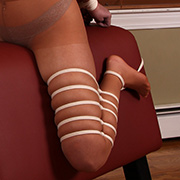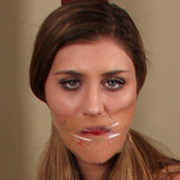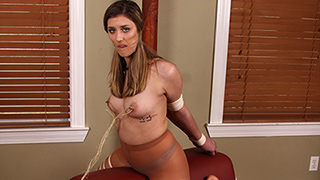 Frogtied and straddling a padded horse, Maggie struggles to escape the ropes holding her arms. She knows it's hopeless, and that her situation is only going to get worse. With her pierced nipples exposed, they make for an easy target. It only takes a moment and her breasts are pulled forward by the twine looped around her nipples. Each struggle or squirm only rubs the coarse twine against her nipples. Not quite painful, but not pleasant either. The tickling is the worst for her, as her body involuntarily jerks and pulls hard on the twine.