SB Challenge: Michal's Weights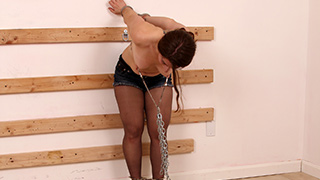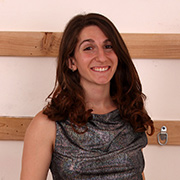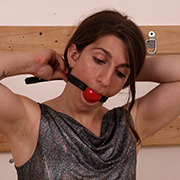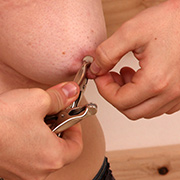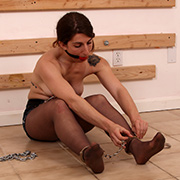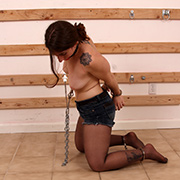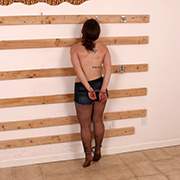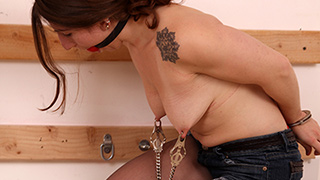 Of all the challenges that Michal could have picked, she went for one of the evilest. It starts off simple enough: A ballgag here, pantyhose there, and some leg cuffs to top things off. Placing her release key up high, she picks up her clover clamps with trepidation. Carefully, they are placed on each of her nipples. Wincing as she adjusts, next are two heavy chains which are attached to the clamps. The added weight forces her forward as Michal reaches the point of no return. With a sigh of resignation, she cuffs herself behind her back with hinged handcuffs. The only way out is to lift the heavy chains by her clamps. A prospect that seems impossible after a failed attempt to stand. Desperate, she tries to pull off her clamps, but the hinged cuffs keep her fingers just out of reach. Will she be able to pull them up high enough to reach the key and escape?
Michal vs. Hooded Isolation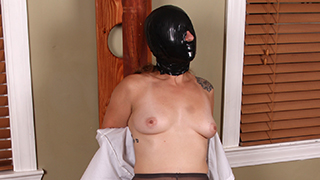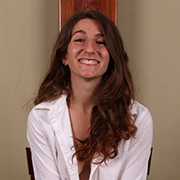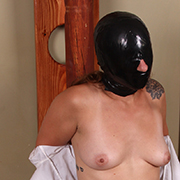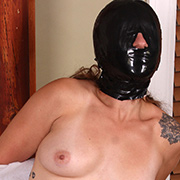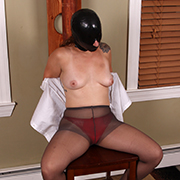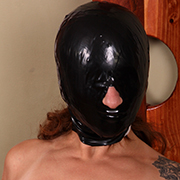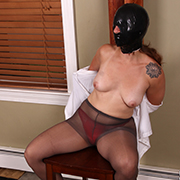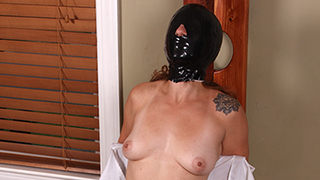 Wearing any type of hood can be unnerving to the inexperienced. The loss of sight alone can leave a person on edge. When taken to extremes, it takes nerves of steel to keep nerves under control. Michal starts with a cloth gag sealed in place with a few rolls of vetwrap. Already her sight and ability to talk are nullified. Black vinyl tape is next, removing all doubt that she's stuck. Even when given the chance to escape, it could take hours without scissors - which are kept well out of reach. The fantasy of escape is ripped away as her hand and feet are handcuffed to the chair. A mix of emotions flood through her as her body is completely exposed while her head is cocooned. Given her situation, it wouldn't surprise me if she'd be willing to do anything in exchange for being cut free from her hood. A prospect certainly worth exploring.
Michal vs. The Forced Experiment #11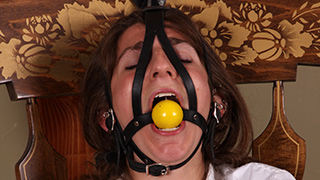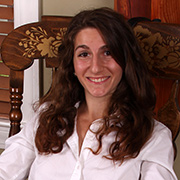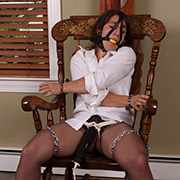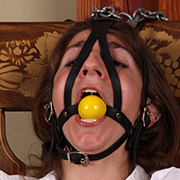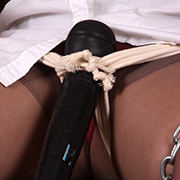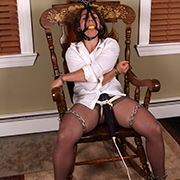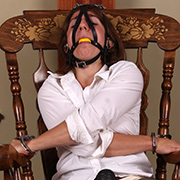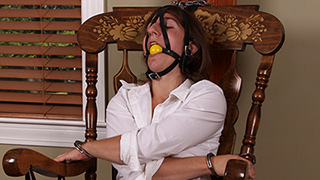 Past experience with Michal has told me she wouldn't fare well... or would, depending on your point of view. With her obsession with bondage, the two together should make her ability to resist impossible. She insists that she is in control of her body and that she'll only orgasm on her terms. With that in mind, I rig her to the rocking chair, her arms crossed with handcuffs and her legs off to each side. Extra chains are wrapped around her legs, and even her trainer gag is left immobile. Once the first round started Michal knew she was in trouble. Completely immobilized and with the magicwand unrelenting, even on low, she's almost instantly sent over the edge. While having an orgasm out of her control would mean she had lost the challenge, that isn't her worry. She knows, just as I do, that once the first one happens the rest are only going to be that much more intense.
Michal vs. The Strapless Gag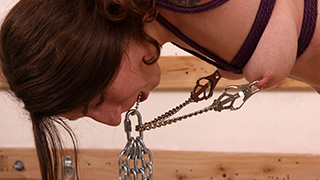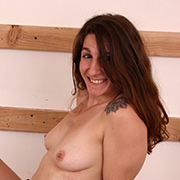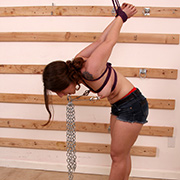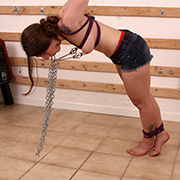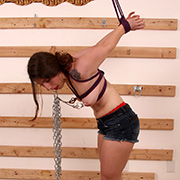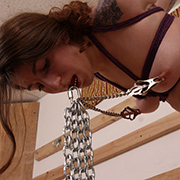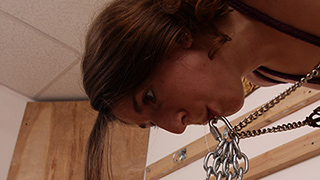 With her strappado pulling her up onto her toes, Michal wasn't exactly starting from a comfortable position. Adding clover clamps to her nipples certainly didn't make it any easier either. Before she could complain, I attached her nipple clamps to a ballgag ball and a couple of pounds of chain attached to it. Holding it near her mouth she was given three seconds to accept and keep it in her mouth or get an unpleasant yank on her nipple clamps. Choosing the first option, she greedily grabbed the ball. THe fate of her nipples rested in her ability to keep it in her mouth. Given the stakes, the rest of her bondage suddenly didn't seem so bad.
Michal vs. Her Aftershocks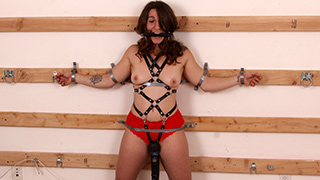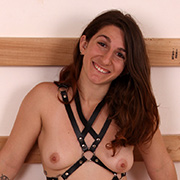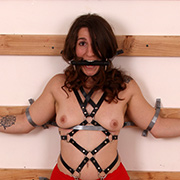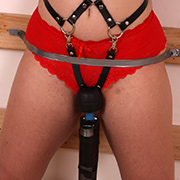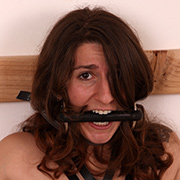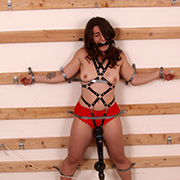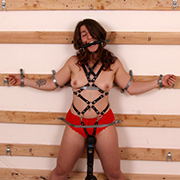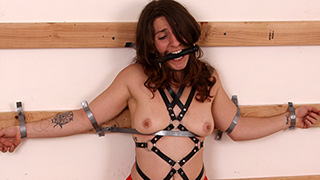 When Michal was bolted to the wall the intention was simply to keep her immobile. The metal strips did their job admirably. Where they were really put to the test was the introduction of the magicwand. Mix a love of bondage and a powerful vibrator and Michal was a powder keg of orgasms, primed to go off. It only took 30 seconds before the first one hit her, then several more quickly followed. This, of course, was only on low. Switching to high really sent her thrashing against the restraints. After losing count twice, the magicwand was eventually turned off. Her orgasmic aftershocks continued one by one, causing her to involuntarily twitch in her restraints.