Naomi vs. Her Gravity Hogtie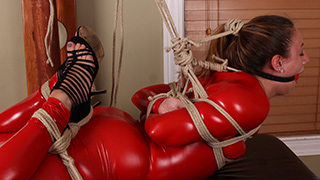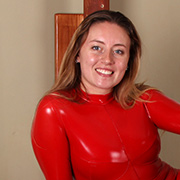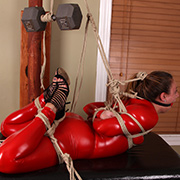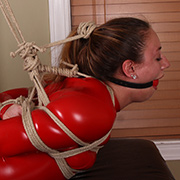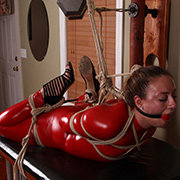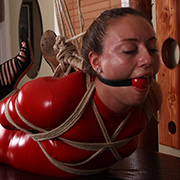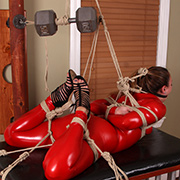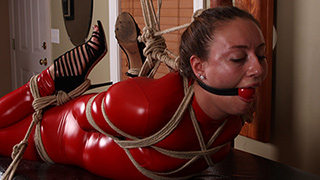 Sitting in my living room Naomi asked if she could be hogtied. Of course with me there's no such thing as a simple hogtie. Once she is bound in rope the real fun begins. Since no hogtie is complete without an arch why not use a little gravity to our advantage? A 50 pound weight is suspended above her and attached to her chest harness. Every squirm only pulls her tighter and in no time she can barely move. It's hard to tell from her gag moans but I think she likes it. Probably best not to let her out too soon and ruin her fun.
Naomi vs. Her Belted Dilemma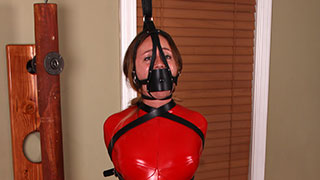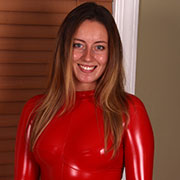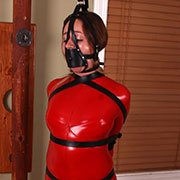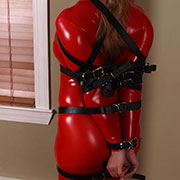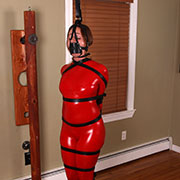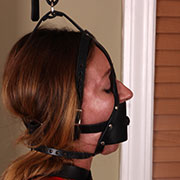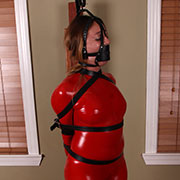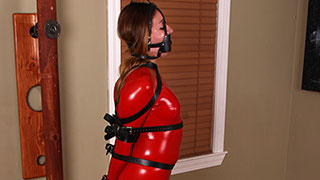 Standing tall in her catsuit and heels Naomi has no idea that's a position she'll be holding for a long while. Starting her off with a muzzle gag the top ring is cinched to the suspension ring above her keeping her in place. Nearly a dozen belts soon follow; crisscrossing her body and further restricting her. Several of the belts make their way around her elbows and arms removing any hope of an easy escape. Then again, that is the idea after all.
Naomi vs. A Steady Reminder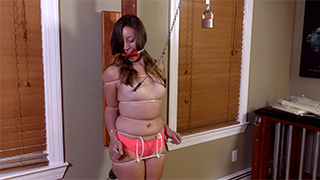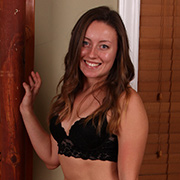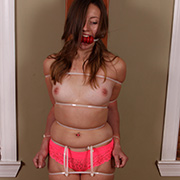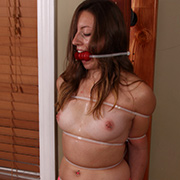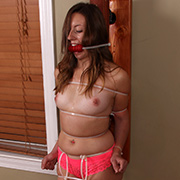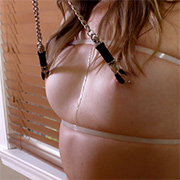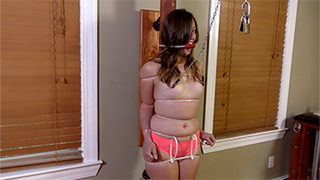 With a ziptie keeping her mouth gagged and head securely to the post Naomi's vision was a bit limited. Still, her source of discomfort was clear as day in front of her as two weights swung from a chain. The other end tethered to her nipple clamps. Every struggle or comfort adjustment manages to pull on her aching nipples; a constant reminder of how helpless she is. Of course, the zipties keeping her immobile are not a bed of roses so staying still isn't an option. I'm sure that Naomi will figure something out eventually.
Naomi vs. Her Chain Ball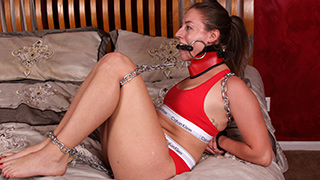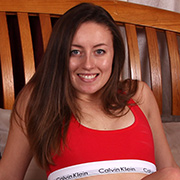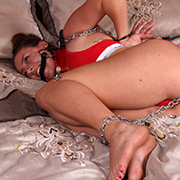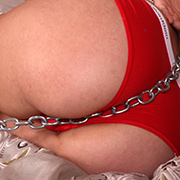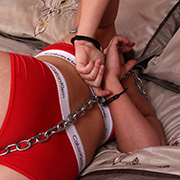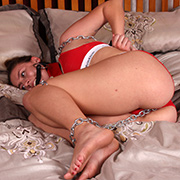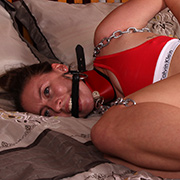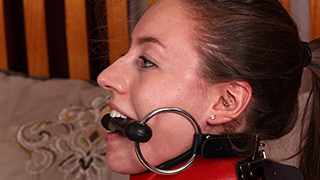 What looks like leg cuffs with a very long chain to Naomi turns out to be more than it appears. Wrapping the chain behind her neck and under her arms the handcuffs end in the middle of her back. A few clicks of the cuffs and she's left in a partial reverse prayer, unable to escape. The awkward position only foreshadows what's to come as more chain leaves her unable to move at all. To make matters worse the key to her release in only a couple feet away but might as well be miles. The ball tie seems innocent enough at first glance but renders the sub, Naomi, quite helpless. All points of leverage that allow even the slightest movement are useless and serve only to leave her exhausted and out of breath.
Naomi vs. Her Simple Task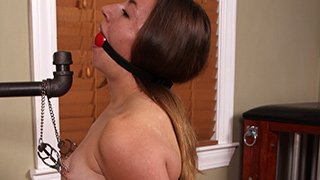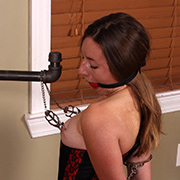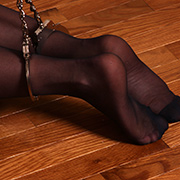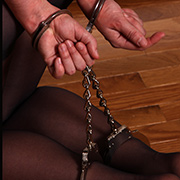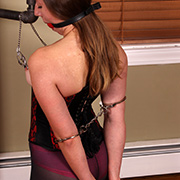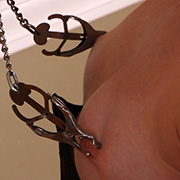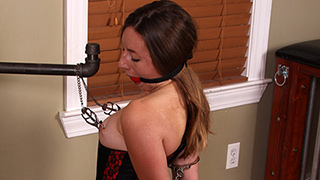 After complaining all day she was bored with nothing to do her tone implied it was my problem to fix. All she needed was a task to keep her occupied. Something engaging to keep her focused for at least a couple hours. Nipple clamps seemed appropriate, hooking them on a pipe in front of her. With her hands cuffed behind her they wouldn't be aiding in her escape. There were only two ways out. Flip the chain over the pipe or pull the clamps off to reach the nearby key. Technically Naomi could wait for me to feel sorry for her and set her free. Somehow I don't see the Vegas odds being in her favor for that happening.