SB Challenge: Peach's Attempt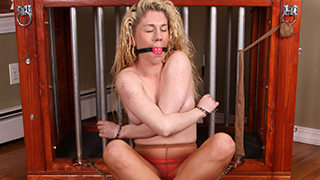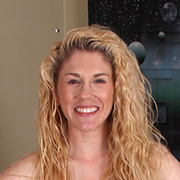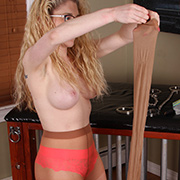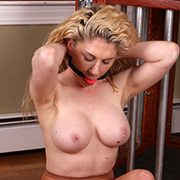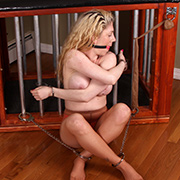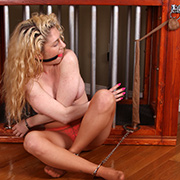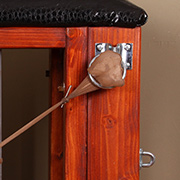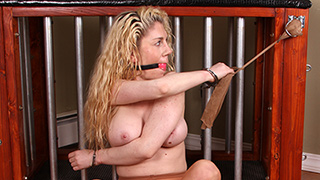 Peach seems to be taken with self-bondage and can't wait to jump into another challenge. The task before her is one that Abby attempted a few years ago, which didn't end well for her. Peach thinks she can do better, and is willing to put her freedom at stake to prove it. Within minutes of locking herself up it is clear that she used far too much ice. Unaware that even one cube of ice at room temperature can take over an hour to melt, the eight she used might be overkill: a fact that she realizes within minutes. Knowing she's set herself up for several hours of uncomfortable struggling, she can't help but panic a bit. Peach pulls on her pantyhose release harder and harder. Will she suffer the same fate as Abby?
Peach vs. The Mystery Button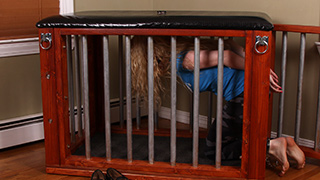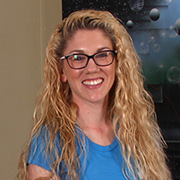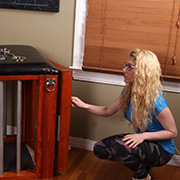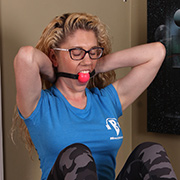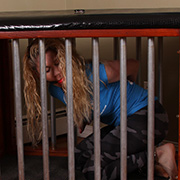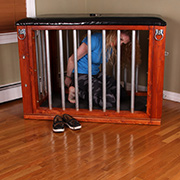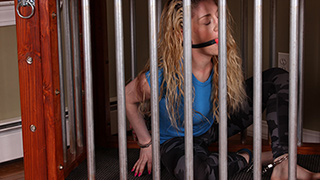 Getting stuck in self-bondage is easy enough to do even when you're prepared. Not knowing the toys you're using inside out is almost a guarantee as Peach soon learns. While spending the night she gets a little bored and decides to pass the time with the cage. Not knowing it was secured with a magnetic lock she unwittingly turns it on while pressing buttons on the remote. Unfortunately for her, Peach doesn't realize this until after she closes the cage door. Cuffed hand and foot with a ballgag in her mouth it comes as quite a surprise when she finds it doesn't open. If she can't figure a way out, she'll be spending the night in there.
Peach vs. Fruitless Struggles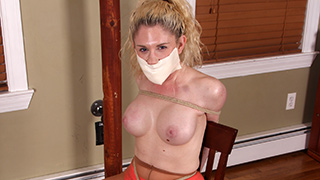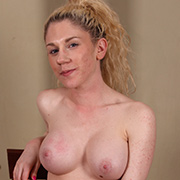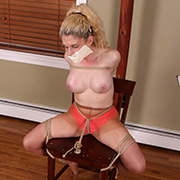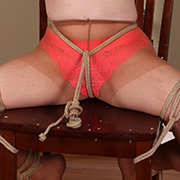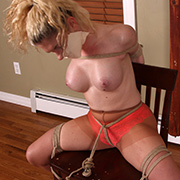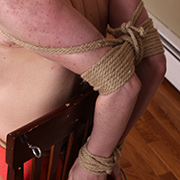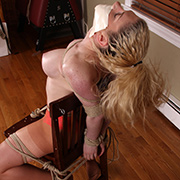 There's nothing like a good chair tie to put a girl on display. Elbows touching, crotch-rope, and Peach's huge tits ensure there is plenty of eye candy to go around. Best of all she actually thinks she can get free! Twisting and pulling against her ropes she gives it her best shot. The thought of spending the next hour in her predicament can understandably be plenty of motivation. Still, in the end, the ropes effortlessly keep her in place. Maybe after some rest, she'll be ready for round two?
Peach vs. Leg Day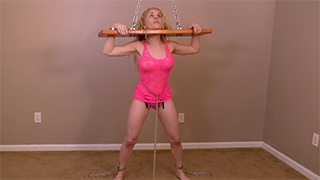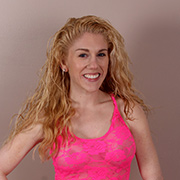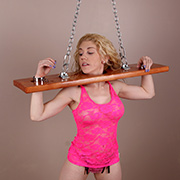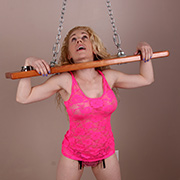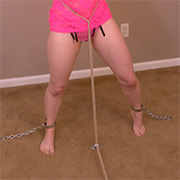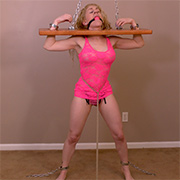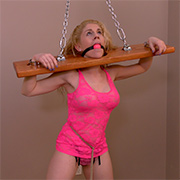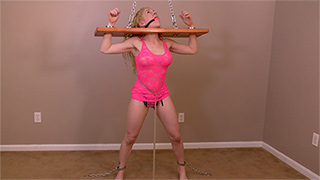 One of the many things that I love about bondage is that one tweak or rope can change the entire dynamic of a scene. As Peach struggles in her stocks trying to figure a way out she assumes this is it, the worst of it. While not uncomfortable in the short 15 minutes she's been struggling one little rope will change all that. Wrapped around her waist the rope doesn't catch her attention until it's cinched to the rings below. As it's slowly pulled tighter she instinctively bends her knees allowing what little slack she had to be ripped away. Within minutes her legs begin to tire as she struggles to keep pressure off her neck. How long can she last?
Peach vs. A Steel Quandary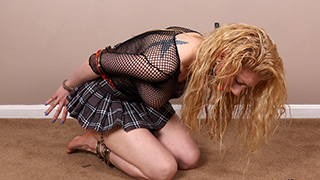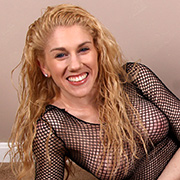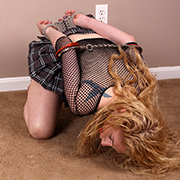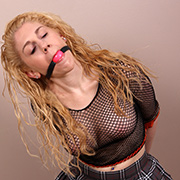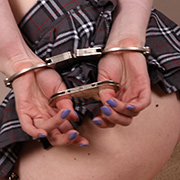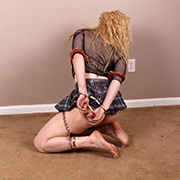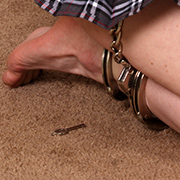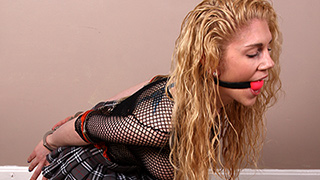 While strong confidence is usually a virtue too much can get you in trouble. Sure I might have baited her a bit by telling her she's have the key nearby for her escape but that just makes the game fun. To her credit her confidence didn't waver, even when the cuffs locked around her elbows. The thumbcuffs were a bit of a surprise and a device she didn't know existed until that moment. Once the final cuff connected her arms and feet, effectively hogtying her, I gave her the key to her escape. Knowing she won't be getting any help her confidence is gone. Unfortunately for Peach her woes are just beginning. Soon enough she'll figure out all the keyholes are facing the wrong way.