Raven vs. Her Pretzel Situation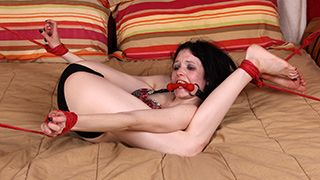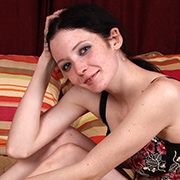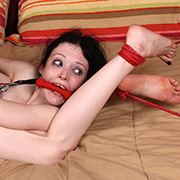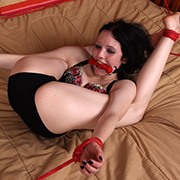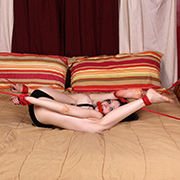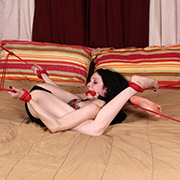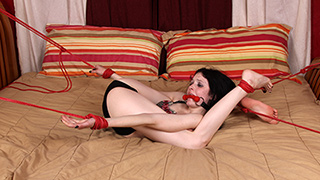 With someone as bendy as Raven, one can't help but exploit her flexibility. While she tries to be nonchalant and claims she can stay awkwardly bound all day, only time will tell. Pulling helplessly against her ropes, the inability to come free from her position causes more strain than she had anticipated. Grunting and struggling with muscle fatigue, Raven tries to keep calm. The addition of a sound-activated TENs certainly doesn't help her situation, as every sound causes a shock to course across her bound legs. Her predicament only gets worse as time passes. Luckily for Raven, she'll be there all day.
Raven vs. Black and Tan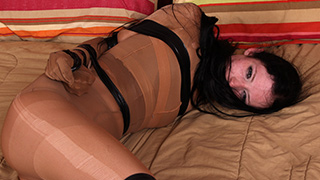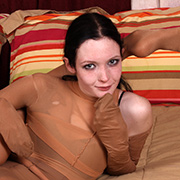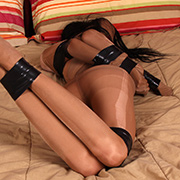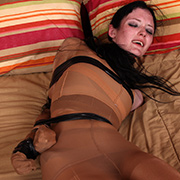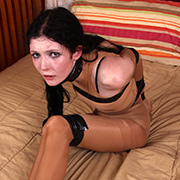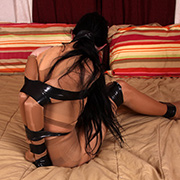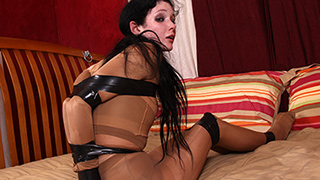 When you can't decide what to wear, why not layers of pantyhose? At least that was the plan with Raven. A little bit of tape to keep her elbows tight together, mouth gagged, and legs secured. As someone who loves to escape from her bondage, this is a perfect test of the tape's effectiveness. While she is good at what she does there is no doubt that the tape will prove a worthy challenge.
Raven vs. Her Incentive Plan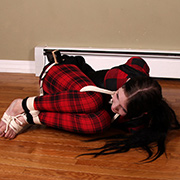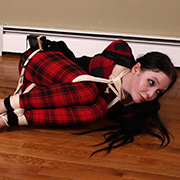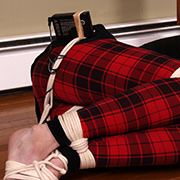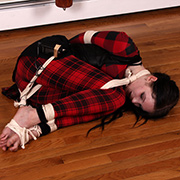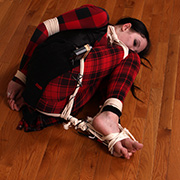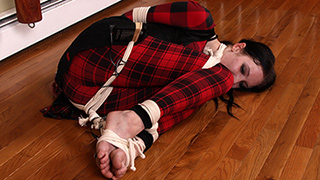 From the moment she walked in the door Raven couldn't help but complain about the cold. Luckily for her, I have plenty of rope to solve the problem. Limiting mobility might seem counterproductive, however, with the right incentive she'll be looking to shed a few layers in no time. Her elbows, legs, neck, and feet are bound tight leaving her in a very effective ball tie. To ensure she doesn't lie still a TENS is connected and cranked up. With the timer started she has to make her way across the room knowing that she'll get punished for every minute it takes to get there. The ball tie does its job perfectly as moving even a few inches started to get her winded. By the first minute she's starting to run out of steam but suddenly finds a jolt of energy to keep going. The question is, how much incentive will she need?
Raven vs. Her Floating Wrap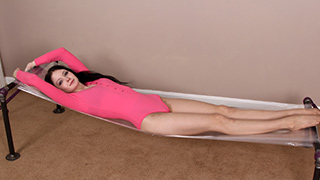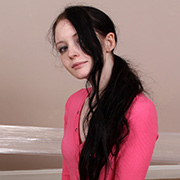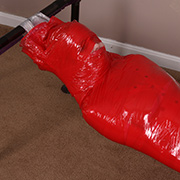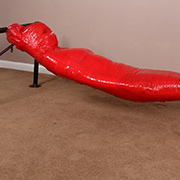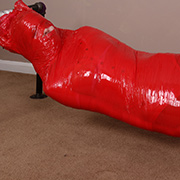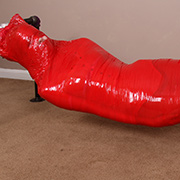 Floating on a bed of plastic wrap Raven awaits her fate. Starting at her feet the roll of red plastic is slowly worked up her legs. Bit by bit her body is not only mummified, but wrapped around her plastic hammock. Panic fills her face for a moment and the wrapping continues to secure her head as well. Only her nose is left exposed. If struggling was difficult with a normal mummification, it's a whole new game now as every movement seems to work against her. When she decides to get cute and pokes a fingernail through the plastic I leave her to escape completely. A task she wholly underestimated it's difficulty.
Raven vs. Her Stock Ball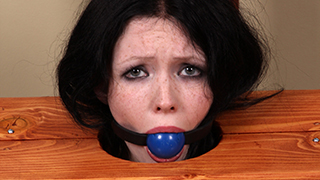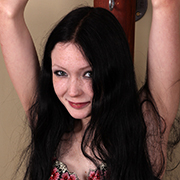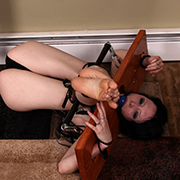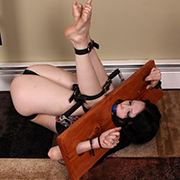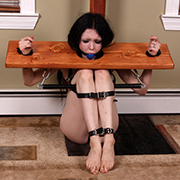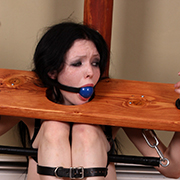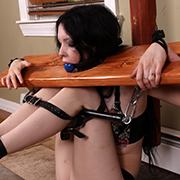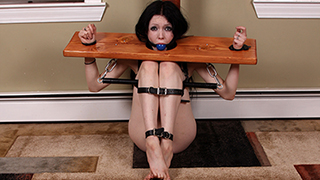 Locking Raven in stocks wasn't enough; far too comfortable. Putting a spreader bar behind her knees and attaching it to her stocks does the trick. She's well aware of her situation immediately, knowing that if she falls over, she's not getting back up.