SB Challenge: Lilah's Shuffle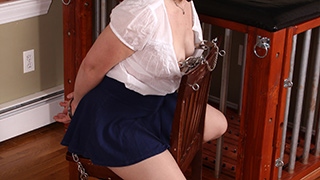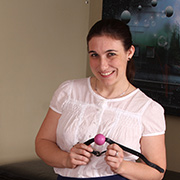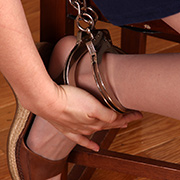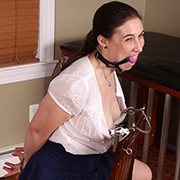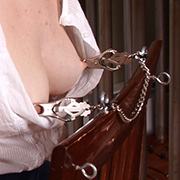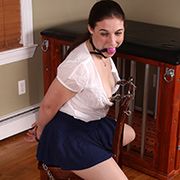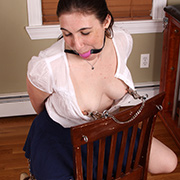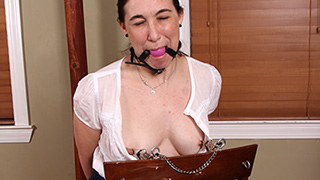 As Lilah read the instructions it seemed so easy. She was to cuff her legs to the chair along with her nipple clamps. Cuff her hands behind her back and shuffle over to the key. Once she'd locked herself up, the situation didn't play out as she expected. It turns out that trying to throw your weight towards the key while your nipples are attached to clamps isn't easy. As painful as it might be the key hanging across the room won't get her out by itself!
Hannah vs. Her Earned Rewwards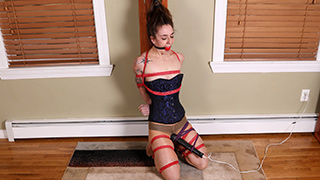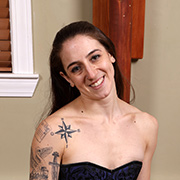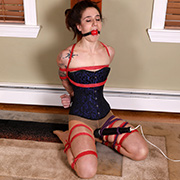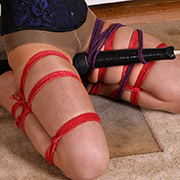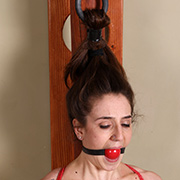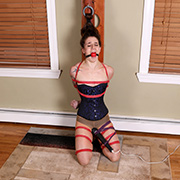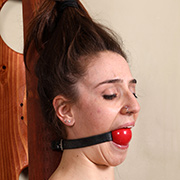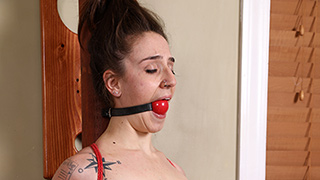 Tight rope, cinched extra tight, encircles her legs and arms preventing her from going far. Even if she entertained such thoughts the ring secured to her hair will dissuade Hannah. Pulling the ring up high it's hooked to the pole behind her forcing her to stay high on her knees. A vibrator is tied between her legs and put on high which gets her moaning right away. For most in this position, it would be a relief but Hannah's a good sub and will only cum when given permission. Something she knows won't come on her first few requests, if at all. As each denial comes her predicament becomes less about her bondage and more of trying not to explode with frustration.
Hannah vs. Her Favorite Things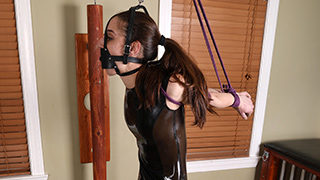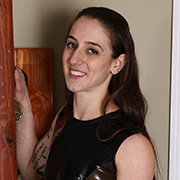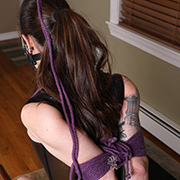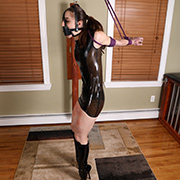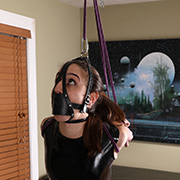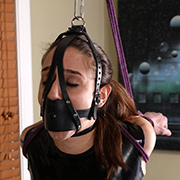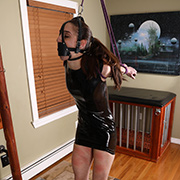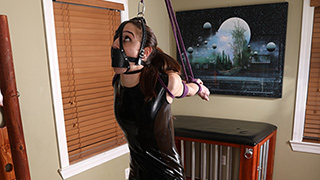 Individually, there is almost no aspect of bondage Hannah doesn't love. Putting them together in a recipe she can't resist takes a bit of work, but is well worth the effort. A strappado predicament is always a good base with ballet boots to keep her on her toes, literally. Of course, latex is always a treat which any girl will love. The icing on the cake are the hard cane strokes applied while under duress. Each stroke brings her closer to orgasm as she struggles to keep her balance. The gag hides her face, but I can assure you there is a smile buried in there.
Hannah vs. Cause and Effect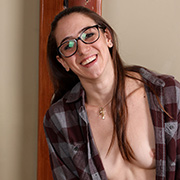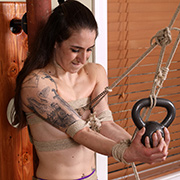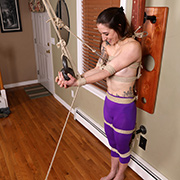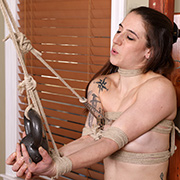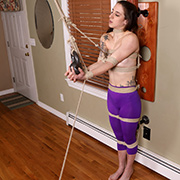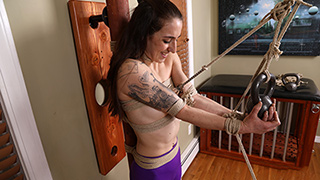 Whenever Hannah comes around it's a game of brinksmanship to see what her limits are. Nothing tests this more than a challenging predicament. She starts tied to a pole with her arms tied together in front. A nervous smile crosses her face as she starts to piece together what's about to happen. Nipple clamps fade the smile quickly as they are tied to her arms in front. A 50 pound weight keeps her from lifting them up to keep pressure off her clamps. This alone would make for a challenging time, but I have a special surprise for Hannah. A 10 pound weight is placed in her hands and tied to her nipple clamp rope. The effect is immediate and the consequences are clear.
Hannah vs. Her First Mummy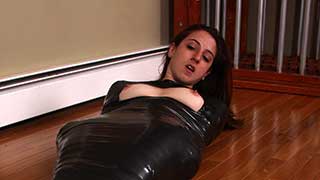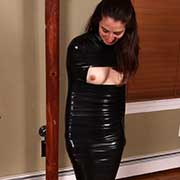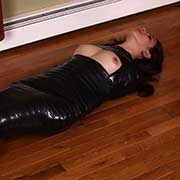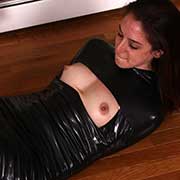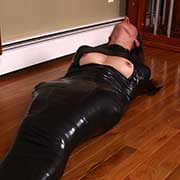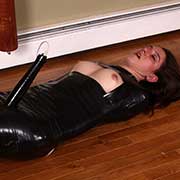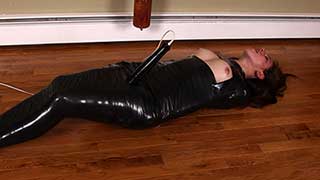 With a girl like Hannah there is not much she hasn't done when it comes to bondage. So when I found out she was a mummy virgin, well, these things must be corrected. Of course there were certainly no complaints from her. Getting her out of it will be more difficult than getting her in. In the first video she is wrapped from her shoulders down but careful not to cover those lovely breasts. When she's completely wrapped she tries her best to get free but even if given days to try she'll never get out. Since she'll be stuck for a while the magicwand makes for a wonderful distraction keeping her right on the edge. Will she be granted an orgasm to teased into a frenzy. You'll have to watch to find out.

Part One: Wrapping & Scene Chatting
Part Two: Struggling & Magic Wand