Ruthie vs. The Chair Wrap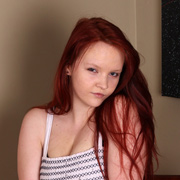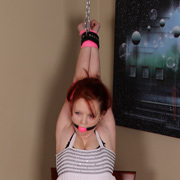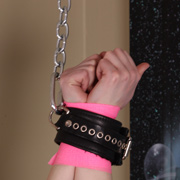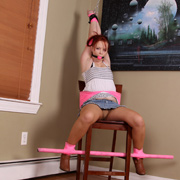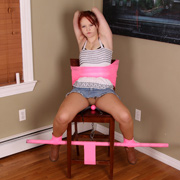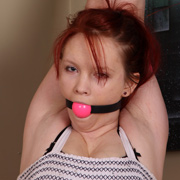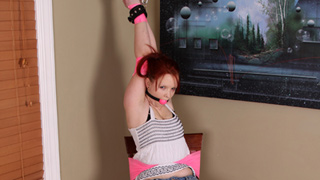 Ruthie would never admit it but as the vetwrap continued to compress around her elbows she had underestimated the material. Moments earlier it tore like paper in her hands and now squeezing her wrists and elbows behind her head tightly. When she eventually begged for a reprieve I gladly obliged only to use another roll to mummify her head. Her wrists pulled down behind the chair, she can only paw at restraints nowhere near her fingers. As she struggles the wrap naturally compresses just a bit more forcing her ballgag underneath in her mouth deeper. Ruthie wants to beg her way out of her new bindings but knows it won't get any easier.
Ruthie vs. Her Arched Back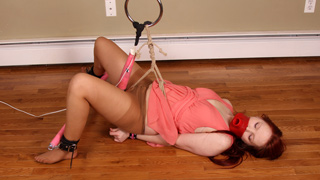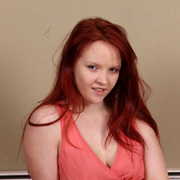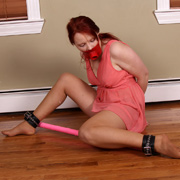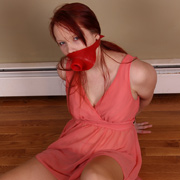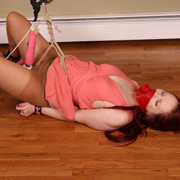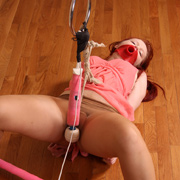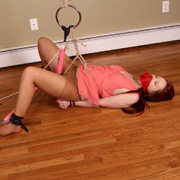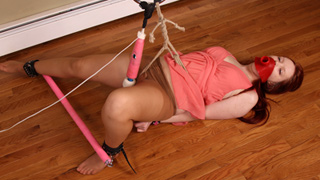 It was clear Ruthie wasn't happy with the awkward position she was bound in. So if she was going to complain, I would give her a reason to do so. A single rope is all it takes to go from awkward to very uncomfortable in a matter of seconds. Tight crotch ropes tend to have that effect. At least I'm kind enough to dangle the magic wand in just the right spot. Now it's a matter of choice. Succum to the vibrating pleasure and let her legs go weak or hold herself up to keep pressure off the crotchrope. I'm sure Ruthie will figure it out.
Ruthie vs. The Bed Squirm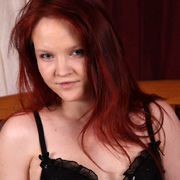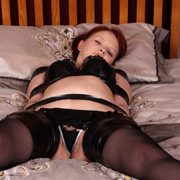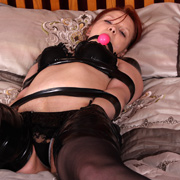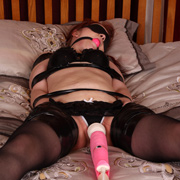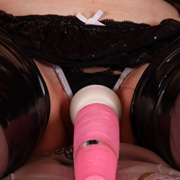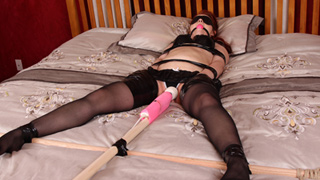 Ruthie didn't know it yet, but the wooden pole taped to her ankles would be her bane, at least to start. She tries to struggle from the tape wrapped around her arms, body, and hands to no avail. Instinctively she tries to roll over for a better position but is soon stopped by the wooden pole. Frustrated she tries harder but the vinyl tape is not forgiving. Ruthie is more than ready for the Hitachi when I secure it in place. Buzzing away it doesn't take long for her to climax, and again, and again.
Ruthie vs. The Product Test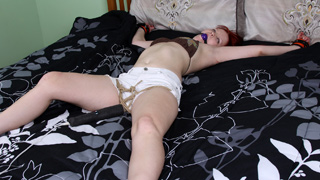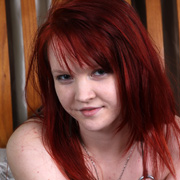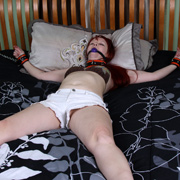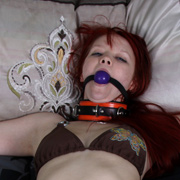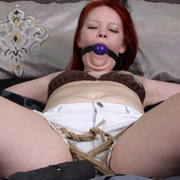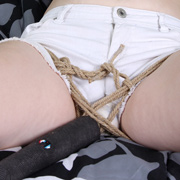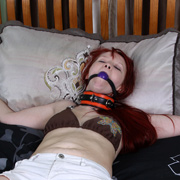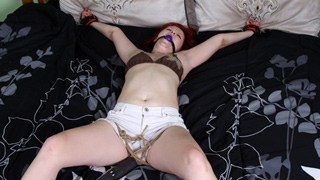 After receiving a new set of cuffs and collar from Sinvention I needed to do a little product testing. I have to be sure that nobody is going to slip out of them or get free; it's part of the job. Chained and cuffed in a spreadeagle Ruthie's mission was simple. Find a way out. To be sure she put up a valiant effort I decided to see how she's fair with a magic wand tied in place. Knowing she's never tried one before I started Ruthie on low and away she went. Like riding a bull she was putting those cuffs to work. As she thrashed I learned two things. Ruthie will never get free of the cuffs and even with the Hitachi on low I had her cumming once a minute.
Ruthie vs. The Frogmaid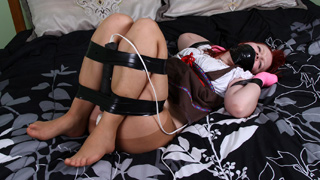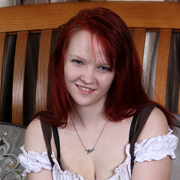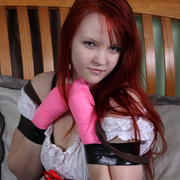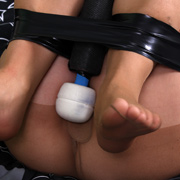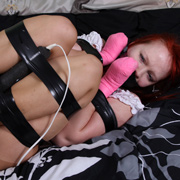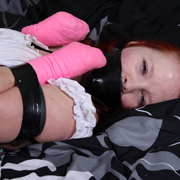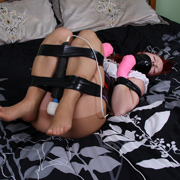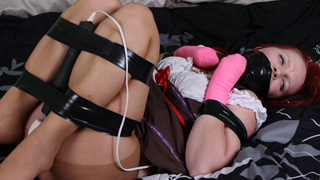 I have to say, I love it when a newbie gives me that look when I mention forced orgasms. The mix of impossible and intrigue on their face. Starting her off with taped fists her arms and legs follow quickly into tightly frogtied limbs. Ruthie's rig isn't complete without a mouth stuffing panty gag which is wrapped nice and secure. The real fun starts when her legs are taped together forcing the vibrator in her most sensitive of places. It doesn't take long before she too is in awe of the forced orgasm!