Sarah vs. The Forced Experiment #10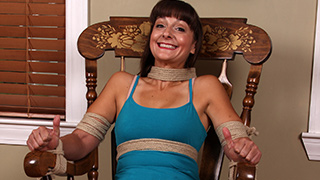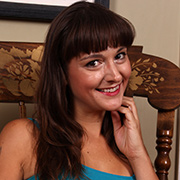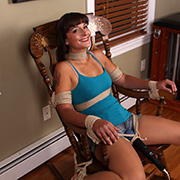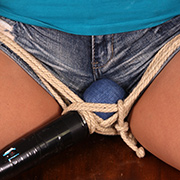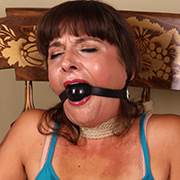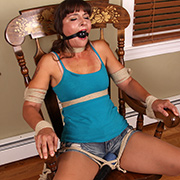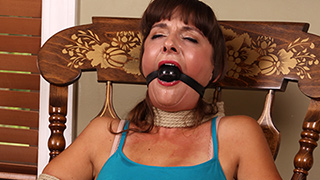 For most girls, this experiment is about pride. Denying oneself a mindblowing orgasm isn't something you do without serious motivation. Fueled by the knowledge that almost everyone succumbs, Sarah was determined to break the mold. Setting her mind to the task, she spends several grueling minutes on the cusp of orgasm while denying herself the prize. Each minute wears down her resolve. Some other girl can claim the title. That time came when her body betrayed her desperate need to cum. When her mind still said no, but her body was shaking with need, the tables turned as she found herself trapped on the edge of orgasm. Maybe a few more minutes will cure her, or simply drive her insane.
Sarah vs. The Floating Mummy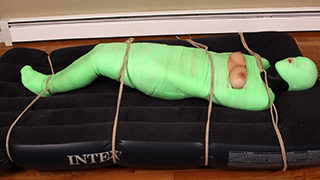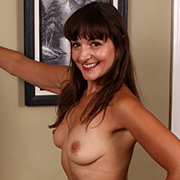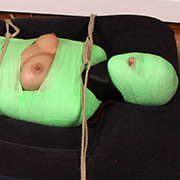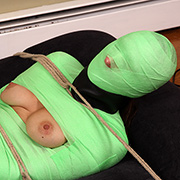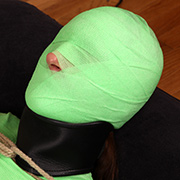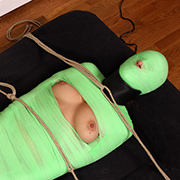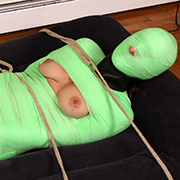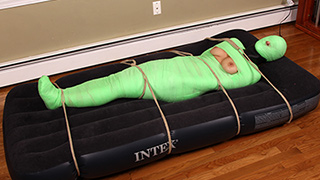 Sarah stands with a noose around her neck watching the layers of vetwrap circle her body. Having never been mummified before, she was more than a little nervous. The process is gradual until she's completely immobilized from the neck down. Her head is wrapped last with several layers, to ensure complete isolation. Once she's fully wrapped, she's moved to an air mattress and tied down, taking even her ability to roll to the side away from her. With only her breasts exposed, I give her a simple ultimatum: Find a way off the bed, or strong nipple clamps await. Her panicked struggles show that I got the reaction I was hoping for.
Sarah vs. Her Icy Predicament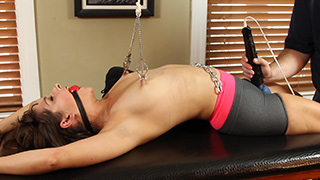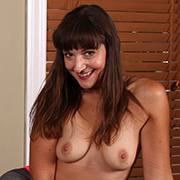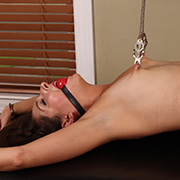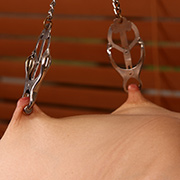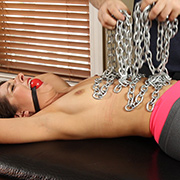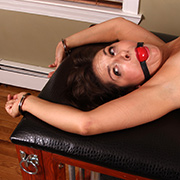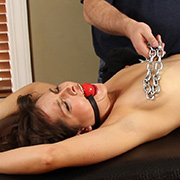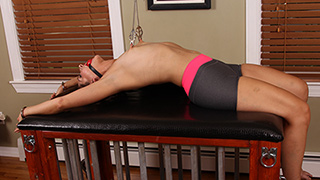 It only takes a few sets of handcuffs to immobilize Sarah on top of the cage. Nervously, she tests her bonds knowing there is no hope of escape without a key. From the kitchen I return with a black bag; a close chill runs up her sides as I set it down next to her. The humid summer air is already frosting the ice cold metal chains which are about to be laid over her body. The handcuffs do their job admirably as chain after chain is laid over and under her bare flesh. Sarah's torment is only just beginning as a pair of clover clamps are placed on her sensitive nipples, brought to attention by the cold. Just when she doesn't think she can take any more, the magicwand instantly makes it all worthwhile - skyrocketing her to a massive orgasm.
Sarah vs. The Crotch Chain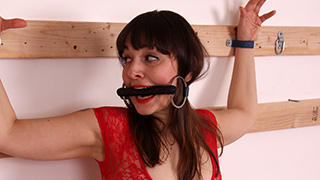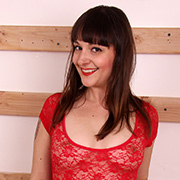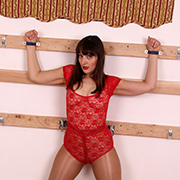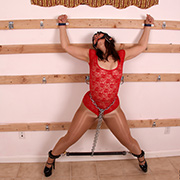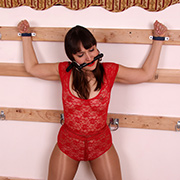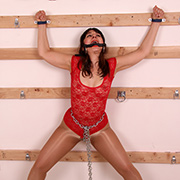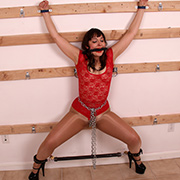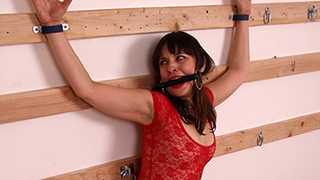 Sometimes people never know when to quit when they are ahead. Sure I had bolted Sarah's wrists to the wall and put a spreader bar between her legs, but it could be a lot worse. She didn't see it that way and continued to complain even after the gag went in. If she was going to complain it seemed only fitting to give her something to complain about! Securing a chain around her waist and between her legs the slack is connected to the bar below. Now forced to bend her knees there's only two options. Support her weight while her legs eventually tire or hang uncomfortably by her wrists. I have a feeling there won't be many complaints after this lesson.
SB Challenge: Sarah's Clothespins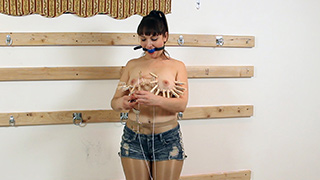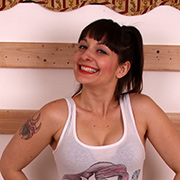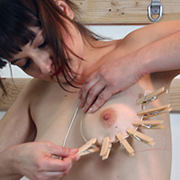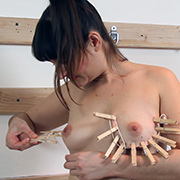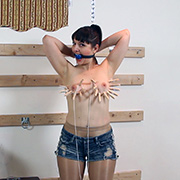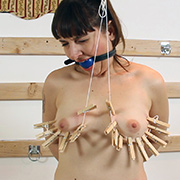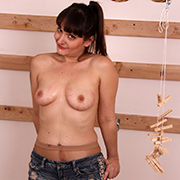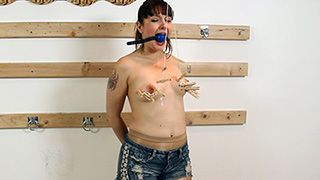 For Sarah's challenge, it all starts with a simple clothespin. Several of them actually. Using a string, she must make a zipper around her body or breasts before handcuffing herself. With her key well out of reach and a self applied ballgag preventing any pleas for help Sarah's on her own to escape. With no recourse she tries to pull them off. Wincing as the first one pops off she bites and groans into her gag, cursing the shot of pain. Drool pours over her breasts as she looks down and sees over a dozen left to pull off. Sarah glances again at the key across the room before starting to pull off the next one.