Sarah vs. The Orgasm Tower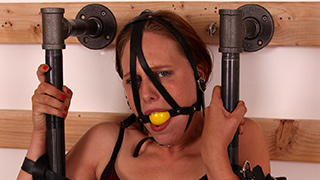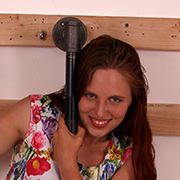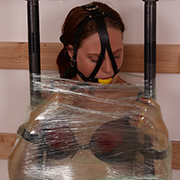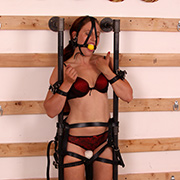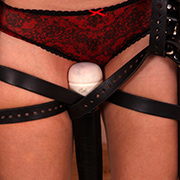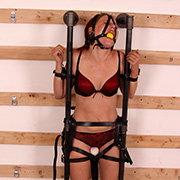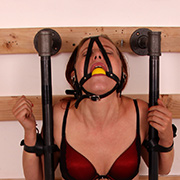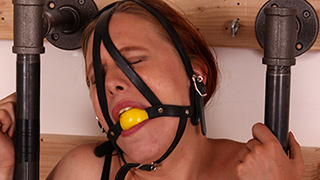 Sarah could see it sitting on the chair. Half of her couldn't wait for it, the other half knew it would eventually torment her. For now she was secured and mummified to an iron tower, but soon she would be cut free. When eventually her favorite toy was easily secured in place, in a way she could escape it. With a flick of a switch and a jump her first orgasm would come quickly, leaving her extra sensitive for the next one. By her 5th orgasm her pleas for some reprieve were only met with a tightening of the belts, pushing the wand harder against her sensitive clit.
Sarah vs. Her Table Time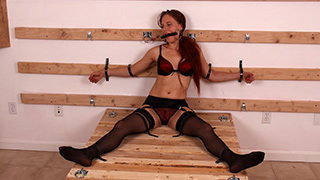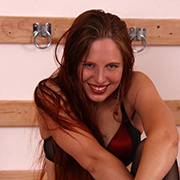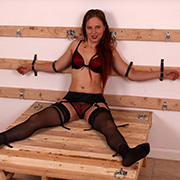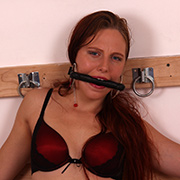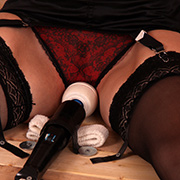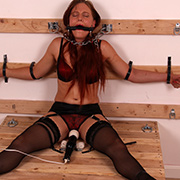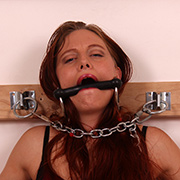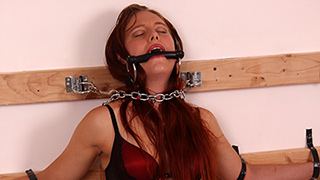 All dressed up and nowhere to go. At least that's how Sarah felt bolted to the wall and table below her in her sexy lingerie. Truth be told, she was loving every minute of her captivity. Even the drool flowing down her chin from the bit gag didn't phase her. It was all a prelude to what she knew would be coming next. After struggling for a while, her wish eventually came true as a wand was pressed firm against her pussy. Buzzing softly, her built up anticipation ensured she didn't have to wait long to orgasm. Writhing in her bondage, Sarah knew she would come to enjoy her position. It was only a matter of time.
Sarah vs. Her Pigtail Tugs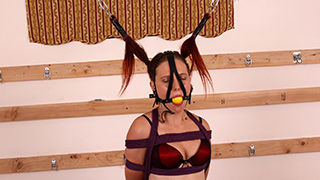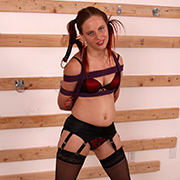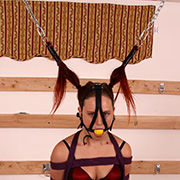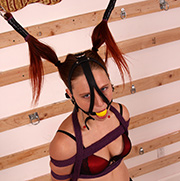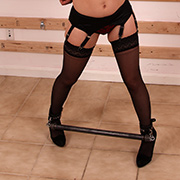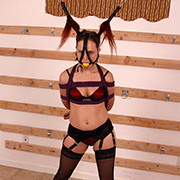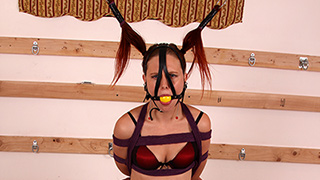 Sarah had quite a bit to think about starting with her sliding heels on the tile floor. The spreader bar keeping her legs wide certainly wasn't doing her any favors. Pigtails adorned with silver rings attached to the ceiling to keep her straight should she lose her balance. Twisting and pulling against tight ropes in her predicament tends to do that. Toss in a little forced orgasm and Sarah will need any help she can get to stay standing.
Sarah vs. Her Long Hair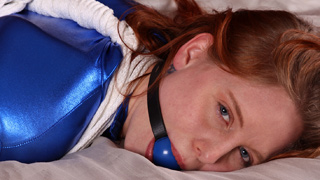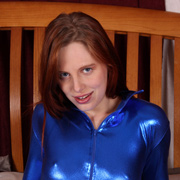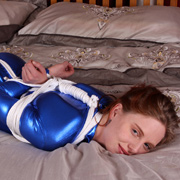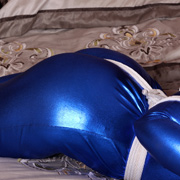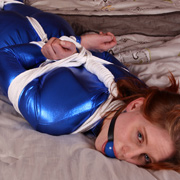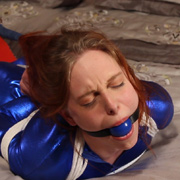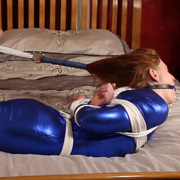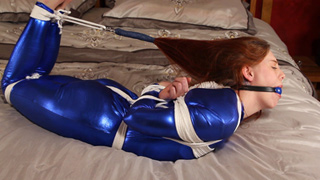 There's no question that Sarah loves rope and tighter the better. There is only one thing she enjoys more and a big reason she keeps her hair so long. As soon as I secured the last rope Sarah went right to struggling making sure there was no way out. Rolling and bouncing on the bed her freedom to move soon comes to a crashing halt when I tied her hair back to her ankles. Now Sarah's caught in a true predicament, pull her hair or continue to struggle. Gripping a tight hold her her bound hair I figured I'd let her have both as my finger dug into her very, very ticklish feet.
Sarah vs. Her Busy Hands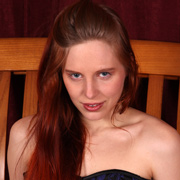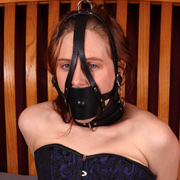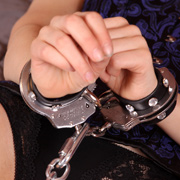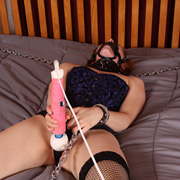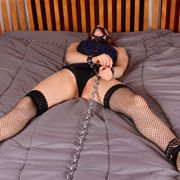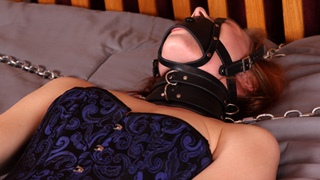 Her legs are cuffed first and attached to chains pulling them wide. Then Sarah's collar is attached to both bed corner. Her mouth is already stuffed with a large ball and secured with a trainer harness with an attachment on top. Since Sarah was going to be a while I wanted to see how she's pass the time. With her hands cuffed over her pussy I got my answer soon enough. As soon as I brought the magic wand near she snatched it up. I have a feeling hours could go by and she'd never even notice.