Tiffany vs. Her Handrail Woes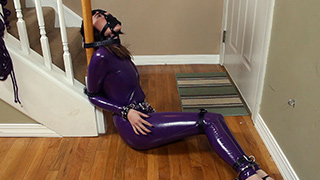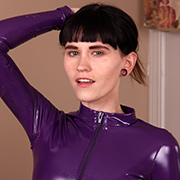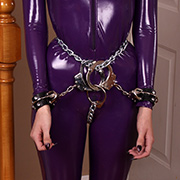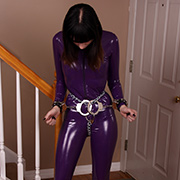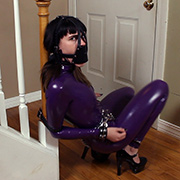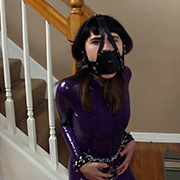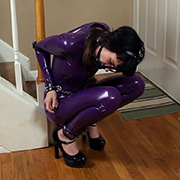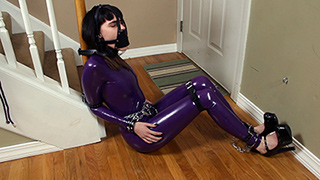 Between her catsuit and makeshift chastity belt, Tiffany was, frankly, a horny mess. Her harness gag kept her protest to a low, mumbled roar. With the use of a single belt she was soon uncomfortably on her knees with her elbows pulled behind her, tethered around a handrail as if she was a decoration. Worse, with her elbows pulled behind her, any hope of her hands making the experience more pleasurable went out the window. More belts soon followed as she watched her world become more and more immobilized.
Tiffany vs. Her Prediction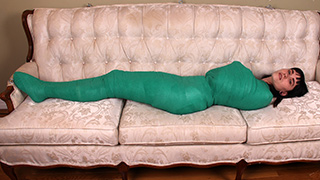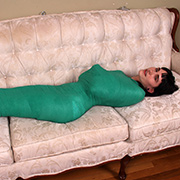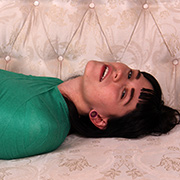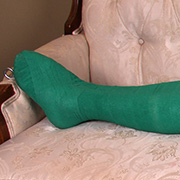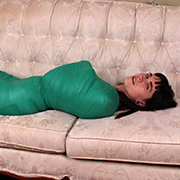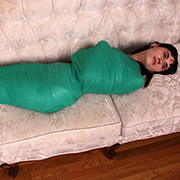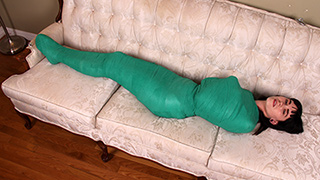 Even as she could feel the tight wrap hold her limbs tightly together her confidence reigned. There was no doubt in Tiffany's mind that she couldn't break free. She'd seen me tear the vetwrap easily in front of her; how hard could it be? We agreed that an hour should be plenty of time for her to get free, or at least how long she's be stuck for if her plans failed. He struggle to get free only seemed to force the wraps tighter, quickly weakening her resolve. With her confidence waning I seal her head in several layers of vetwrap. Her eyes tell the story, on longer filled with vigor but with resignation knowing it will be a long, long hour.
Tiffany vs. Her Taped Isolation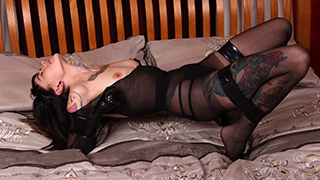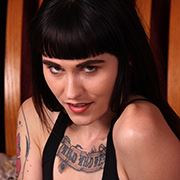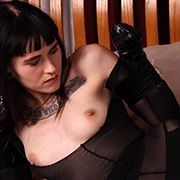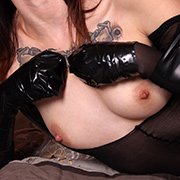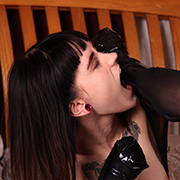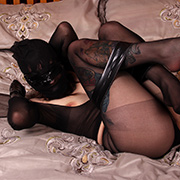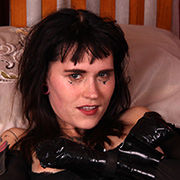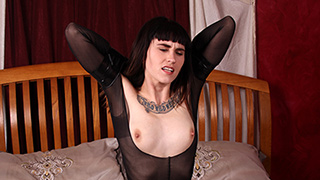 Covered in pantyhose Tiffany doesn't know what to make of her taped firsts. More tape makes her way around each leg, leaving them in a tight frogtie. The same treatment is given to her arms and without fingers there's no picking the tape free. Eventually Tiffany tries to use her teeth but not in time. The ball gag easily slips into her mouth before more pantyhose covers her head and is blindfolded with tape. Blind, gagged, and helpless she would give anything to have a single finger free. Without that, she's going to be stuck for a good long time.