Jamie & Viorica vs. A Prisoner's Dilemma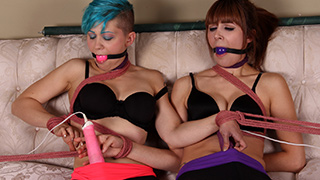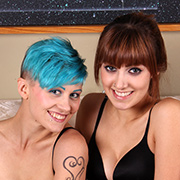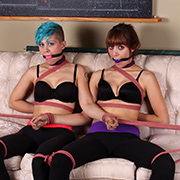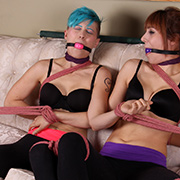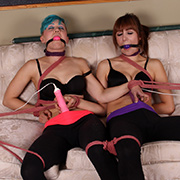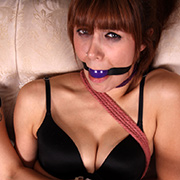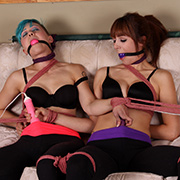 With both girls wanting to tie each other up and tease the other, neither wanted to go first. Eager to get what they wanted, Jamie and Viorica were eager to accept a compromise. After a bit of rope work both girls were well tied to the couch with all knots well out of reach. Each with a hand tied behind their back, the other was tied across the other girls body giving them full range to tease, tickle, or torment the other. It's not clear who attacked first, but soon both were tickling each other feverishly trying to get the other to relent. When magic wands were stuffed down each of their yoga pants Jamie and Viorica had some real power (and pleasure) over the other, neither willing to submit to the other no matter how much they wanted to.
Viorica vs. The Key Quest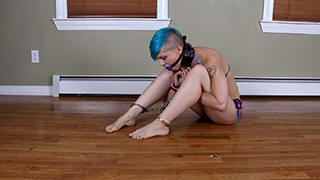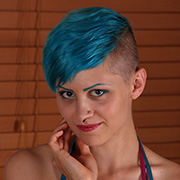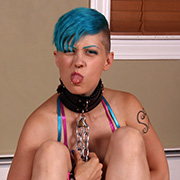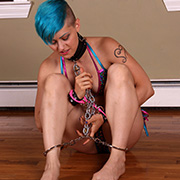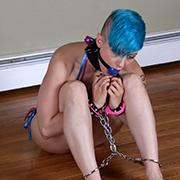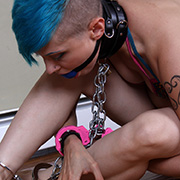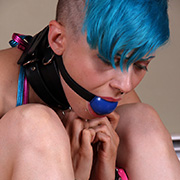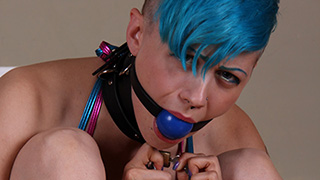 A little motivation goes a long way. In Viorica's case, any chance to get out of the awkward position she was cuffed in had her attention. Short chains pulled her into a semi-fetal position allowing her no movement or the ability to stretch a cramped muscle. Asking if she wanted out she perked right up only to be crushed as I tossed random keys around the room not knowing which one was real. Knowing she'll get no help from me there was only one thing to do... set off on a quest to find the key. Mumbling and grunting through her gag as she scoots along slowly; the sea of keys before her is going to take a while.
Viorica vs. The Persuasion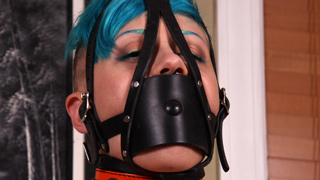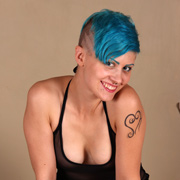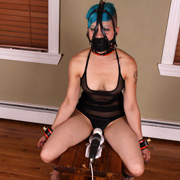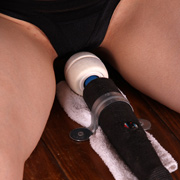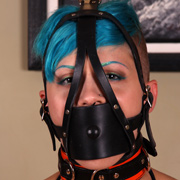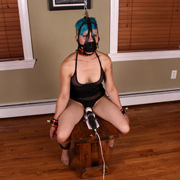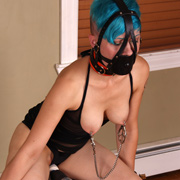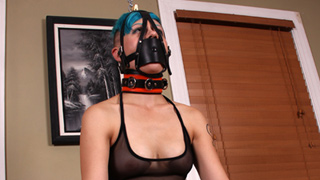 Like a pretty decoration Viorica sat almost motionless in the middle of the room. With her legs locked behind her and arms to her side she could hardly move when she tried. Keeping her posture straight is a chain connecting her panel gag to the ceiling above. Between her legs is a magicwand and she knows what is to come; or thinks she does. Before switching it on Viorica's nipples are given a pair of clover clamps which are attached to the front of the table. As Viorica rides the waves of pleasure it doesn't take long before gets to be too much and she discovers her real predicament. To back away means to pull on her clamps; trapped in a vortex of pleasure and pain.
Viorica vs. The Puppet Chains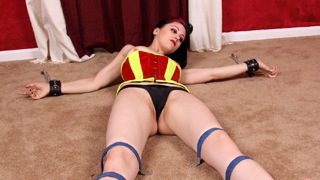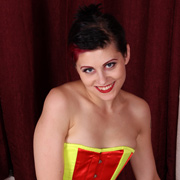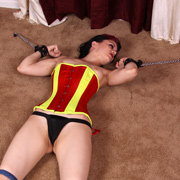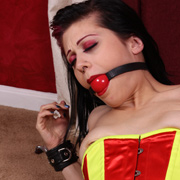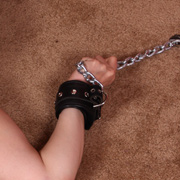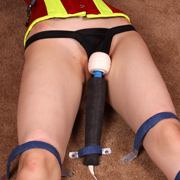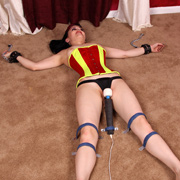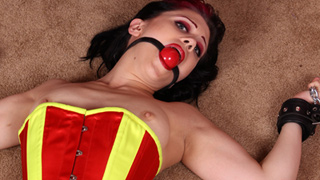 Anybody who's ever been bound understands the embrace of tight bondage; the pleasure derived of hopelessly struggling. This is doubly true when brought to the heights of pleasure by a high powered vibrator. For Viorica, I had her legs bolted down firm, but her arms cuffed to chains with plenty of movement. Or so she thought. When the vibe kicked on and her 18" corset really started to cut into her breathing Viorica desperately tried to find some relief. Everywhere she tries to reach is just a bit too short adding to her frustration. By the fourth orgasm she can't help but wrap her wrists around the chains and hold on for dear life.
Viorica vs. The Zip Chair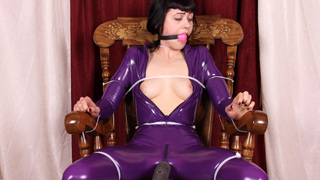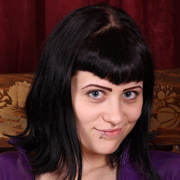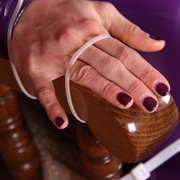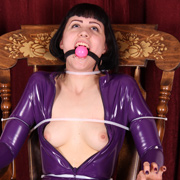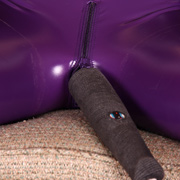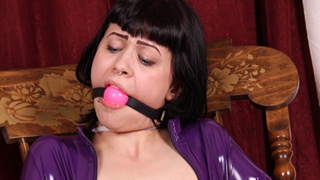 A couple zip ties by themselves are not very strong. As they pile up on Viorica it doesn't take long for her body to be welded to the chair. From her neck to her feet and every appendage in between there she can barely squirm. Once I had her gagged my plan was to just leave her be for a couple hours but before leaving though it seemed only fair to leave her with some entertainment first. With her legs held wide apart from the zip ties it made it easy to unzip her crotch on her catsuit and zip in a vibe. Pressed tightly against her pussy her feeble struggles can do nothing to dislodge the torrent of pleasure from the magic wand. Viorica is already twitching within minutes from her first orgasm and won't be her last. Not by a long shot.