Vivian vs. The Standing Spread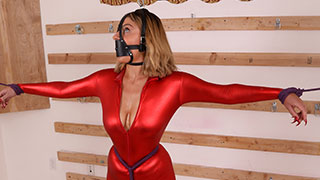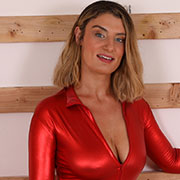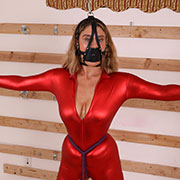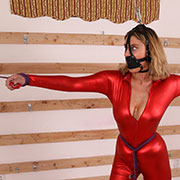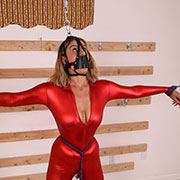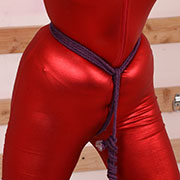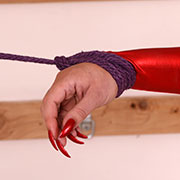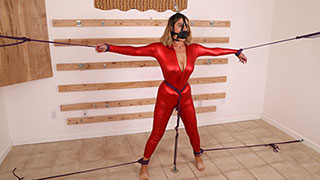 Vivian returns for more run in ropes this week. Sporting a sexy red catsuit she is tied spreadeagle in the basement. Just to be sure she truly can't escape, her head harness is secured to the ceiling. Standing on her toes there's not much she can do but drool as she attempts to get free. That doesn't mean that her situation can't get worse as Vivan soon discovers. Her final torment is a crotch rope that is secured to the floor, her entire body being pulled in all directions now.
Vivian vs. Her Leather Struggles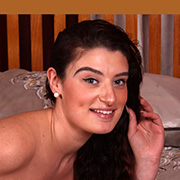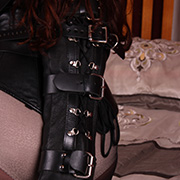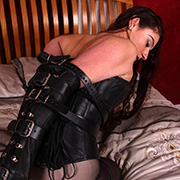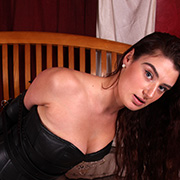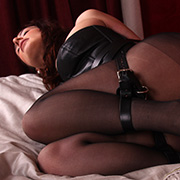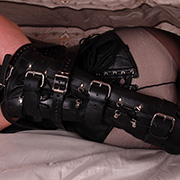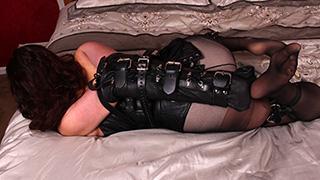 Despite her flexibility Vivian wasn't very grateful as the leather of her armbinder pushed her elbows together until they touched. A leather corset laced tight around her body while more leather straps cinch her helpless arms to her body. A final strap holds a pair of panties in her mouth reducing any protests to grunts. From her position the leather seems endless and unrelenting. Nothing gives or shakes loose. In her struggles she manages to loosen some straps only to have them pulled tighter than before. Escape won't come easy.
Vivian vs. The Turtle Trap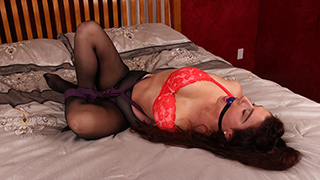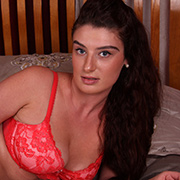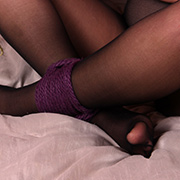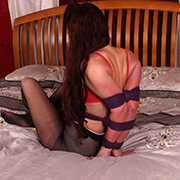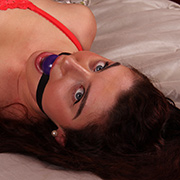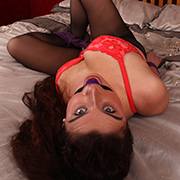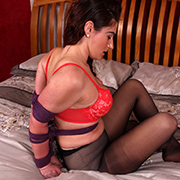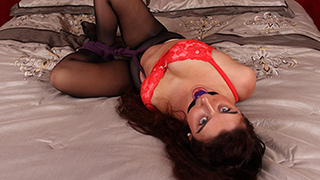 Having never been tied up (properly) before it only seemed fitting to start her off right. With Vivian's natural flexibility it wasn't long before her wrists, arms, and elbows were bound tightly together. Her legs bound in a crossed position it was a lot more restrictive than she imagined. Struggling in a sitting position there was no give in the ropes. No escape without help. Hoping for something give Vivian lies on her back for leverage only to find she can't get up; like a turtle on her back.
Vivian vs. The Drool Jacket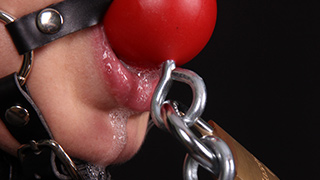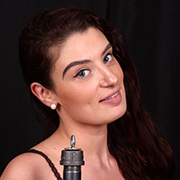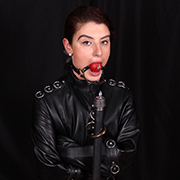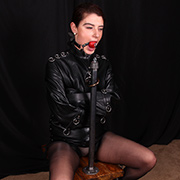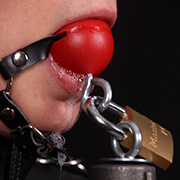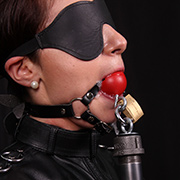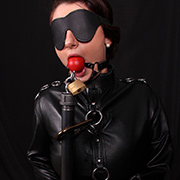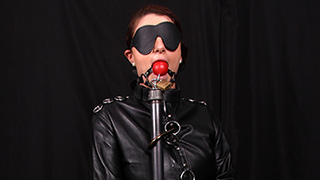 The heavy leather straps of the straitjacket were doing their job all too well. Vivian twisted and turned to no avail. Even her feet dangled helplessly from the eyebolts of her small perch, unable to gain any leverage. As a final insult, the steel ring in her ballgag was padlocked to the pole in front of her. Any escape was beyond hopeless now leaving Vivian to drool uncontrollably onto her leather bound chest. At the rate she was going she was sure she'd flood the floor before long. The last thing she could see before her vision was taken by a blindfold was the keys to her freedom taunting her, only inches away.