Lola vs. Her Compression Bed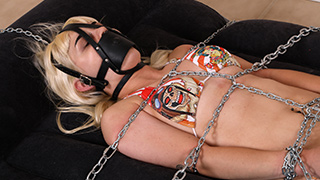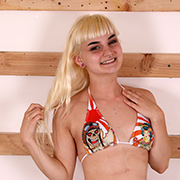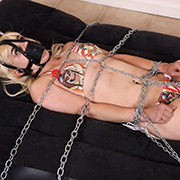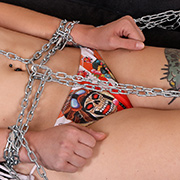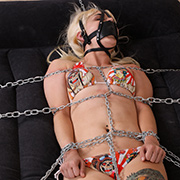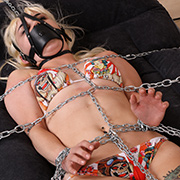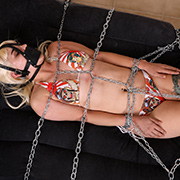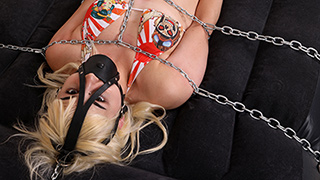 The problem with chains is they cannot be cinched. Any attempt either pinches the skin simply won't work. I like to believe there is a solution to every problem and lucky for Lola it comes in the form of an air mattress. As dozens of chains cross her body they easily keep her secure without any hope of escape. With a flick of a switch Lola's struggles are muted leaving her completely helpless. Movement is limited to toes and fingers as even simple acts such as lifting her head are restricted.

Sage vs. Her Pleasure Tug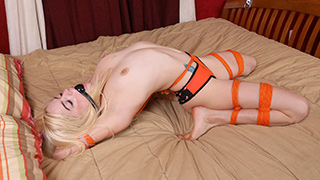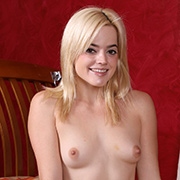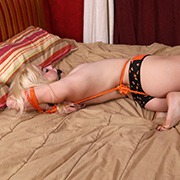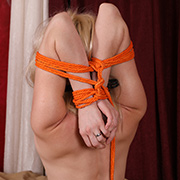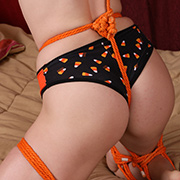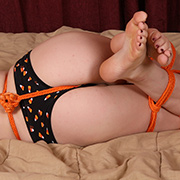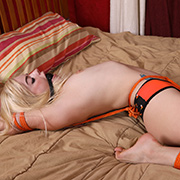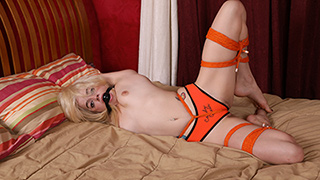 Dressed only in her candy corn panties one couldn't help but wonder if she deserved a trick or a treat. Maybe a bit of both to be sure. Frogtied and bound in orange rope she didn't put up much resistance to the gag being strapped tight in her mouth. Delicious as she looked something was missing. Ah yes, her treat. The rope from her arms is pulled down to her crotch rope and cinched tight forcing a slight groan. Leaving her to struggle in her ropes each twist and tug carries through to the rope between her legs. Only time will tell if Sage will enjoy her predicament as much as we will.

Madison vs. Her Stock Trek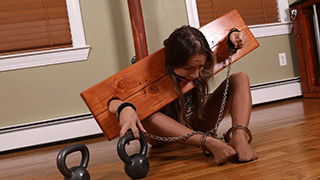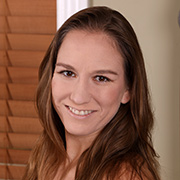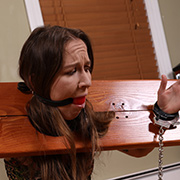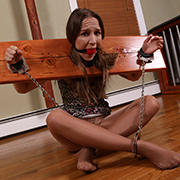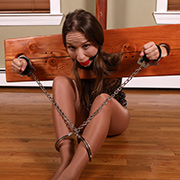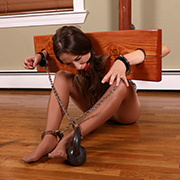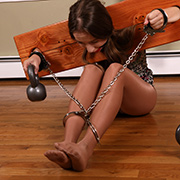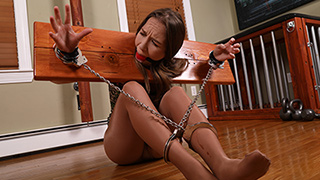 Trapped in wooden stocks and legcuffs Madison isn't pleased with her situation or how uncomfortable it is. Despite her struggles her restraints hold firm as her frustration builds. Lucky for her I'm in a giving mood and offer her a means of escape; a simple challenge. All she has to do is relocate a few weights from one side of the room to the other. It seems easy to Madison at first, however, bondage has a way of making everything more difficult. Beads of sweat started to form as she struggles to move them knowing her freedom depends on it. When she does manage to get them across there's a little surprise waiting for her.

Rosie vs. Her Chastity Reprieve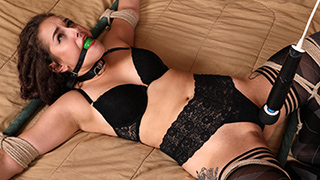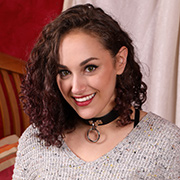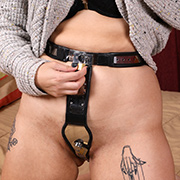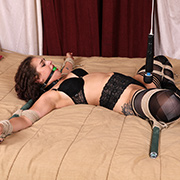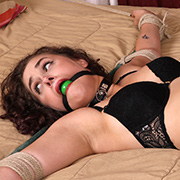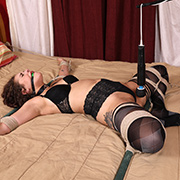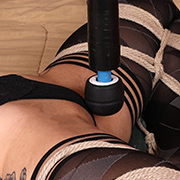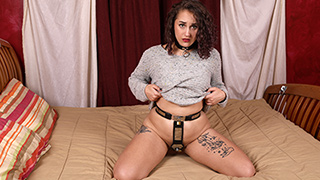 When someone asks you to hold onto the keys to their chastity belt it is no small favor. Inevitably they will regret the decision and try to get them back. Rosie was no exception but she made one mistake. She went big and asked for 3 months. After a month she was going crazy and decided to beg for early release, again. Knowing this I prepared a little challenge for Rosie. I would give her a chance to have the orgasm she's been desperate for but it won't come easy. If she's not fast enough she might end up locked up and even more frustrated than when she started!

Kaecie vs. Her Orgasmic Isolation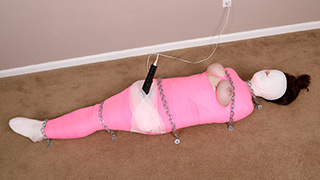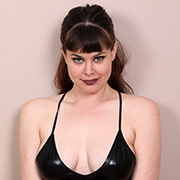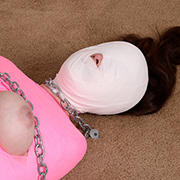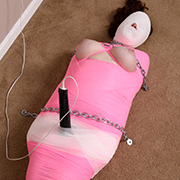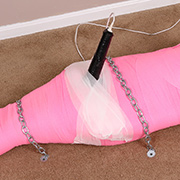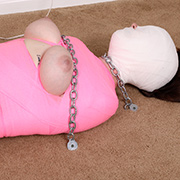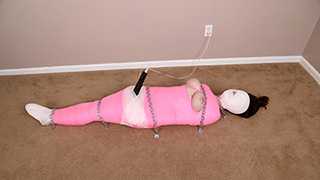 Talking Kaecie into tight bondage is akin to asking a kid if they want candy. For today I wrap her in a couple of layers of vet wrap from head to toe. Unable to see or move would make most girls nervous but Kaecie needs a bit more. Her squeal of alarm confirmed the chains bolted around her body and neck did the trick. I'm not quite done with her yet, though. She's going to be there for a long while, so it's only fair Kaecie is properly entertained while immobile on the floor. With a bit of effort, a magic wand is buzzing between her legs. Unable to move she can only shudder in anticipation as the first of many orgasms start to build.