Cali vs. The Bed Arch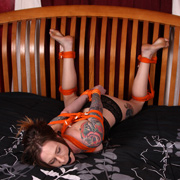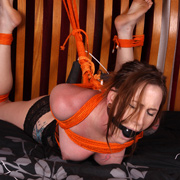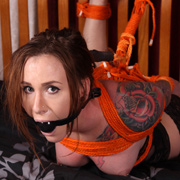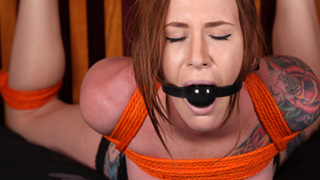 Cali starts with her legs tied to the headboard and wrists tied behind her. She struggles while testing her bonds; the inability to roll over already frustrating her. Unable to get away I loop a rope around her chest harness and up the the head board. While the magic wand distracts her, a swift pull and Cali is yanked up with her breasts off the bed. If Cali thought she was stuck before, this was a whole new level. Uncomfortable and unable to move her only reprise is the vibe in her hands.

Liv vs. The Works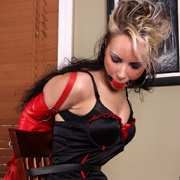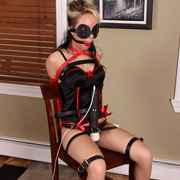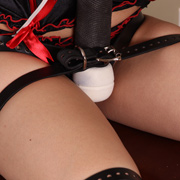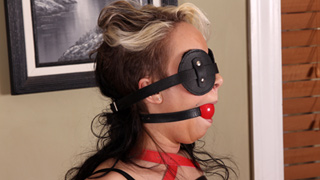 With Liv's prior bondage experience being limited to fuzzy handcuffs it was my job to expand her horizons a bit. She starts off easy with some belts holding to a chair, mobility vanishing little by little. Feeling exhilarated she nods to continue and is laced into a leather armbinder and belted to the chair back. Liv is still getting used to it when I slide her first ballgag into her mouth and strap it tight. Minutes tick by as she finds there is no safety release for these restraints. Deciding to give her the works, I strap a magic wand gently over her pussy giving it just enough pressure to tease her into a frenzy. Last, a blindfold is buckled tightly in place before leaving her to immerse herself in a new world.

Amanda vs. The Gold Dilemma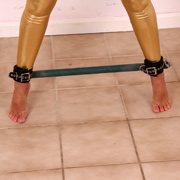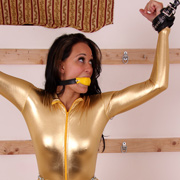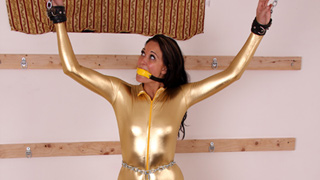 Amanda stands alone in the basement with only the silence and four leather cuffs holding her limbs far apart. The spreader bar holding her wrists up is just high enough to keep her on her toes. Caught in a balance between pressure on her wrists or ache in her legs. Her grunting and moaning don't help her situation but Amanda can't help it. Her only saving grace is the catsuit and struggling is keeping her warm in the cold basement. At least under her captor returns and pulls the front zipper all the way down.

Savannah vs. The Electric Touch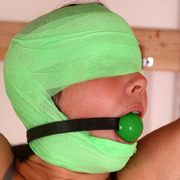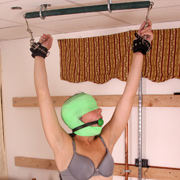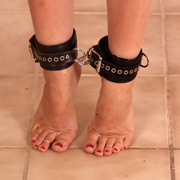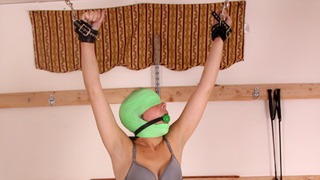 With Savannah's desire to try anything new she was excited for what was next. With her arms cuffed to a spreader bar above her I set to wrapping her head in a tight layer of vetwrap. Gagged and blind I warmed her up with a pinwheel to get her squirming a bit. Unsuspecting of what's next I place a TENS pad on her ass and another to a copper bar. As one hand grips the bar my other causes her to jump and twitch as I run it all over her sensitive body. Unable to get away Savannah does her best to endure wherever my electric fingers decide to wander to.

Ruthie vs. The Product Test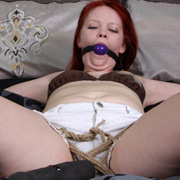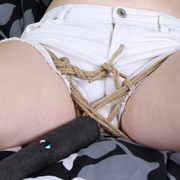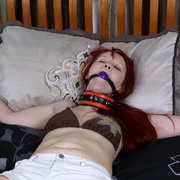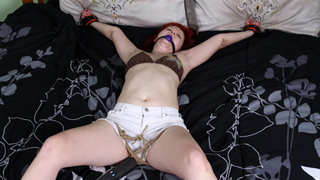 After receiving a new set of cuffs and collar from Sinvention I needed to do a little product testing. I have to be sure that nobody is going to slip out of them or get free; it's part of the job. Chained and cuffed in a spreadeagle Ruthie's mission was simple. Find a way out. To be sure she put up a valiant effort I decided to see how she's fair with a magic wand tied in place. Knowing she's never tried one before I started Ruthie on low and away she went. Like riding a bull she was putting those cuffs to work. As she thrashed I learned two things. Ruthie will never get free of the cuffs and even with the Hitachi on low I had her cumming once a minute.