Hannah vs. The Pink Weld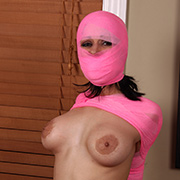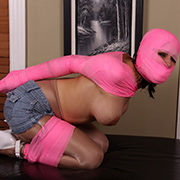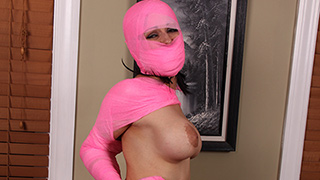 From her fists to her shoulders, Hannah knew she wouldn't be be squirming out of this one. The pink vetwrap layered over her arms doing its job pressing her elbows firmly together. The multiple layers ensuring they can't separate even a millimeter, but instead welding them together to remind her of her helplessness. As she protests to be let out, her mouth is soon stuffed with cloth and her head wrapped in more layers of vetwrap. Desperate to get free she does her best to struggle, all the while careful she doesn't fall from her cage. One she'll be returned to soon.

Mesa vs. The Doorknob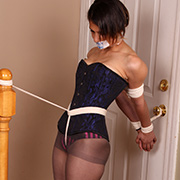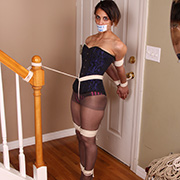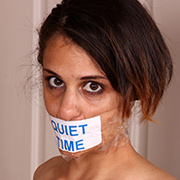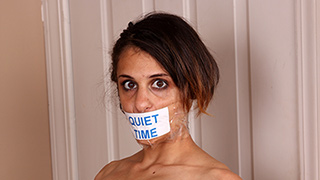 Who needs fancy bondage hardware when there are tools all around you. When Mesa's wrists were tied, she certainly wasn't expecting them to be tied to the front door knob. Bewildered on how easily the doorknob held her, she was really surprised when a crotchrope was applied and tied to the banister in front of her. Now forced onto her toes more rope is applied to legs adding to her predicament. With a pleading look it was apparent this is not what she expected when she wanted some quiet time.

Madeline vs. The Sex Position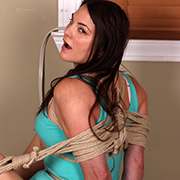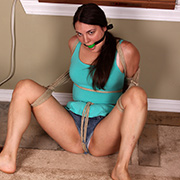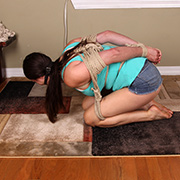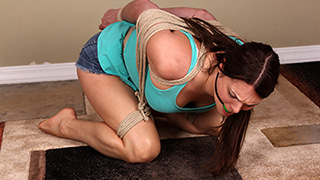 One of the more common questions asked by a newbie to bondage is sex. Madeline is no exception so I set out to show her something restrictive but very, functional. Her arms and elbows tied together first her legs followed with ropes secured behind her back. Instead of a frogtie her legs are free to move into any position but still unable to stand or move far. While the crotch rope may seem counterintuitive at first, the ropes can easily be pulled to either side while giving her wrists something to tug on. As her struggles soon proved, the tie left her out of breath for her trouble.

Bailey vs. The Forced Experiment #3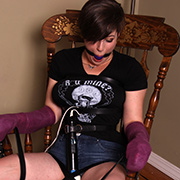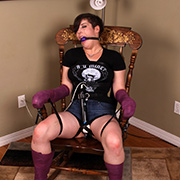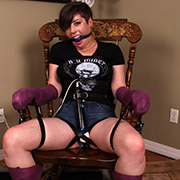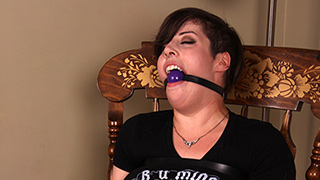 After meeting Bailey I soon discovered she'd never experienced neither a forced orgasm or the magic wand. This was a travesty that had to be corrected obviously, but why not get a little science out of it as well? Strapped and vetwrapped to the chair she could only patiently watch as I set the timer to start the experiment. It didn't take long to confirm our previous findings but that doesn't mean we stop the tests. Already forced into multiple orgasms minutes into the testing while set on low, Bailey is really going to thrash with the second half on high!

Star vs. Her Frustration Rig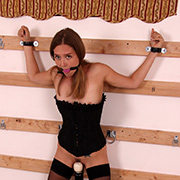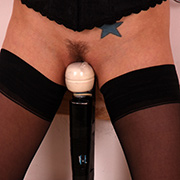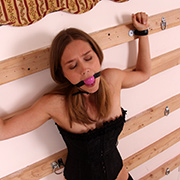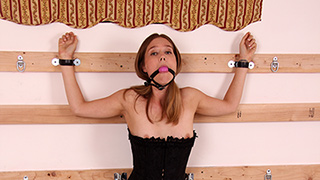 With every limb attached to or bolted down by steel Star struggled minutely in her bonds but held no illusions of escape. Her captivity was out of her hands and whatever torment was given. During her struggles the magic wand pressed firmly against her pussy by the rig was certainly not lost on her. The thought of and orgasm or five appealed to her uncomfortable body stuck in this position for nearly an hour. A moan of approval and pleasure escapes her gagged lips and it seemed her wish would come true. As her orgasm builds near however it is quickly shut off forcing a growl of frustration from Star. She knew better. She wasn't there for her pleasure, but only for her captor to tease and torment.