Liv vs. Her Resigned Bliss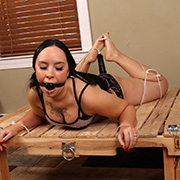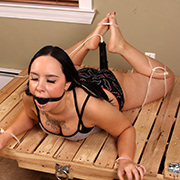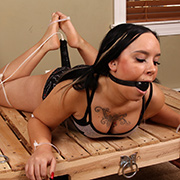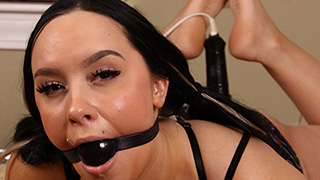 Liv knew full well what was planned for her, waiting patiently as the zipties encircled her body. When they were all secure she could hardly move her toes. Even her pigtails were zip tied to hold her head up. She puts up a token struggle but we both know that nothing short of a miracle will get her free without help. All the while Liv keeps her eyes on the magic wand. Waiting for that special moment that will make it all worthwhile. Now it's just a question of how many orgasms should she get before considering release?

SB Challenge: Abby's Tattered Hose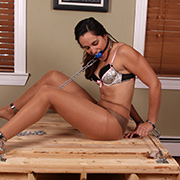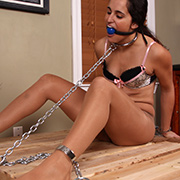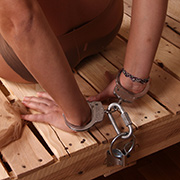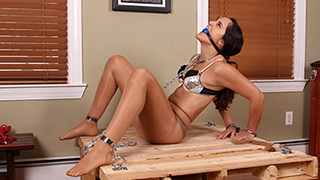 After Abby managed to get herself stuck after her last challenge it was time to try again. For her challenge this time she'll shackle herself to a table with a neck chain just to make it interesting. Learning the hard way that pulling on her release method too hard leads to trouble Abby passes the time trying to find a way out with little success. All the while the rough wood under her tears apart her pantyhose making her predicament all the more uncomfortable. With a good sized bundle of ice keeping her keys trapped, how many hours will she be waiting?

Tara vs. Her Zipped Elbows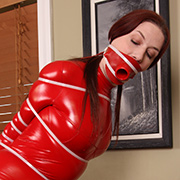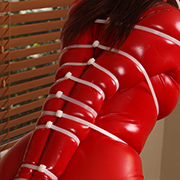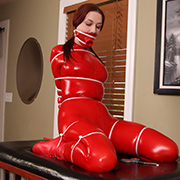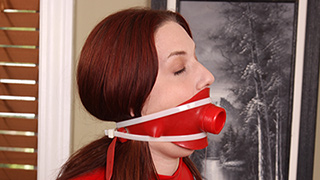 As Tara soon finds out zipties are unforgiving little devils. Coiled around her body like snakes; their constriction never waning. More secure her latex ring gag in place just in case the strap came a little loose. Even when scissors are given to her they only serve to torment her. Her predicament so tight using them is near impossible. Given her proclivity for tight elbow bondage it's quite possible escape is the last thing on her mind.

Samantha & Amelia vs. A Little Game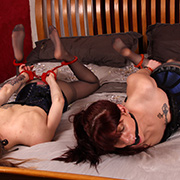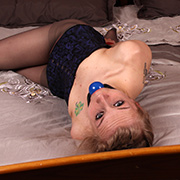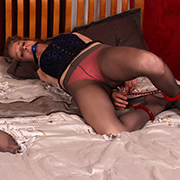 After reading a story online, Samantha had to try it for herself. With little experience herself she wanted to try it with her friend Amelia. The game was simple, they would hogtie themselves with hand and leg cuffs. They would need to struggle to get the key which is just in reach. First one out gets to dominate the other. Eagerly both girls lock themselves up tightly and set to trying to escape. In their fight to escape, they end up extending the game far longer than than intended.

Briella vs. The White Lies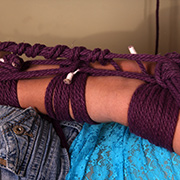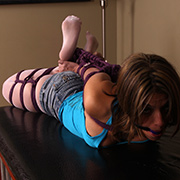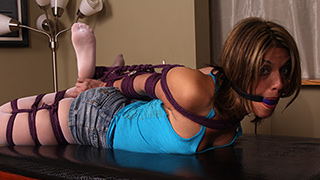 I could tell from the start she was no stranger to ropes but played along anyway. As she pretended to have never been bound before, I pretended to be a rope newbie. If she was hoping to escape easily from shoddy ropes Briella was in for a surprise. Once her first leg was bound it was obvious this wasn't my first time. As her other leg and arms soon followed, we continued with our white lies. Her not wanting to admit she was hoping for an easy escape and myself nodding agreement when she asks if I'll let out her soon. One thing is clear; Briella will think twice before telling any more white lies.