Jamie vs. Her Aching Toes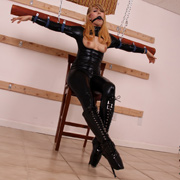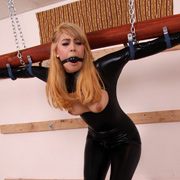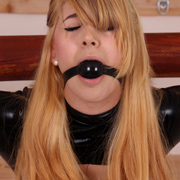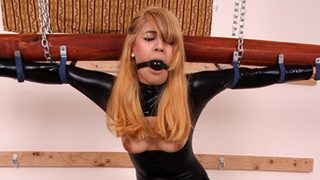 I could see that Jamie was regretting the terms of the bet already as she sits nervously in the chair. She could have the pick of any pair of shoes to keep, but has to stand for at least ten minutes in a pair of my choosing. To prevent any cheating her arms are bolted to a large wooden pole. With Jamie's mouth already gagged I lace up a new pair of ballet boots that go up to her knees forcing protests before I even hoist her to her feet. When the pole is finally raised and the timer started she's stuck between standing on her toes or hanging by her arms with both positions eliciting groans of discomfort. As the timer slowly ticks forward I remind her of the terms of our bet. That I can keep her there at least 10 minutes... but no upper limit was really ever agreed upon.

Cali vs. The Kneeling Bind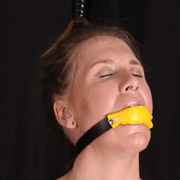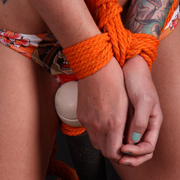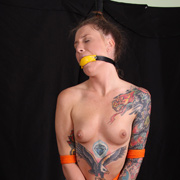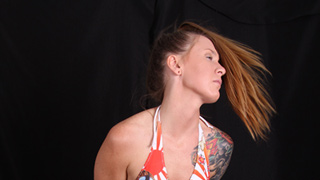 Bound on her knees Cali fidgeted trying to figure out what was next. With a suspension ring looming above things became obvious when I wrapped her hair around it and taped it tightly in place. As she squirms in her bonds she can't help but pull on the crotchrope connected to her wrists. It doesn't take long before her leg muscles start to beg from some relief forcing her to pull on her hair. Cali's trials have just begun as a magic wand is tied between her legs giving her a new level of distraction. With the power switch to the vibe well out of reach, she'll be squirming for a long time to come.

Sarah vs. The Interlude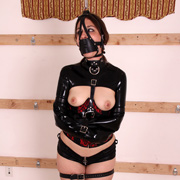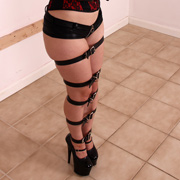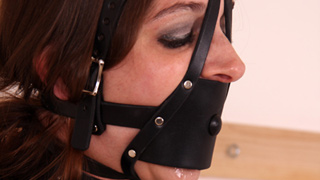 While I am prepping the room for a challenging predicament for Sarah, she tried to sit still in her latex straitjacket. Despite her gag keeping her quiet she was still quite a distraction as she squirmed and fidgeted in her chair. There was only one thing to do and I quickly whisked her to the basement for some time to herself. Confused at first Sarah plays along and squirms in the belts and latex keeping her well secure. As the minutes pass she soon realizes I'm not coming back. Dangling like a worm on a hook by the ring in her gag she tries to grunt and stomp for attention. Little does she know she's in for a not so brief interlude as I take my time setting up her next torment.

Lexi vs. Serene's Helping Ropes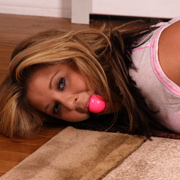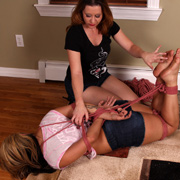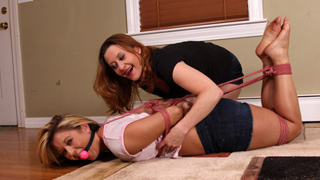 After a bit of snooping on her boyfriends laptop she discovers a cache of women helpless and tied up in one of the folders. Upset at first, Lexi decides to embrace his kinky side and calls her friend Serene over to help her plan a special surprise for him. Unbeknownst to Lexi, Serene is no stranger to ropes and has fantasized about having her friend tied by her hand many times. She plays innocent enough as she coils the rope around Lexi's body. When Lexi's completely helpless and looking to get free, Serene calls Lexi's boyfriend and tells him not to bother coming over. That the two of them have a late evening planned that might even last the weekend. Lexi can only moan through her gag and wonder what she's gotten herself into.

Ruthie vs. Her Arched Back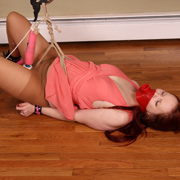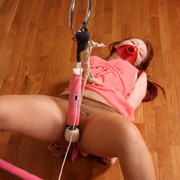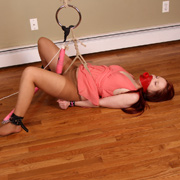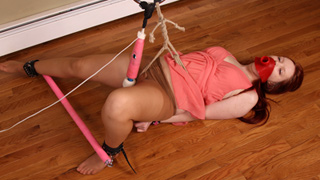 It was clear Ruthie wasn't happy with the awkward position she was bound in. So if she was going to complain, I would give her a reason to do so. A single rope is all it takes to go from awkward to very uncomfortable in a matter of seconds. Tight crotch ropes tend to have that effect. At least I'm kind enough to dangle the magic wand in just the right spot. Now it's a matter of choice. Succum to the vibrating pleasure and let her legs go weak or hold herself up to keep pressure off the crotchrope. I'm sure Ruthie will figure it out.