Cali vs. The Hogtest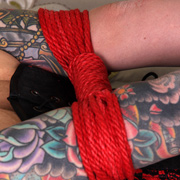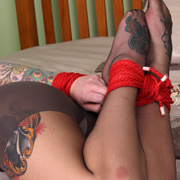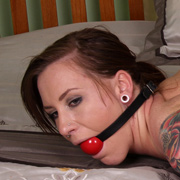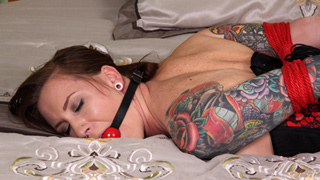 While chatting about bad bondage in movie Cali mentioned that hogties seemed too easy to get out of unless a lot of rope was used. I knew she'd never been hogtied before with with two lengths of rope I decided to educate her a bit. I really only needed one but could resist tying her elbows together. Careful to leave the knots well out of reach I filled her mouth with a red ballgag and left her to struggle. Cali knew she was stuck in the first minute. Either she was too stubborn to beg to get out or she was having too much fun; but I was happy to keep her like that all afternoon.

Violet vs. The Wet Spot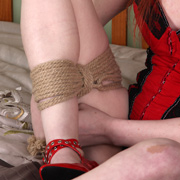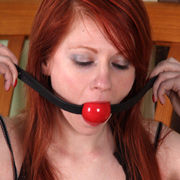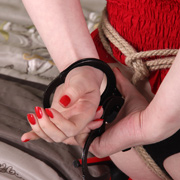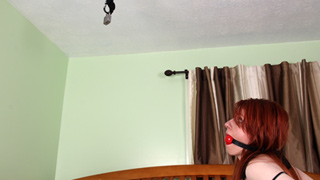 I knew Violet was no stranger to bondage and ropes so when I asked if she'd ever tied herself up for fun I was surprised when she hadn't. She'd thought about it, but never seemed like fun since she'd never be truly stuck. After explaining how ice releases worked her eyes lit up and begged to give it a try. Like a pro she bound herself up good in a tight red gag, frogtie and well place crotchrope and handcuffs. Violet tosses and turns enjoying her ropes for several minutes before checking the progress. It's obvious from the large pack of ice in the nylons that they'll be quite a wet spot on the bed before she gets free; one way or another!

Rayna vs. The Head Wrap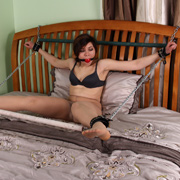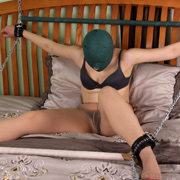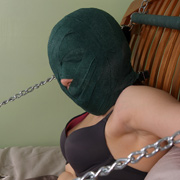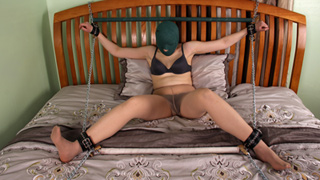 Locked to two spreader bars, chained into a spreadeagle and mouth gagged with a big 2" red ballgag. Rayna wasn't going anywhere but that doesn't mean that I can't add more right? With a roll of vetwrap I start at her mouth (leaving the ball gag in place of course) and wrap around and around leaving her blind and even more muffled. Rayna continues her struggles undeterred; at least until I start to tickle her.

Amanda vs. The Handcuff Experiment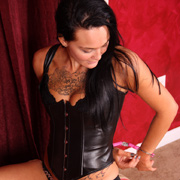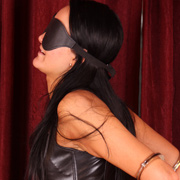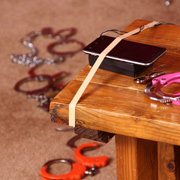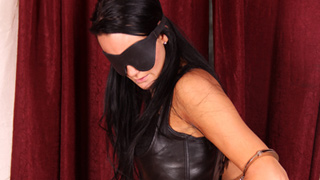 In our continuing efforts to further bondage science the lovely Amanda has volunteered to be our test subject for today's massive update. In this experiment I secure her with various handcuffs, thumbcuffs, and leg cuffs to see which are the most difficult to unlock. To ensure Amanda gives it her all, she is rigged to a TENS unit that will shock her once a minute until she can release herself. The experiment eventually culminates with her wrist and elbow cuffed behind her back while the Hitachi quite effectively distracts her.

Billie & Raquel vs. The Novice Binds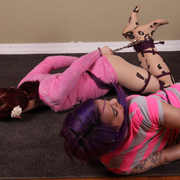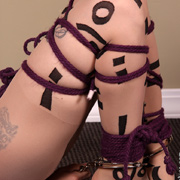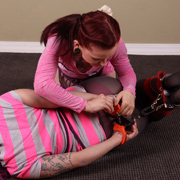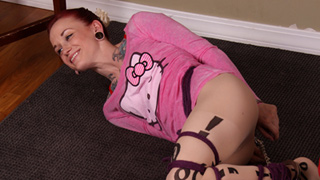 Both Billie and Raquel have been on the receiving end of my restraints before. I wanted to see how they would fair on their own with a pile of toys. Both start out with lots of rope on their legs and do a good job making sure they are secure. Next they got the good idea to handcuff their wrists but did it in front which, well, simply will not do. Like the gentleman I am I give them both a hand by repositioning their cuffs behind their backs and into a nice hogtie. Now all they have to do is squirm to the key!