Gianna vs. The Mummy Chains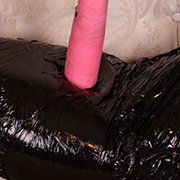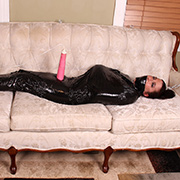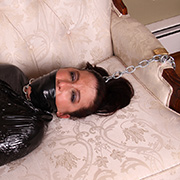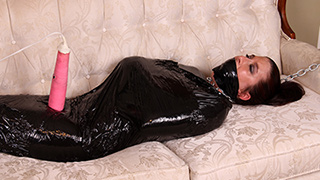 For most girls, having several layers of pallet wrap encase them would be enough to admit defeat. Even after filling her mouth with panties and taping them in Gianna was determined to get free and squirm away. Tossing her back onto the couch two chains are added around her feet and neck. If Gianna thought she was immobile before, every struggle or squirm would now cause the chains to go taught. To help encourage plenty of squirming, a magic wand is secured against her pussy and set on high. In her strict position there's no escape, and certainly no reprieve from the many orgasms to come.

Serene Isley vs. Black & Silver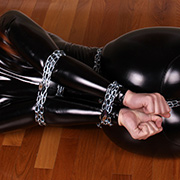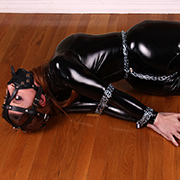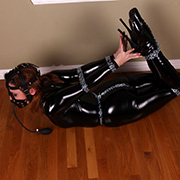 With Serene's proclivity to wiggle out of rope I decided to see how she'd fare against a little chain. Starting with her ballet boots I coiled the chains around her body locking them on tightly right up to her elbows. Grunts of protest barely escaped the pump gag in her mouth as Serene could her freedom dwindle one lock click at a time. After several minutes of struggle is was obvious to both of us she wasn't getting out of this one. To be sure two more chains were locked on. One pulling her head back and the other pulling her feet into a strict hogtie. Adding a few pumps to Serene's gag I left her to plot her escape.

Sarah vs. The Scavenger Hunt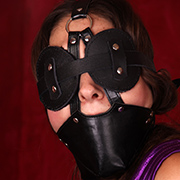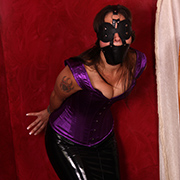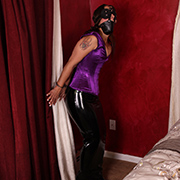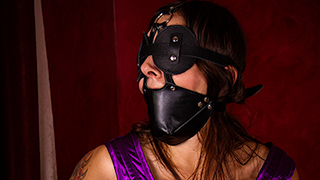 With a lot of work to do I knew Sarah would looking for something fun to keep her busy. So after laying out a few items I setup a small challenge for her. Her task? Tie herself and find the key to her handcuffs somewhere in the house. Never one to do anything half fast Sarah puts on her ankle length hobble dress and corset on to make things a bit more interesting. Next she straps on the muzzle gag and blindfold before sealing her fate with handcuffs behind her back. After an hour of searching I could tell she was getting frustrated. Hinting it might in in the cage she goes right inside. By the time she realizes she's been tricked, the locks are already clicked closed. Sarah protests from behind her gag but knows full well what her afternoon plans will entail.

Bella vs. Her Initiation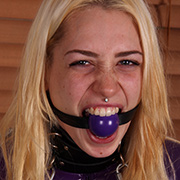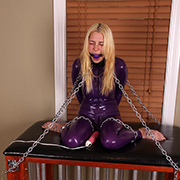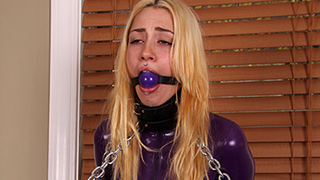 With a bit of trepidation Bella walked through my door seeing walls of restraints, toys, and furniture filled with eyelets. She had come to get tied up and looking around there was no chance of that not happening. I decided to start her off easy, just some heavy chains, posture collar, and hinged handcuffs. Right away she's like a kid in a candy store and loving every minute. Stepping things up I undo the crotch zipper and zip in a Hitachi vibe. Bella's orgasms flood over her as much as her drool; her handcuffs keeping her hands well away from the off switch.

Lilly vs. The Double Vibe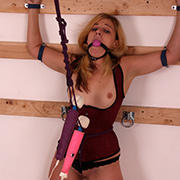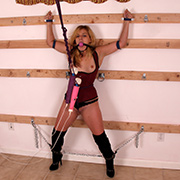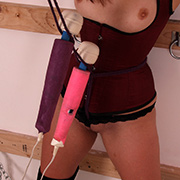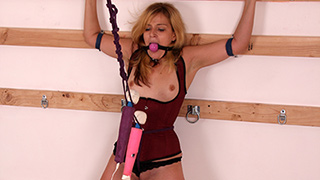 It's always nice when a plan works out, unless you're Lilly. Muted moans of distress was all she could muster through her panty gag as she was bolted to the wall. With arms and legs secure a single crotch rope is pulled tight, pulling her forward into an awkward spreadeagle. Lilly has to keep focused if she wanted to stop the crotch rope from getting any tighter. Adding to her predicament two magic wands are placed on crotchrope sending vibrations directly to her clit. Within moments Lilly's legs are shaking and she's on the verge of orgasm. As the first one hits her legs give for just a moment forcing the crotchrope even deeper. Trusting her hips out to relieve the pressure she finds the vibrations continue without pause, readying to repeat another orgasmic cycle.