Maggie vs A Basement Prayer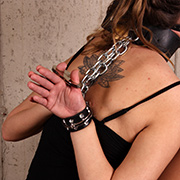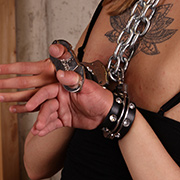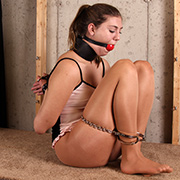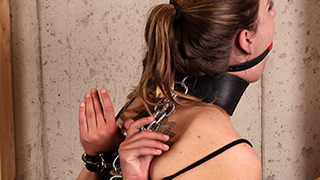 It was time for Maggie to reflect on some poor choices she made. By the smile on her face, it was quite obvious her transgressions were no accident. With handcuffs and gear in one hand and Maggie's arm in the other, she was led to the basement. The gag went in first as usual as well as her handcuffs. Leg cuffs were used to put each leg into a frogtie, far stricter than she planned on. With the collar wrapped around her neck, she seemed somewhat relieved that was it. Maggie should have known better. With a short chain, her cuffed wrists are pulled high on her back and locked to her collar. Thumbcuffs were added because, why not? Starting the clock on her punishment I could see she already wanted it over. While flexible she could only hold her arms in that position for so long. After that they become dead weight, pulling on her collar. No doubt it was uncomfortable but it's what she wanted after all.

Hana vs. Her Slippery Feet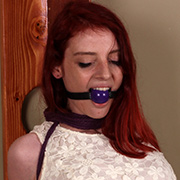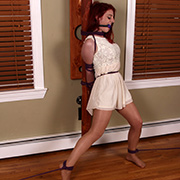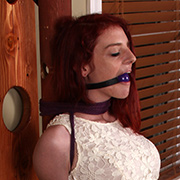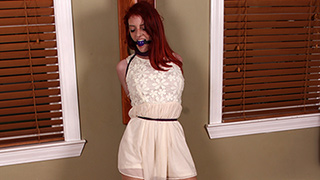 Hana starts out with a basic elbow tie before her they are secured to the pole behind her. As more and more bondage is added she can only wonder what will come next. The question doesn't linger long before her legs are pulled apart with rope revealing how dire her situation is. Between the awkward position and how slippery pantyhose on wood floors can be, the true nature of her bondage is revealed. Hana has no choice but to try to pull herself up or hold her weight up with her elbows. Neither is remotely comfortable but she's not exactly in a position to do anything about it. Her situation is not all bad. When the magic wand is brought out all of a sudden she doesn't want to stop.

Michal vs. Hooded Isolation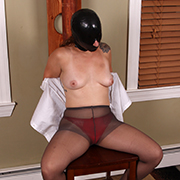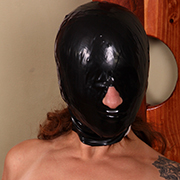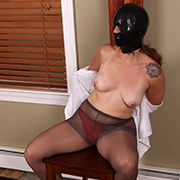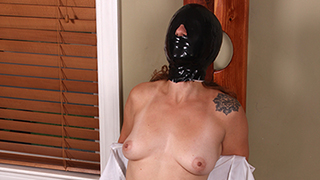 Wearing any type of hood can be unnerving to the inexperienced. The loss of sight alone can leave a person on edge. When taken to their extremes it takes nerves of steel to keep herself under control. Michal starts with a cloth gag sealed in place with a few rolls of vetwrap. Already her sight and ability to talk are nullified. Black vinyl tape is next removing all doubt that she's stuck. Even when given the chance to escape it could take hours without scissors kept well out of reach. The fantasy of escape is ripped away as her hand and feet are handcuffed to the chair. A mix of emotions flood through her as her body is completely exposed while her head is cocooned. Given her situation, it wouldn't surprise me if she'd be willing to do anything in exchange to be cut free from her hood. A prospect certainly worth exploring.

SB Challenge: Stasha's Key Hunt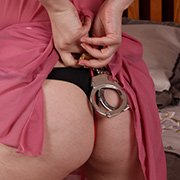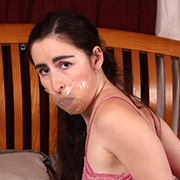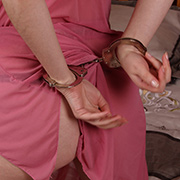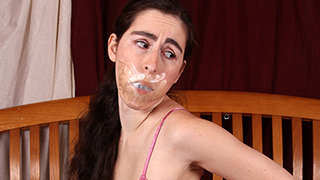 Stasha is given another self-bondage challenge to redeem herself. For this one she stuffs her mouth with a rag before taping it closed. Keys, mostly dummies, are scattered around the house for her to find. Some are blindly tossed and end up hard to get to or reach. Once she is bound and can't escape it doesn't take long to figure out she might have overdone it again. With her feet hobbled, traveling up and down stairs and between rooms slows her escape considerably. Not remembering where she hid all of the keys is certainly not helping her situation either. After finding a half dozen decoy keys it's obvious Stasha is pretty frustrated. That won't get her out any quicker and she's got many more rooms to search.

Bella vs. A Quick Penalty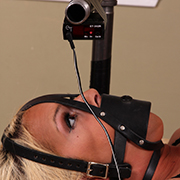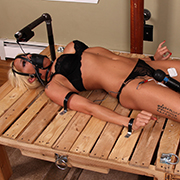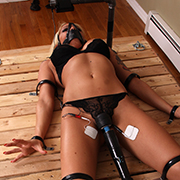 Bella lays still as steel bands are bolted around her body, keeping her frozen to the tabletop. Her mouth gagged with a panel gag with the top locked in place she stares are the device above her. Once it is turned on any sound she makes quickly turns into an unpleasant penalty as an electric shock. It only takes a few zaps to convince her to be as silent as possible. The magicwand between her legs has other plans and soon leaves her panting heavily through her nose. Even on low she doesn't stand a chance and soon falls deep into a vicious cycle of pleasure and pain.