Amanda vs. The Hogcuff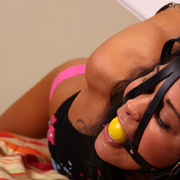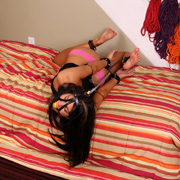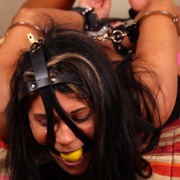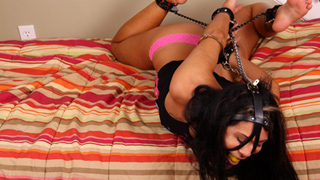 All I wanted was a little peace and quiet but somebody was bored. After a bit it was clear that Amanda wouldn't leave me alone so I decided to do something about it. I looked at the piles of rope but that was too much effort. So I opted for some handcuffs around her ankles, wrists, and elbows left her hogtied and helpless in under 30 seconds. A tight trainer gag around her head kept her nice and quiet as well. As I hung the keys just out of her reach I left her struggling to reach them. I'm guessing she's not feeling bored anymore; I know I'm not!

Savannah vs. The Tight Seal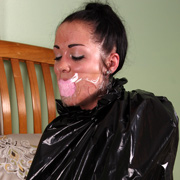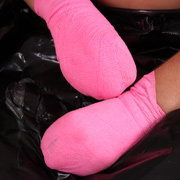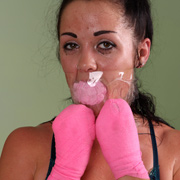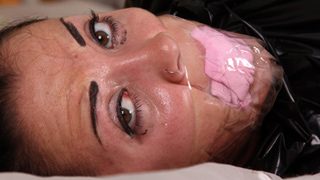 What do you do when you have a pretty girl and a box full of contractor trash bags? In Savannah's case, I sealed her inside of four bags but not before wrapping her hands into fists first. With her mouth stuffed with panties and sealed with clear tape she wasn't doing much to protest. Beads of sweat formed on her forehead as she tries to rip the bag apart but it's no use, the layers are too thick. Before leaving her to struggle for a few hours I toss her some scissors; not that they'll do any good.

Ruthie vs. The Frogmaid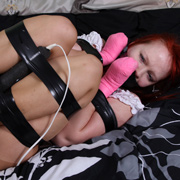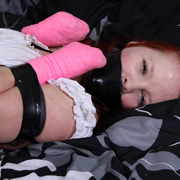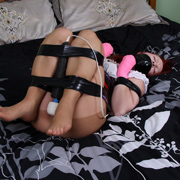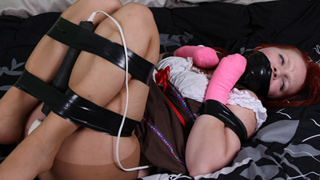 I have to say, I love it when a newbie gives me that look when I mention forced orgasms. The mix of impossible and intrigue on their face. Starting her off with taped fists her arms and legs follow quickly into tightly frogtied limbs. Ruthie's rig isn't complete without a mouth stuffing panty gag which is wrapped nice and secure. The real fun starts when her legs are taped together forcing the vibrator in her most sensitive of places. It doesn't take long before she too is in awe of the forced orgasm!

Lexi vs. The Fetal Struggle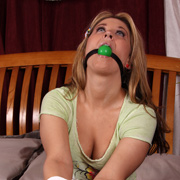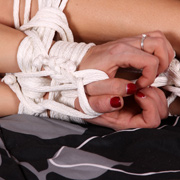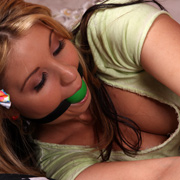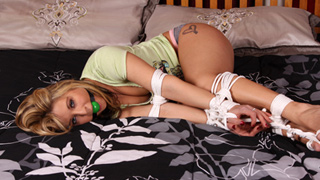 Struggling in her green gag I doubt Lexi anticipated she'd be this helpless. Everything started simple enough; a wrist tie here, ankle tie there. As the ropes piled on she knew it was hopeless but couldn't give up. Lexi had no choice really if she wanted to get free anytime soon. With even her toes and thumbs tied securely it wouldn't be an easy task. Maybe I'll tie those elbows together to be extra sure.

Star vs. The Window Display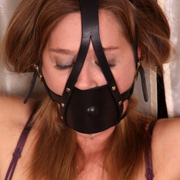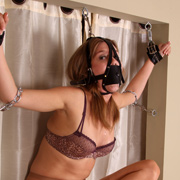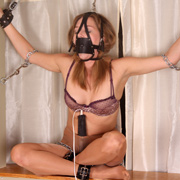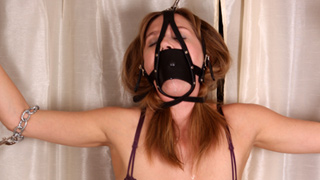 I doubt this is what Star had in mind when she wanted to be placed high on a pedestal. Sitting high in the window sill, I assured her the restraints were only for her safety. A drool inducing gag came next which was connected to a bolt above her head. Moving became a challenge let alone getting down. Before sitting back to watch her hopelessly struggle I slipped a Hitachi under her pantyhose. The effect was instant and Star starts squirming with pleasure. Within seconds her first of many orgasms was building and fighting the chains. She's in for quite a ride.