Claire vs. Her Unease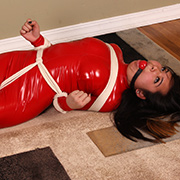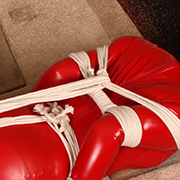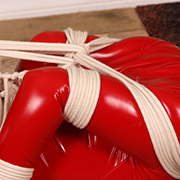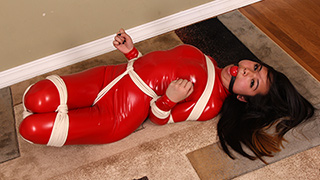 It was only a matter of time before curiosity got the better of her and she had to try bondage for herself. The clothes, rope, restraints, and especially the gags all looked fun. Since it was her first time she wanted her hands tied in front, so she could get out easier. An easy request, but getting free isn't on the menu. Claire's arms are tied to her sides with her elbows cinched. With all the knots behind her you can see on her face she knows she is stuck. A few more loops and Claire is hogtied on the floor barely able to roll over. I remind her that her hands are still bound in front; she's free to escape whenever it suits her.

Niki vs. Her Tippy Toes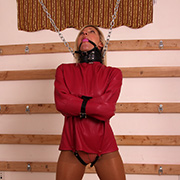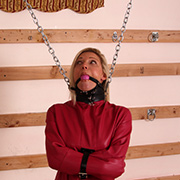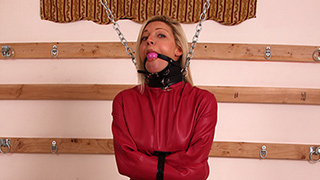 You could see the trepidation on her face as the straightjacket was strapped in place. Even when the thick collar was strapped in place it was still comfortable; possibly even escape. The illusion quickly faded once her legs and neck were secured with heavy chains. Niki whimpers a bit behind her ballgag knowing full well there is more to come. She tries to get free but the leather jacket holds firm while her collar reminds her to keep her balance. Just as he finds her comfort zone her chains are pulled tighter forcing her onto her toes. It only takes a minute before her legs begin to quiver. Niki fights her straightjacket with renewed vigor to escape but knows it won't come.

Constance vs. The Orgasm Stick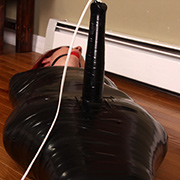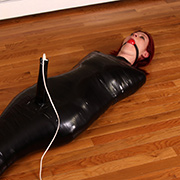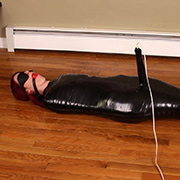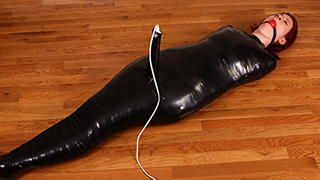 Constance starts wrapped in plastic with a neck tie holding her up. Already unable to move much she can only watch as the black vinyl is put on her body slowly. Soon it's winding around her body covering her breasts, arms, hips, and legs. All that's left is her feet which are quickly encased in more layers. Even with her body completely compressed in tape there is a sure fire way to get a girl to squirm. With a magicwand secured in place it doesn't take much to drive her to orgasm. It's amazing how much movement you can get from a girl with just a few orgasms.

Part #2 is now available for download!

Paisleigh vs. The Forced Experiment #6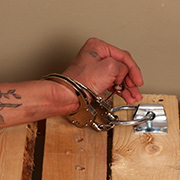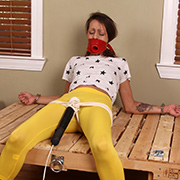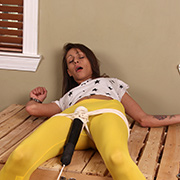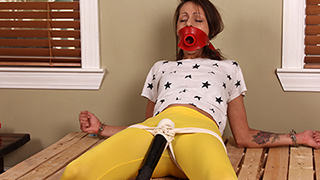 There can never be enough data when running our experiments. Paisleigh's lack of experience with a magic wand makes her a unique test subject. Will this allow her to resist orgasms easier? To find out she is bound to a table with a wand tied tightly against her pussy. Starting on low she's able to resist the first minute with difficulty. With over 10 more minutes of testing ahead of her, Paisleigh's chances don't look good. Knowing her freedom hinges of resisting against all odds she's in for a trying afternoon.

Monica vs. The Job Offer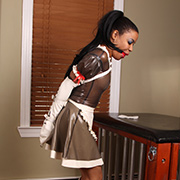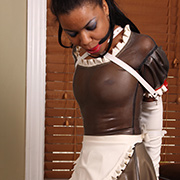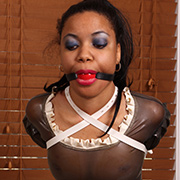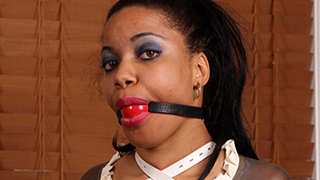 After seeing an ad online for a maid position paying triple the normal rate Monica knew there was a catch, but the money was too good. During her interview it's quickly explained that her role is to be a bondage maid. Nothing ventured, nothing gained was her attitude and figured if she couldn't take it she could just quit. Doing her best to clean while wearing an armbinder and legs tied together Monica is soon told she got the job. To her immediate dismay she's also told her eight hour shift starts immediately leaving her to clean the rest of the house in her bondage. Her gagged protests for release falling on deaf ears.