Amanda vs. The Forced Bet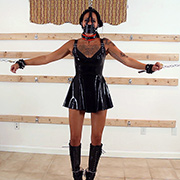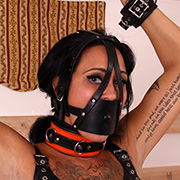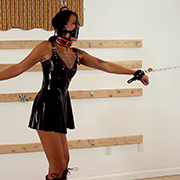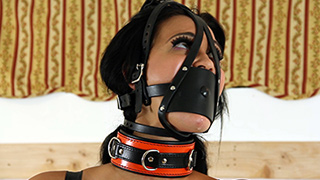 As a bead of sweat starts to form on her forehead after the 4th minute in Amanda started to regret accepting the bet. Having stood for long periods of time before in ballet boots a hundred bucks seemed like easy money for only 20 minutes. Each of her hands are bound and outstretched while her harness gag keeps her from bending her knees for any relief. As the 7th minute passes by Amanda wants to quit more than anything but knows she can't. It's not pride or the money she's concerned with, it's losing the bet. Losing would mean spending 20 minutes in any position of my choosing; including her current one. One way or another, she's forced to win her bet or be doomed to repeat it.

Jamie & Viorica vs. A Prisoner's Dilemma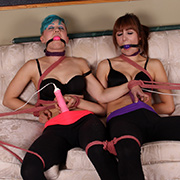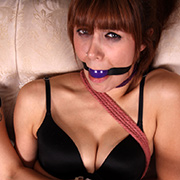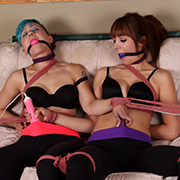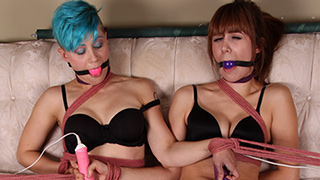 With both girls wanting to tie each other up and tease the other, neither wanted to go first. Eager to get what they wanted, Jamie and Viorica were eager to accept a compromise. After a bit of rope work both girls were well tied to the couch with all knots well out of reach. Each with a hand tied behind their back, the other was tied across the other girls body giving them full range to tease, tickle, or torment the other. It's not clear who attacked first, but soon both were tickling each other feverishly trying to get the other to relent. When magic wands were stuffed down each of their yoga pants Jamie and Viorica had some real power (and pleasure) over the other, neither willing to submit to the other no matter how much they wanted to.

Gianna vs. The Weekly Tease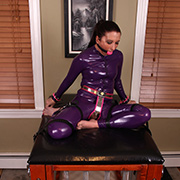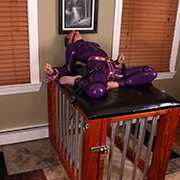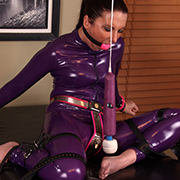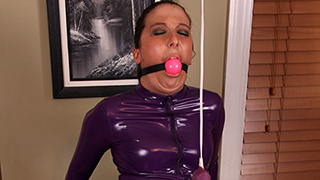 Reluctantly Gianna came over knowing she didn't have much of a choice. That is if she wanted any chance for an orgasm again. Putting her into a catsuit before locking her belt back on, groans of displeasure sound from behind her ballgag. She makes no effort to resist knowing that weeks could be added to her unknown chastity sentence. Bound uncomfortably upon the cage she struggles futilely against her handcuffs waiting for me to give her a chance at the orgasm as I promised. After several minutes Gianna's wait is over and I suspend a vibe in front of her locked belt. The slight vibration only serves to frustrate her more. Disgruntled, I remind her I offered a chance at an orgasm with a smirk. If only she knew I planned on keeping her in there at least another two weeks.

Serene Isley vs. The Bondage Totem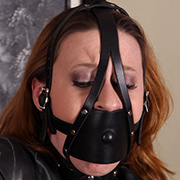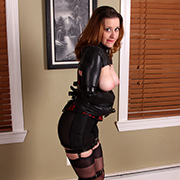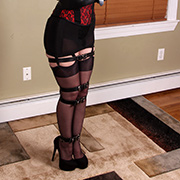 Despite the blinds being closed, the view from my chair was quite amazing. Struggling in front of me as straight as a pole Serene tries to her out of her latex straightjacket. As her breasts bounced in front of me they seem to beckon some additional decoration; a set of clover clamps would do quite nicely. Unable to do anything but stand still while I put them on her my hands drift down to her hips where Serene is extremely ticklish. Thrashing against the belt holding her still she gasps as she's tickled. Leaving her out of breath I go back to my chair to sit back and enjoy the view again.

Sarah vs. Her Discovery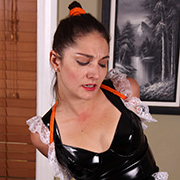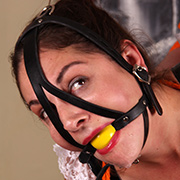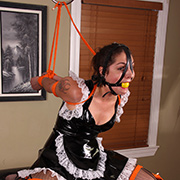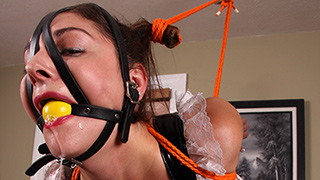 Hired to clean before a big party Sarah couldn't help but snoop around while she worked. Eventually she stumbles across a closet full of bondage gear and is enthralled. Completely forgetting about her job I find her examining and trying on the gear. No use as a maid, I decided to quench her curiosity with a little hands on training. Before long her elbows are cinched together and hoisted into a strappado connected to her hair. Unable to find a comfortable spot to rest Sarah squirms and protests behind her gag to no avail. When a vibe is pressed against her pussy all her discomfort fades away into a sea of pleasure. Something the party goers will be more than happy to keep going for the next several hours.