SB Challenge: Stasha's Key Pickup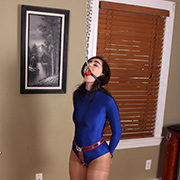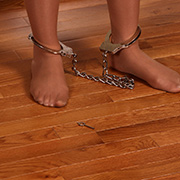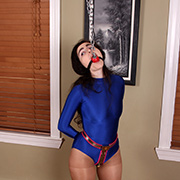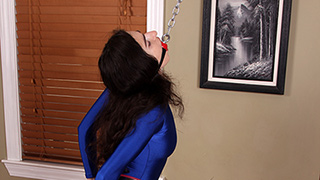 Reading the challenge in her email everything seemed simple enough. Cuff herself, drop the key, and pick it up with her toes. Once Stasha locked her chastity belt on her ballgag with an eyebolt was next. Connected to a chain above her should be be stuck here until she could get the key. It also served the added benefit of preventing her from looking down. Sliding her handcuffs through the rear wire of her belt she was locked in. The key drop echoed in the room and she immediately used her feet to find it. Before accepting this challenge Stasha had practiced but without pantyhose. After a dozen attempts without a hint of success she knew she was screwed. If only she could see the key...

Sylvia vs. The Slow Lockdown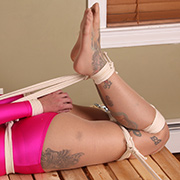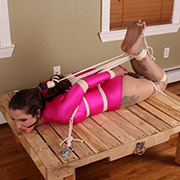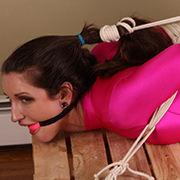 Sylvia was sure she had it made. Between the pantyhose and shiny leotard she knew it was a matter of time before they slipped off. All she had to do is pretend for a bit that the ropes were too much. Once left alone by her captor she'd make her escape. That was the plan anyway until more ropes were added. Not only did they make the existing ropes tighter, but the ensured nothing could slip. Adding insult to injury her hair and toes are tied just to remove the last bit of mobility she still had.

Claire vs. The Seesaw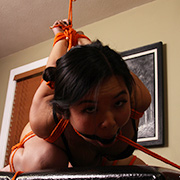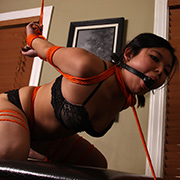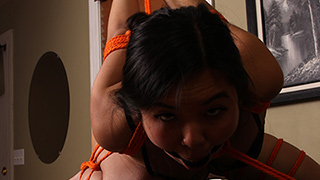 Finding a comfortable position is easier said than done for Claire. With her arms in a strappado she can't help but pull up. This pulls her neck rope taught, providing no relief to her arms. Her neck now tired she tries to lie it down when her hair tie pulls tight. Claire's crotch rope keeps her focused while ensuring her predicament never goes slack. Drool starts to pool under her chin but that's the least of her concerns. Struggling helplessly, her only hope is a few of the dozen knots come free and get some relief.

Merula vs. Heavy Metal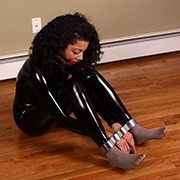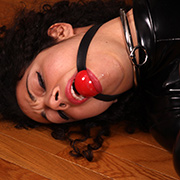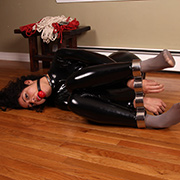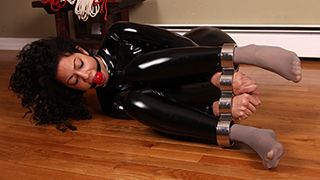 As punishment for being late Merula would spend double the time in steel stocks. She of course shrugged it off as a trivial inconvenience. With everything screwed securely in place the smirk fell from her face now realizing her predicament. Within a couple minutes no position was comfortable. The steel either pulled on her wrists or bent her back uncomfortably. Rolling on her side only served to limit her ability to move at all. It wasn't long before Merula was looking up with pleading eyes. Her gagged speech I'm sure assuring me she learned her lesson. Tapping my watch I showed her the time. Only an hour left to go.

Paisleigh vs. The Belt Layers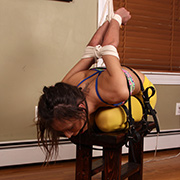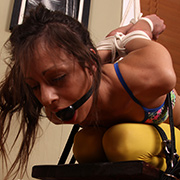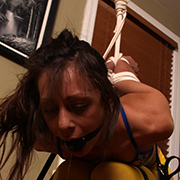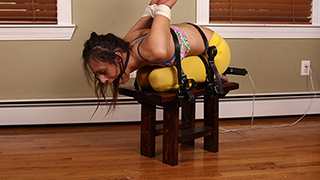 A tiny girl only needs a small stage and Paisleigh fills it perfectly. Her legs and body are secured tight to the table with multiple layers ensuring no escape. Next her arms are bound into a strict strappado already forcing an uncomfortable balance. With her arms under stress Paisleigh can't help but try and lift her body to no avail. Her bondage is so tight that a magic wand is pushed into place and held in place with compression alone. Kicked on high, she's left drooling and barely able to catch her breath before another orgasm racks her body.