SB Challenge: Laci's Denial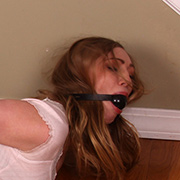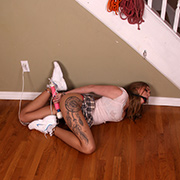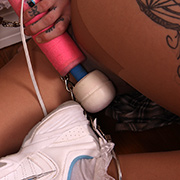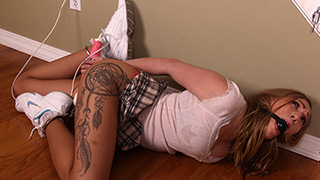 For this week Laci's self-bondage challenge is to gag, and handcuff herself into a hogtie. She's encouraged to use a vibrator to keep her distracted, but not allowed to orgasm. To top it off, she must endure her self torment for 30 minutes. After securing herself she starts the timer with her nose, careful not to drool on her phone. With the clock right in front of her, time moves slow and goes right to the magic wand for a distraction. Laci's orgasm builds quick forcing her to toss it away before breaking the rules of the challenge. A cycle that get's her more than worked into a frenzy as the clock ticks away. Squirming on the cusp of climax for so long she no longer cares about getting free; she's cumming first!

Tara vs. Her Inspection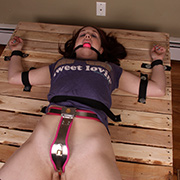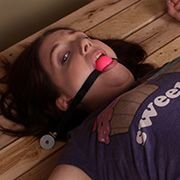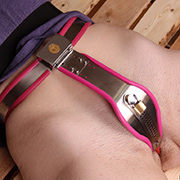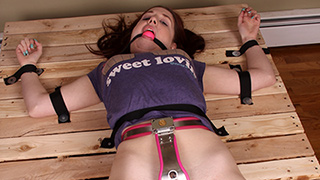 After being locked in her chastity belt for 3 weeks Tara's attitude had increased by leaps and bounds. Suffering the embarrassment of it showing under clothes and other inconveniences, she was willing to do just about anything to get it off. With that in mind she is bolted to a pallet table to inspect the belt and ensure it's not tampered with. If she's tickled and teased a bit; I'm sure she won't mind. Not if she doesn't want to spend another week locked inside the chastity belt.

Vivian vs. The Turtle Trap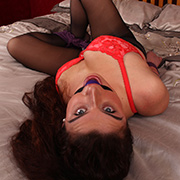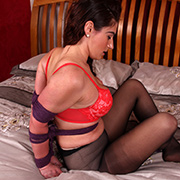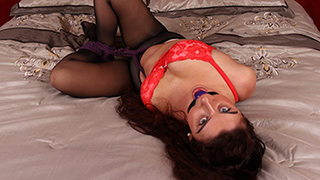 Having never been tied up (properly) before it only seemed fitting to start her off right. With Vivian's natural flexibility it wasn't long before her wrists, arms, and elbows were bound tightly together. Her legs bound in a crossed position it was a lot more restrictive than she imagined. Struggling in a sitting position there was no give in the ropes. No escape without help. Hoping for something give Vivian lies on her back for leverage only to find she can't get up; like a turtle on her back.

Mesa vs. The Double Cuffs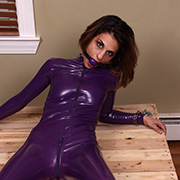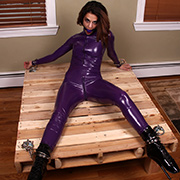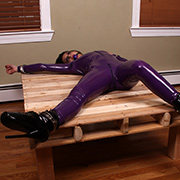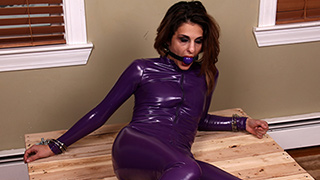 It's been a while since Mesa's been over so I wanted to treat her to a few of her favorite things; steel and orgasms. Wearing a purple catsuit Mesa sits in the middle of a pallet table with her wrists and legs cuffed to each corner. At first she doesn't think much of it but it doesn't take long to feel the building discomfort of her predicament. It doesn't take much to distract her when I unzip her crotch and close it around a magic wand set on high. The sound of metal on metal really echoing now Mesa's hands can't come close to reaching the vibrator for some relief.

Stasha vs. Her Submissive Pose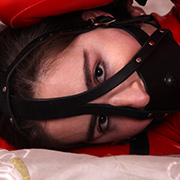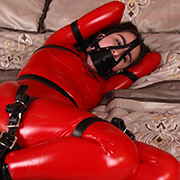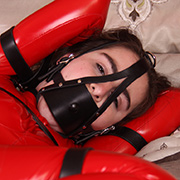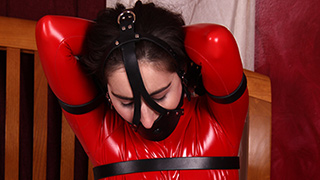 New to the whole bondage thing she wanted to try a bit of everything. Admiring the catsuits, ballet boots, and elaborate gags hanging on the wall. The catsuit and boots went on first before strapping in her gag. A bit overwhelmed by the intensity of the gag Stasha tries to reach of the buckles in the back. Not wanting her to spoil the fun I wrapped a couple belts through the gag straps and her wrists easily securing them in place. Her fingers out of reach of any buckles now. With a few more around her body and legs she knew she was stuck. Her arms forcing her head down; Stasha is the picture of a perfect submissive.