Bailey vs. A Few More Notches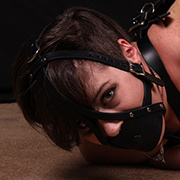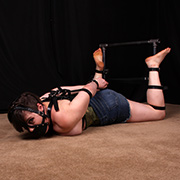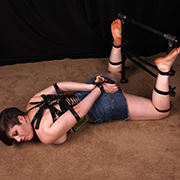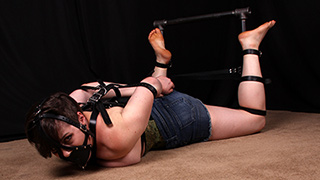 Nothing like a little tight bondage to make a good first impression. At least that was Bailey's welcome after coming through the door. A few belts later and she is helpless on the floor with her breasts and feet conveniently exposed. Struggling and finding no way out nipple clamps are added and pinned to the floor while belts pull her into an arch. The nipple chains are as tight as a bow as I start to tickle her feet. No matter how much she thrashes the belts hold her easily, making sure to pull them a few notches tighter whenever possible.

Abby vs. The Teasing Cross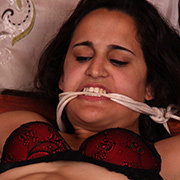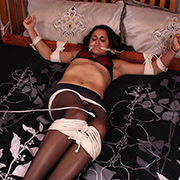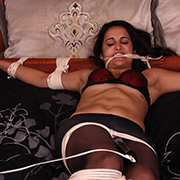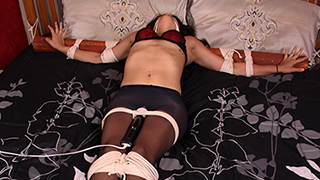 As Abby strained her abdominal muscles again to move she could only wonder what was next. While helplessly bound, she knew there had to be more. He always made sure of that. For now she was comfortable, even if the heavy log she was bound to kept her pinned to the bed. Her wait didn't last long as she watched a magic wand be tied between her legs. With coils of rope now gagging her mouth Abby tried to tell him it wasn't close enough. As it buzzed away, she tried her best to inch it just a bit closer. An orgasm was so close, yet so far away. It was only now that she started to suspect her situation might be intentional.

Serene Isley vs. Her Comfy Ropes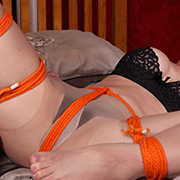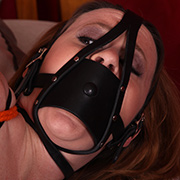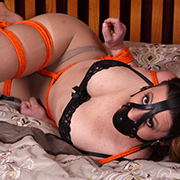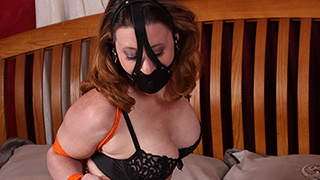 Serene's predicament starts out like a bondage fairy tale. Not too tight and not too loose; the ropes are just right. On the surface it seemed like a good thing, but she knew it would mean she'd be spending at least a few hours in them. Her heavy panel gag strapped tightly ensured there would be no discussion on the matter. As Serene struggled another feature of her bondage became clear. No matter how she twisted, or pulled every knot was carefully tied out of reach. Every one frustratingly inches away but nothing she could do about it. Her only hope was to keep struggling and hope something came loose.

Johannie vs. The Chastity Terms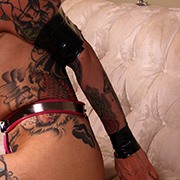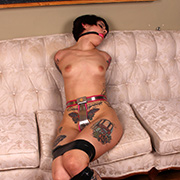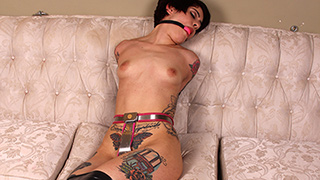 Even before she stripped her clothes off Johannie knew the terms of her chastity belt. Pleading eyes wouldn't help her here. It had been another week and she had another chance to try and get the key back. Only one little thing stood in her way, the roll of tape sitting next to her. She doesn't have to wait long before it's wrapped around her legs, wrists, and elbows leaving her helpless as always. Her frustration is clear as she a goes into a frenzy pulling and twisting at her bonds. The vinyl tape is not a forgiving foe however and contracts her limbs back together with ease. As her hour to escape comes closer to ending the first signs of resignation start to show on Johannie's face. She knows another week in the belt is in her future.

Tiffany vs. Her Taped Isolation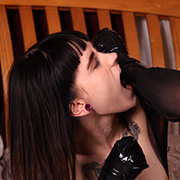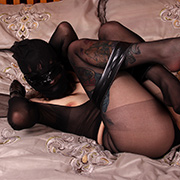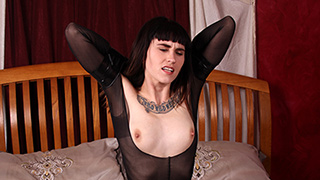 Covered in pantyhose Tiffany doesn't know what to make of her taped firsts. More tape makes her way around each leg, leaving them in a tight frogtie. The same treatment is given to her arms and without fingers there's no picking the tape free. Eventually Tiffany tries to use her teeth but not in time. The ball gag easily slips into her mouth before more pantyhose covers her head and is blindfolded with tape. Blind, gagged, and helpless she would give anything to have a single finger free. Without that, she's going to be stuck for a good long time.