Sylvia vs. A Delicate Balance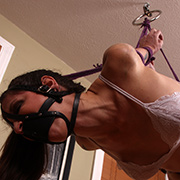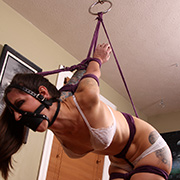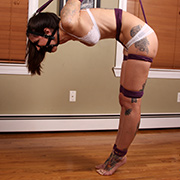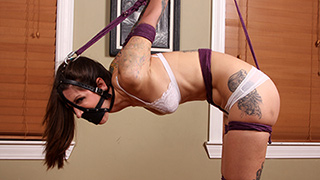 For poor Sylvia it's not a simple matter trying to get free of her ropes. Her elbows tied together into a strappado, a single rope holds them up. Not just any rope, the same rope threaded between her legs keeping constant pressure on her pussy. Forced onto her toes Sylvia tries to a balance between keeping pressure off her arms, pussy, and toes. She knows it's a losing battle but as her muscles tie so does her patience and can't help but struggle, only making her situation worse.

Aria vs. Her Uplifting Orgasms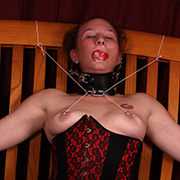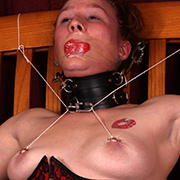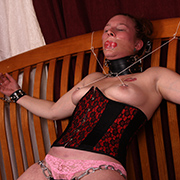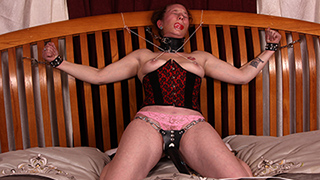 Aria wasn't familiar with the concept of predicament bondage at the start and won't ever forget it now. With a magicwand bound tight against her pussy she couldn't wait to begin. When her arms are cuffed to the headboard slats it's soon obvious that getting any purchase is already difficult. String is added to pull her nipples up high, as well as a collar. Soon her legs begin to quiver as Aria tries her best to keep the pressure off her nipples and collar. Then, the wand is switched on and the real fun begins.

Amelia vs. The Pleasure Seat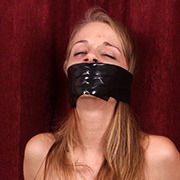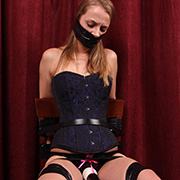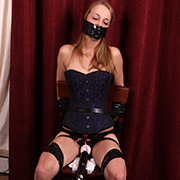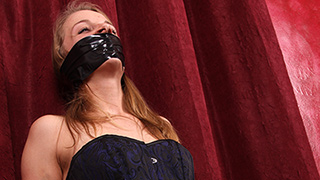 Amelia did her best to get free from the chair, the vinyl tape having just enough give to make her think it's possible. More layers are added as well as a tape gag, rendering her more immobile by the minute. When it became certain she couldn't squirm away, a wand was secured against her immovable pussy. Even on low, Amelia was quickly overwhelmed and tried to get away, to no avail. Turned to high, she really starts to scream, the orgasms coming one after another. Despite her attempts to get free, when asked if she wants to shut it off, she responds with a definitive "no"!

Niki vs. The Wall Spread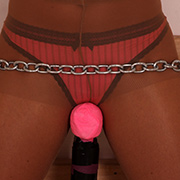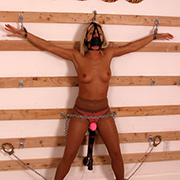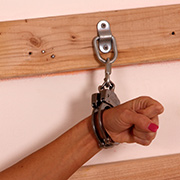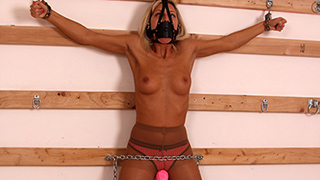 Handcuffs, shackles, and chains ensure that her body is well-secured and spread open against the wall. Even her harness gag is secured, keeping her eyes locked forward. The magicwand works its magic quickly on Niki as she struggles hard against her bonds. It's not long before she succumbs to the first of many orgasms. After nearly a dozen leave her body limp and exhausted, the wand does not let up. Her time is far from over.

Mesa vs. The After Party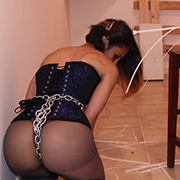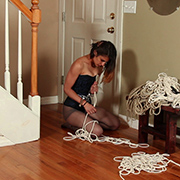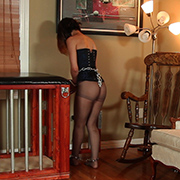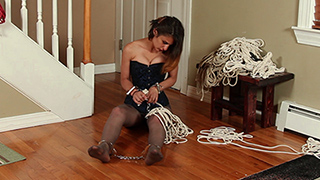 After a long day of tying Mesa up in a multitude of predicaments the place was a mess. Rope, zipties, cuffs, vibrators, you name it, they were strewn everywhere. It only seemed fitting that since Mesa was the reason for the mess, she should clean it up. Cuffed hand and foot, Mesa makes her way from room to room, cleaning up the mess from her bound adventures. The self-locking cage waits patiently for her return, to keep her safe until she's ready to play again tomorrow.