Viorica vs. The Key Quest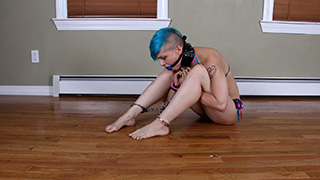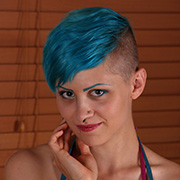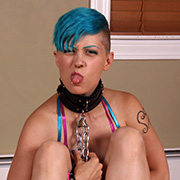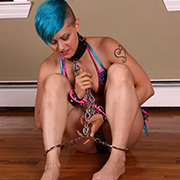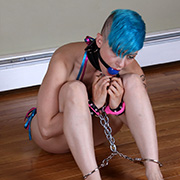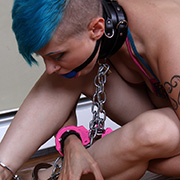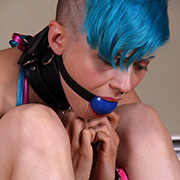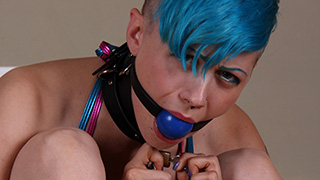 A little motivation goes a long way. In Viorica's case, any chance to get out of the awkward position she was cuffed in had her attention. Short chains pulled her into a semi-fetal position allowing her no movement or the ability to stretch a cramped muscle. Asking if she wanted out she perked right up only to be crushed as I tossed random keys around the room not knowing which one was real. Knowing she'll get no help from me there was only one thing to do... set off on a quest to find the key. Mumbling and grunting through her gag as she scoots along slowly; the sea of keys before her is going to take a while.

Jamie vs. The Bannister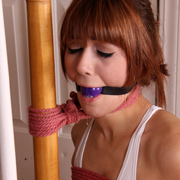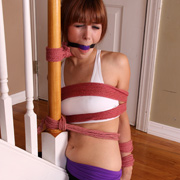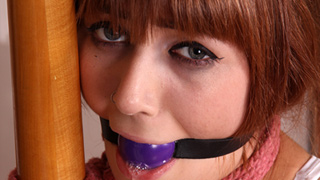 Ropes encircles Jamie's legs first, cinching them into a tight frogtie. More follows around her upper arms, elbows, forearms, and of course her wrists. All cinched and knotted with little room to even wiggle. Concern started to show as another cinched her waist to the bannister, especially when her neck was secured as well. A ballgag strapped tight in her mouth Jamie tries her best to twist and thrash against her bonds. The bannister holds with ease as she tries. Glancing around the room for any hope of rescue Jamie only see's her captor with a pile of rope in their hand.

Leila vs. The Belted Prayer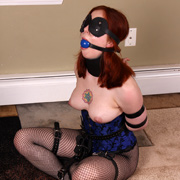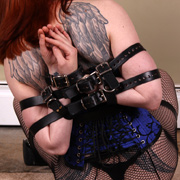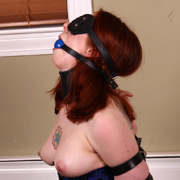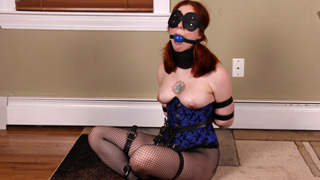 A buckle here, a belt there and before Leila knew it moving even her fingers was a challenge. Being a very flexible girl there was no need to take it easy. Folding her arms into a reverse prayer, belts circled around her corseted body and cinched in place. More circled her wrists and arms ensuring everything stays extra tight. Most importantly, the buckles are well out of reach of prying fingers. Finishing up with a large ballgag and blindfold, every movement becomes a challenge. Watching Leila struggle and look so sexy trussed up and helpless, I'm not sure I can muster the willpower to let her go.

Amanda vs. The Double Gag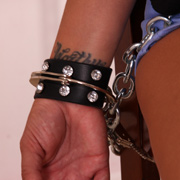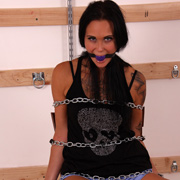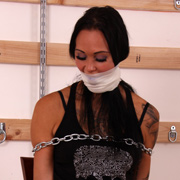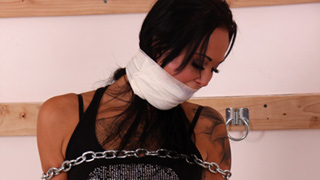 With heavy chains crossing her body and handcuffs on her wrists and ankles Amanda was already in plenty of trouble. She tried her best to resist the ball gag going in but little she could do to stop it. Not happy with the gag she does everything possible to push it out and complain. As Amanda soon finds out there's always a way to add more bondage. In this case it's a roll of vet wrap around her head sealing her ballgag and protests nice and tight. As I leave her to get more chain Amanda can't help but think maybe next time she should keep her protests to herself.

Laci Star vs. The Tight Spread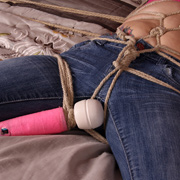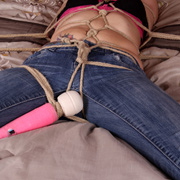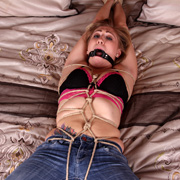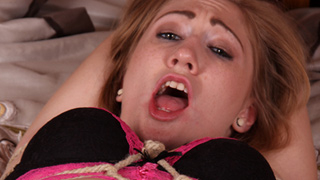 Laci was all smiles until the final ropes were secured in place. I think she had the delusion that she'd be able to get free. Wrists, ankles and elbows cinched and pulled tight she could barely squirm her body around. A freedom soon rectified with a few more ropes. Completely helpless and frantic in her semi-spreadeagle I saw only one way to calm her down. With a few more ropes a vibrator was tied right against her pussy. Her tight jeans gave her some insulation at first but that didn't last long. Moans of distress soon turned to pleasure as the vibe worked its magic as I grabbed a fistful of rope. I wasn't done with her yet.