Bella vs. Her Vinyl Trouble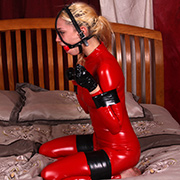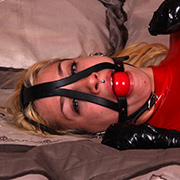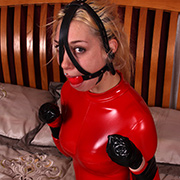 A little tape goes a long way; a lot keeps Bella well under control. A few strips of tape around her legs and arms and she's completely helpless. More are wrapped around her hands keeping any prying fingers at bay. Her ensemble is topped off with a full harness gag keeping all protests to herself. So that Bella doesn't get bored in her bondage, a magic wand is secured in place with the zippers of her catsuit. It doesn't take long before her first orgasm builds up and in her current predicament; she won't be shutting it off for a very long time.

SB Challenge: Stasha's Key Drop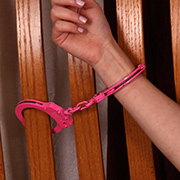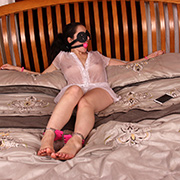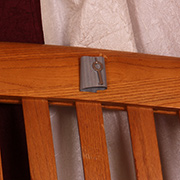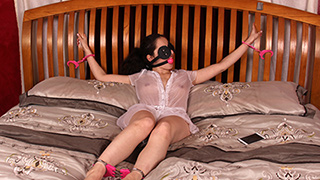 Stasha couldn't have been more excited for her challenge. Even though she'd never tried self bondage before it sounded pretty easy. Keep key nearby, cuff self, wait for timer, and release. What could be easier? After enduring a long wait in handcuffs while gagged and blindfolded it's time to get free. Having never tried self bondage before she forgets the golden rule. Always have a backup. Her only hope is her phone she used as a timer; will she be able to call for help?

Gianna vs. The Hooded Tease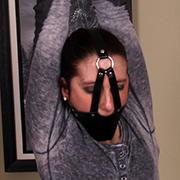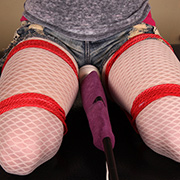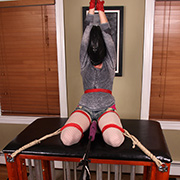 Squirming and moaning through her gag Gianna was determined to get some attention. As she found out, she should have quit while she was ahead. Right away her ropes are tightened up before a leather hood is pulled over her gagged head. To ensure she is well distracted, a magic wand is put on a pole between her legs. Between the jeans and awkward position frustration builds quickly. Well distracted now I leave the vibe to buzz away. Maybe she cums, maybe she doesn't. Maybe she'll regret the extra attention, only time will tell.

Jamie & Serene vs. Black & Clear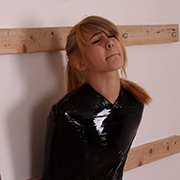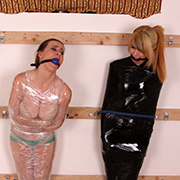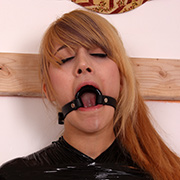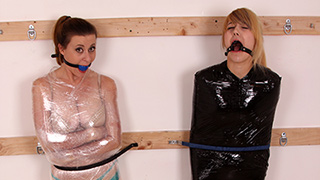 What could be better than one girl mummified in a secluded basement? Two of course! Jamie in tight black pallet wrap and Serene in an equally secure situation. Just to be sure neither worm away anywhere, both are bolted to the wall with metal straps. Frantically struggling it's obvious there's no possible escape but that doesn't stop them from trying. The dancing really begins when their sides and feet start to be tickled. The drool really starts to fly.

Amanda vs. The Decoration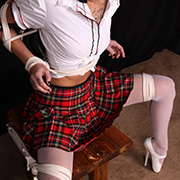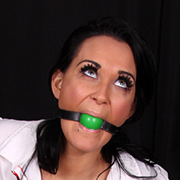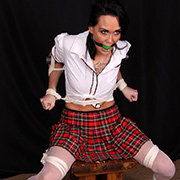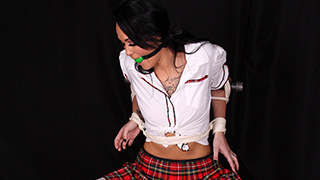 Some prefer to see a pretty girl model her sexy outfit with poses, or maybe some dancing. For myself lots of rope, drool, and ballet shoes make the outfit really pop. Seated on a small table Amandas elbows are hooked around a T-pole and her wrists tied in front. More is added around her waist and legs ensuring they stay open. Struggling now, her ballgag goes in and soon finds the table is bolted to the floor. She's just a simple decoration waiting to be play with.