SB Challenge: Abby's Slow Melt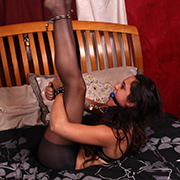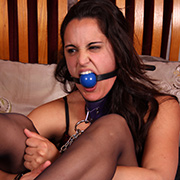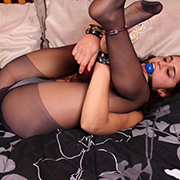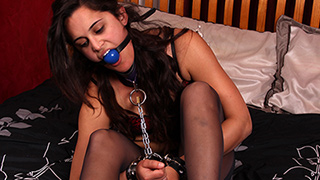 For Abby's challenge she must cuff her legs and attach handcuffs under her legs to a posture collar. Her release comes when all the ice in the pantyhose she set up melts. Since her challenge dictates she be bound for an hour she wanted to be sure; putting over a dozen cubes in. Unknowingly setting herself up for several hours she sets to struggling to pass the time. It's not until a full hour has passed and the cubes have barely melted Abby realizes her folly. Her growing uncomfortable position and the ache in her jaw builds her panic as she tries to pull the key free with little success. If only she didn't turn the air conditioner on high before she started.

Amanda vs. The Pole Struggle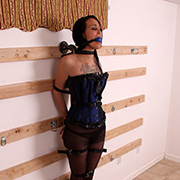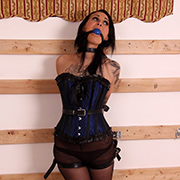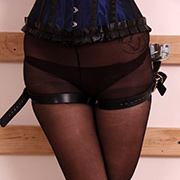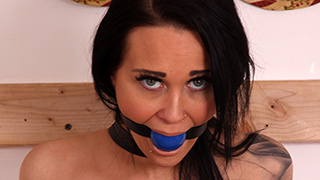 It's amazing how a simple pole changes the dynamic of a girl's performance. Amanda bound and gagged is hot on its own, but forced to struggle against a steel pole is the icing to the cake. Belts encircle her legs, arms, elbows, and neck ensuring there's no escape. It doesn't take long for her legs to tire in her high heels and playful struggle turns to desperation to get free. Despite Amanda's best efforts, her pole dance continues as she continues to find a comfortable position.

Bella & Briella vs. Their Role Reversal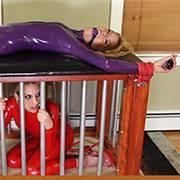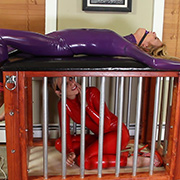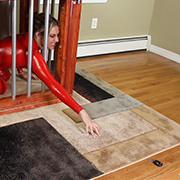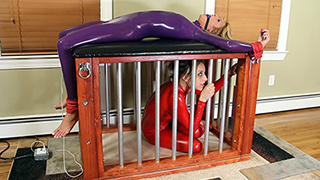 Always the Domme, Briella pawed her latest captive with curiosity. What if she was captive for once? Better yet, what if she could do it on her own terms. Her plan for Bella would be to give her the key to the cage below her, giving her power over her release. At first Briella loved the rush her new confinement gave her. Her only method of escaping is to torment Bella through tickling and orgasm denial. To her surprise however Bella enjoyed her power and wasn't going to give it up for an orgasm. As the minutes of captivity passed the game soon lost it's appeal for Briella and was starting to panic. Desperation soon took hold and Briella lunges for the release remote knocking it from Bella's bound wrist. The remote well out of reach now, there's only one way out... at least for Bella.

Amelia vs. A New World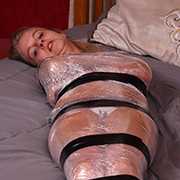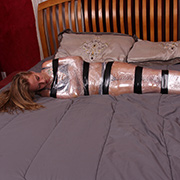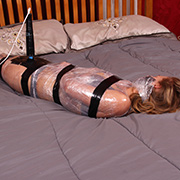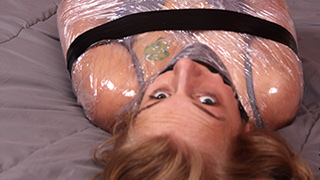 With a bevy of new experiences under her belt from earlier in the day Amelia felt she was prepared for anything. When shown the plastic wrap that would be wrapped around her body she simply poked a hole in it, oblivious to its potential. With the wrap secure on her body and a few strips of vinyl tape in the mix her face told the story. Amelia was an order of magnitude more secure than everything else put on her previously. Soft moans escape her taped mouth as she tries to escape to no avail. When a magicwand is added to the mix and taped in place there was no escaping it's pleasurable vibrations leaving her in a whole new world.

Mesa vs. The Ziptie Bind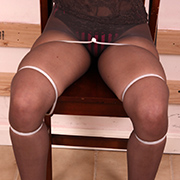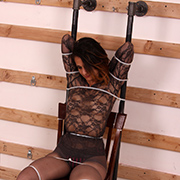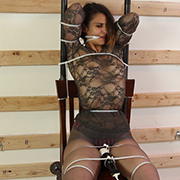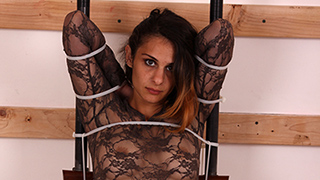 All it takes is one ziptie to render someone helpless. So when Mesa starts out with over a dozen, there's no illusion any escape is going to be easy if at all. Every part of her is encircled with a ziptie and only goes downhill from there. She tries to make the best of it, hoping for a comfortable position. Relief comes soon enough, but not in the form of scissors like she hoped. Instead a vibrator is ziptied against her pussy and switched to high.