Monica vs. The Heavy Lockdown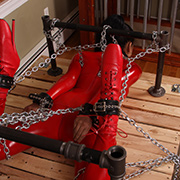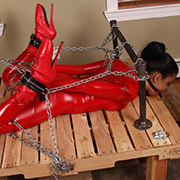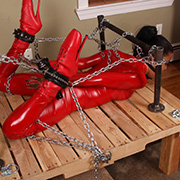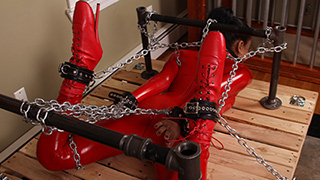 One by one Monica's chains are pulled tight. The strictness of her situation creeps up on her as the chains have no give. Just as she thinks it can't get tighter another chain is added and then another. By the time her gag is chained to the pole above her it takes an effort of will to make the slightest attempts at escape. Even if she could, the chainlinks keeping her locked up are well out of reach. Still, Monica can't help but try. Even if there's a small chance something will give.

Merula vs. Her Deprivation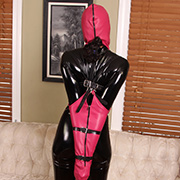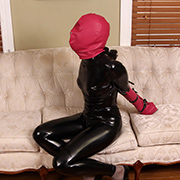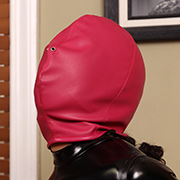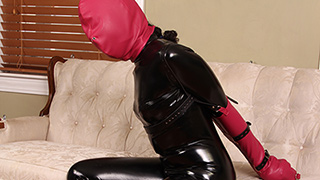 Covered head to toe in PVC and leather Merula is completely deprived of her senses. With her elbows forced to touch in her armbinder she has no hope of getting free. She still has to try though despite her labored breathing through two small nose holes. It's a vicious cycle. The desire to escape and the desire to breathe.

Samantha vs. Amelia's Tight Wrap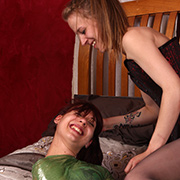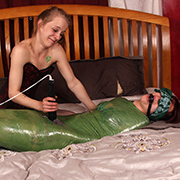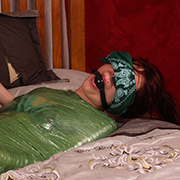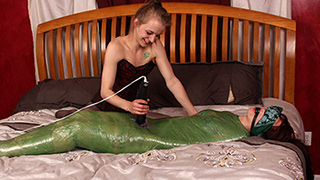 After Samantha caused her to get stuck in self-bondage a while back Amelia plotted her revenge. Finding a mummification video online she had her plan. Getting Samantha to agree was a simple offer of a hundred dollars if she could get free. Amelia planned too well and knew how to make sure she would never get out on her own. Like a mouse caught by a cat, Samantha was helpless in her paws. Amelia proves to be a merciful cat however as she positions a magicwand in place bringing her quickly to the edge of orgasm.

Clara vs. Her Little Mistake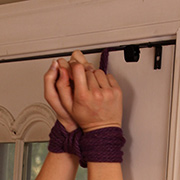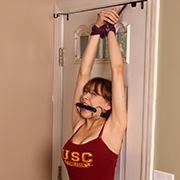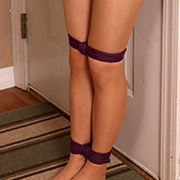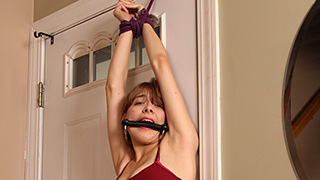 It had been a week and Clara was missing her boyfriend. More than that, she wanted to be sure he was missing her just as much. So with her iPhone ready, she set to making a little self-bondage video for him. Tying her legs together, she made a coil for her wrists and cinched them tight before throwing the slack over a door. Mockingly, Clara plays her best damsel in distress while tugging at her ropes. All is perfect until the doormat slides on her feet, causing her to fall onto the door. In an instant her fantasy has turned into reality and she is stuck. In a panic she fights against the ropes holding her, but she did her job too well.

Aimee vs. A Reluctant Struggle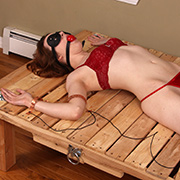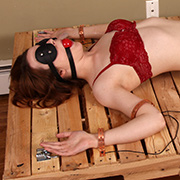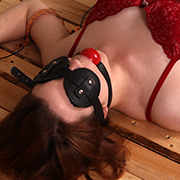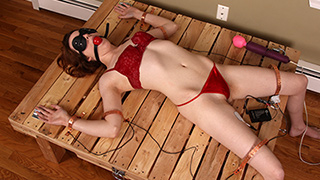 Lying on the pallet table bound in copper strapping, Aimee's limbs quiver as she tries to keep still. She can feel water being sprayed on her arms and legs. This only makes her more nervous as she struggles to hold still. Then there is the tickling. The goddamn tickling. Aimee can't help it and her arm contracts, making contact with her restraint and thus completing the circuit. A grunt of displeasure escapes her gag while trying to center herself between the straps again. Her true test lies ahead as the unmistakable sound of a magicwand clicks on high. Orgasms are inevitable, it's only a question of whether or not she can keep still as they consume her body.