Kajira vs. The Skype Proposal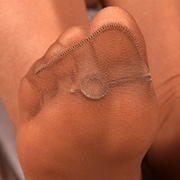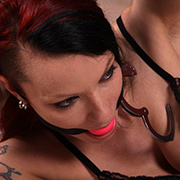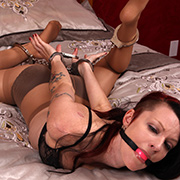 The proposal seems simple enough. Kajira has refused his requests to tie herself up before but the money was just too good this time. Put the key in her pantyhose and use some handcuffs to hogtie herself. She would spend a few minutes struggling for his benefit before releasing herself. How hard could sliding the key out be? If all else failed she could just push the key through the nylons right, or so she thought. The thumb cuffs thwarting any plan of an easy escape. As the realization of her predicament dawns on Kajira panic soon follows. One thing is for sure; her customer is in for an extra long show.

Sky vs. Raw Materials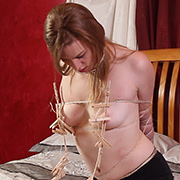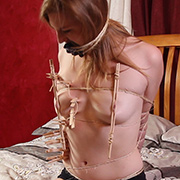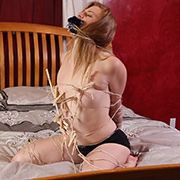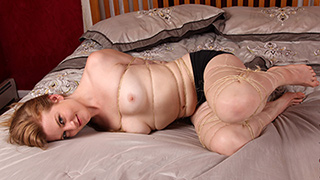 As Sky finds out it doesn't take much to tie up and torment a pretty girl. A few strands of twine and some dowels and she's not going anywhere. The thin braids do plenty to discourage most attempts anyway. Sky's predicament doesn't end there; she has a bit of a challenge before I'll let her free. Nothing big, just a couple clothespin zippers down each side that she needs to pull off. Maybe a few more on her nipples for an extra challenge.

Sarah vs. Her Icy Predicament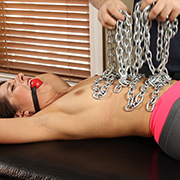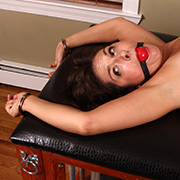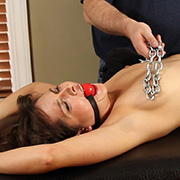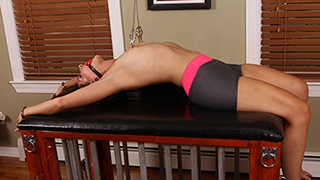 It only takes a few sets of handcuffs to immobilize Sarah on top of the cage. Nervously she tests her bonds knowing there is no hope for escape without a key. From the kitchen I return with a black bag; a close chill running up her sides as I set it down next to her. The humid summer air is already frosting the ice cold metal chains about to be laid over her body. The handcuffs do their job admirably as chain after chain is laid over and under her bare flesh. Sarah's torment is only just beginning as a pair of clover clamps are put on her sensitive nipples, brought to attention by the cold. Just when she doesn't think she can take anymore the magicwand instantly makes it all worthwhile; skyrocketing her to a massive orgasm.

Amanda vs. Her Distracted Fatigue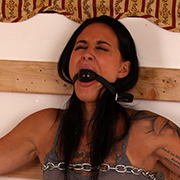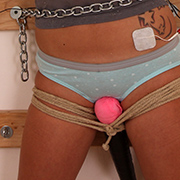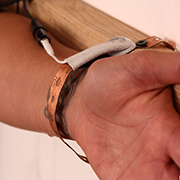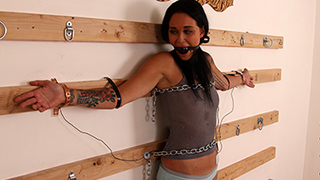 Gravity can be a bitch, especially when you need to hold your arms up to avoid getting shocked. Standing in heels and bolted to the wall Amanda tries her best but it's a losing battle. There's nowhere to go. A little too high or too low and... zap. If that wasn't enough the magicwand tied between her legs doesn't help her concentration. Arms shaking from holding them up or being on the verge of orgasm, it's hard to tell. One thing is for sure, it's fun to watch her writhe in her predicament.

Constance vs. Armbinder Orgasms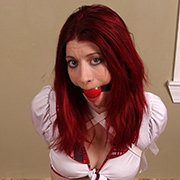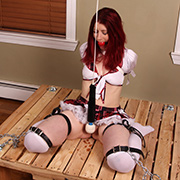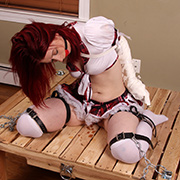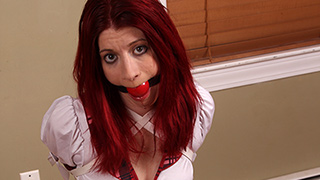 Constance simply has nowhere to go. Her legs are frogtie and pulled wide apart with chains. Laces are closed tight on her armbinder and chained to the table. Left completely helpless a magicwand is suspended lightly against her pussy. With limited movement she tries her push against the vibrator to little success. It buzzes away while gently teasing her to madness. Eventually a helping hand pushes it tight against her sending Constance instantly to orgasm.