Aimee vs. Handcuff Experiment #2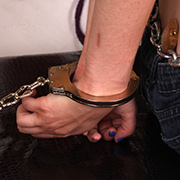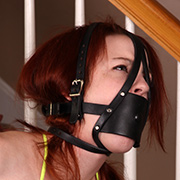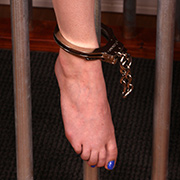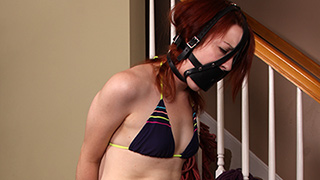 Handcuffs do a pretty good job at keeping hands secured without a key. How about with a key? Law enforcement has procedures to mitigate an escape if someone has a key, but how effective are they? To find out, I volunteered Aimee to be my escapee. Starting with hinged handcuffs and working into more difficult escapes Aimee tries her best to escape. I know this because she has a TENS connected to her inner thighs that will shock her if she doesn't make a timely escape. Aimee is quite nimble in her attempts to get free but as the muffled noise behind her gag indicates; not always quick enough.

Stasha vs. A Harsh Lesson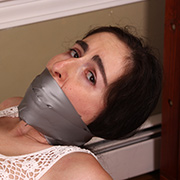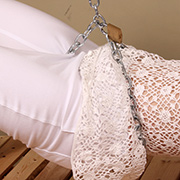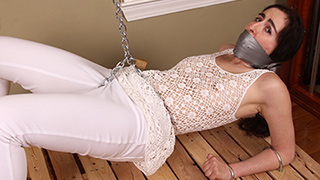 Stasha had promised to come over to help with a project, but after 3 hours of waiting she finally showed up. No longer needing her help, it seemed only fair to teach her a lesson about keeping promises. Begrudgingly she is locked with chains and U-bolts to the pallet table. A nice wad of cloth is stuffed in her mouth and taped in place. A handy silencer as I know she won't like what's next. Last, a crotch chain in locked in place and secured high above her. Almost completely immobile now Stasha tries her best to keep the pressure off the chain with little success. This won't be a lesson she soon forgets.

Claire vs. Her Pink Struggle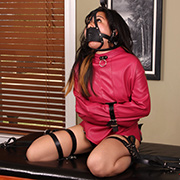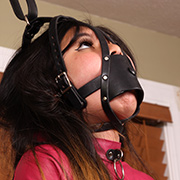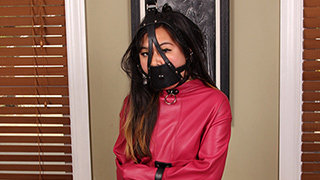 With her first experience with bondage being in ropes it was time to step things up a bit. Strapping a straitjacket onto she was pretty relaxed, at least until the belts started to pile on. Some around her legs to frogtie them. More to keep them held apart. Finally, one last belt is pulled tight to the ceiling keeping her posture and position firm. Escaping the straitjacket had long odds to begin with, but now nearly impossible. Claire was hoping for a full gambit of bondage when she walked through the door, little does she know her experience has just begun.

Kajira vs. The Broken Keys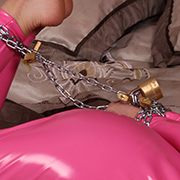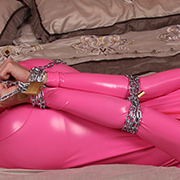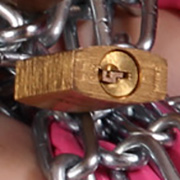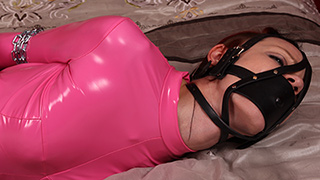 Kajira figured she was crafty. When she figured I wasn't looking, she grabbed the spare keys and shoved them under a pillow. I could have bound her tight and taken the keys away, but where's the fun in that? Instead I made sure the locks were on there for good by snapping them off in the lock. Spare keys or not, she wasn't getting out, ever. Struggling was her only resort with the small hope that one of the chains would come loose. Kajira had made her bed and now it was time to lay in it.

SB Challenge: Violet's Heavy Weight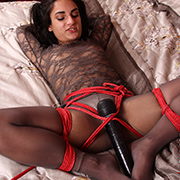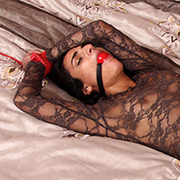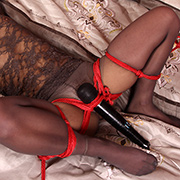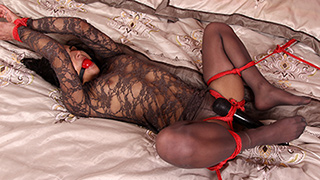 There's no question that Violet knows her ropes; each one she applied is cinched and pulled extra tight. With a click her vibrator is buzzing away and her bound hands on a heavy weight. A quick shove sends it off the side of her bed pulling her arms and ropes tight. Helpless, the blissful vibrations keep her well entertained as she begins to lose count of her orgasms. Pulling up on the weight becomes harder as the orgasms leave her weak. Violet will have to try her best to muster up some energy soon, though. That magic wand has no plans to stop anytime soon.