Jamie & Viorica vs. A Prisoner's Dilemma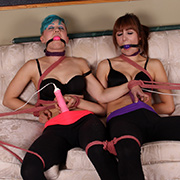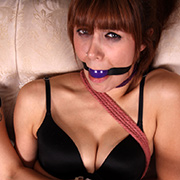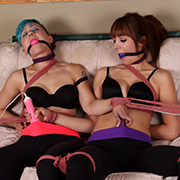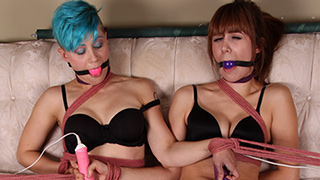 Description Coming Soon

Gianna vs. The Weekly Tease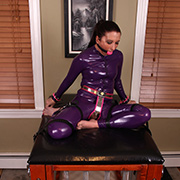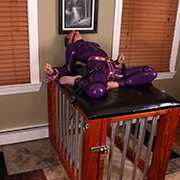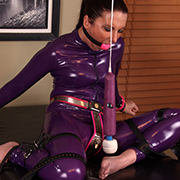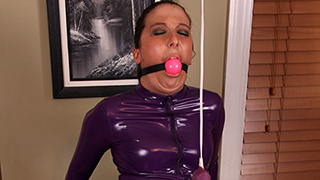 Reluctantly Gianna came over knowing she didn't have much of a choice. That is if she wanted any chance for an orgasm again. Putting her into a catsuit before locking her belt back on, groans of displeasure sound from behind her ballgag. She makes no effort to resist knowing that weeks could be added to her unknown chastity sentence. Bound uncomfortably upon the cage she struggles futilely against her handcuffs waiting for me to give her a chance at the orgasm as I promised. After several minutes Gianna's wait is over and I suspend a vibe in front of her locked belt. The slight vibration only serves to frustrate her more. Disgruntled, I remind her I offered a chance at an orgasm with a smirk. If only she knew I planned on keeping her in there at least another two weeks.

Serene Isley vs. The Bondage Totem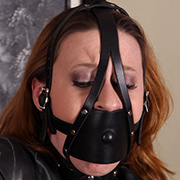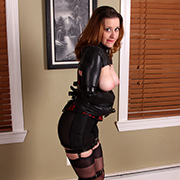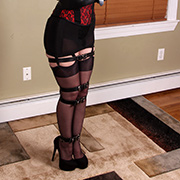 Despite the blinds being closed, the view from my chair was quite amazing. Struggling in front of me as straight as a pole Serene tries to her out of her latex straightjacket. As her breasts bounced in front of me they seem to beckon some additional decoration; a set of clover clamps would do quite nicely. Unable to do anything but stand still while I put them on her my hands drift down to her hips where Serene is extremely ticklish. Thrashing against the belt holding her still she gasps as she's tickled. Leaving her out of breath I go back to my chair to sit back and enjoy the view again.

Sarah vs. Her Discovery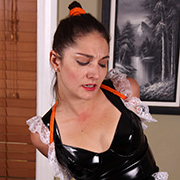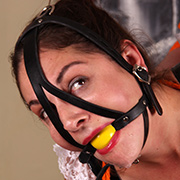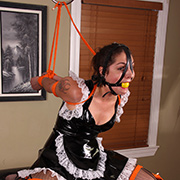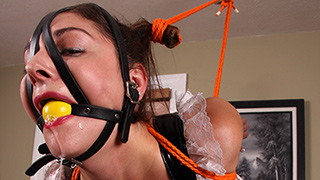 Hired to clean before a big party Sarah couldn't help but snoop around while she worked. Eventually she stumbles across a closet full of bondage gear and is enthralled. Completely forgetting about her job I find her examining and trying on the gear. No use as a maid, I decided to quench her curiosity with a little hands on training. Before long her elbows are cinched together and hoisted into a strappado connected to her hair. Unable to find a comfortable spot to rest Sarah squirms and protests behind her gag to no avail. When a vibe is pressed against her pussy all her discomfort fades away into a sea of pleasure. Something the party goers will be more than happy to keep going for the next several hours.

Monica vs. Her Simple Mistake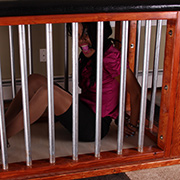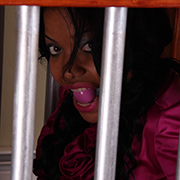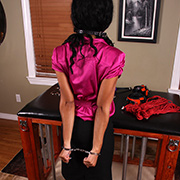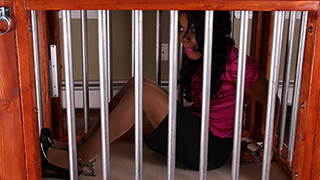 When Monica arrives she finds nobody home and a note to keep herself busy for a few hours. Quickly becoming bored she decides on some playful self-bondage to pass the time. She straps ballgag in her mouth first before putting on a set of legcuffs and handcuffs. Making her way into the cage she closes the door behind her to play the damsel role; giggling all the while. It's not until she's had enough and tries to push the seemingly unlocked door open that it doesn't budge. Secured with a 1,200lb magnet her 110lb body has no hope of budging it. Panic now sets in as Monica knows she's really stuck and worse, the keys are sitting on top of the cage out of reach. With hours to go before anybody will be home Monica's stuck playing a real damsel for a while.