Bella vs. The Chain Strappado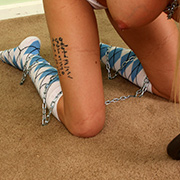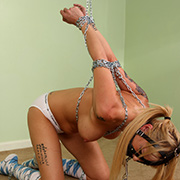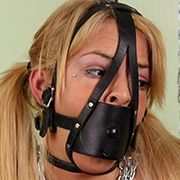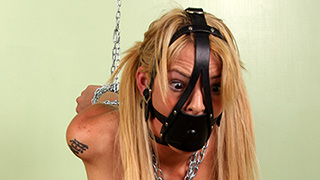 Bella starts with her legs screwed to the floor with chain ensuring she stays on her knees. More chain follows for her wrists and elbows. They are left touching, locked in place by unyielding steel. With a final chain, her arms are pulled up leaving her stuck bound to the ceiling and floor. Just to be sure she has no extra slack a weight is hung from her neck pulling her down to the floor. Finding a comfortable position is nearly impossible; she can only struggle and hope something breaks loose.

Clara vs. Her Double Noose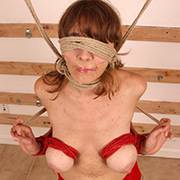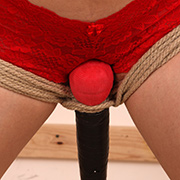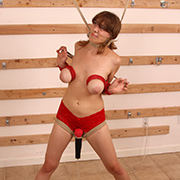 Her wrists tied to her tits Clara wonders if it's worth trying to get free. The rope holding her elbows close is certainly not making it easy nor double nooses tied around her neck. When the Magicwand is turned on and she started to feel weak in the knees things really get interesting. As if her predicament wasn't interesting enough a rope is wrapped around her head effectively blindfolding her. Left to simmer it's only a matter of time before the inevitable cums, and cums, and cums. The only question is, will she be able to hold herself up?

Kajira vs. The Skype Proposal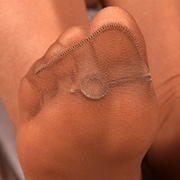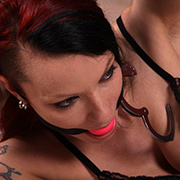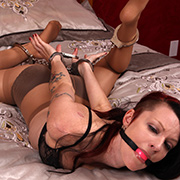 The proposal seems simple enough. Kajira has refused his requests to tie herself up before but the money was just too good this time. Put the key in her pantyhose and use some handcuffs to hogtie herself. She would spend a few minutes struggling for his benefit before releasing herself. How hard could sliding the key out be? If all else failed she could just push the key through the nylons right, or so she thought. The thumb cuffs thwarting any plan of an easy escape. As the realization of her predicament dawns on Kajira panic soon follows. One thing is for sure; her customer is in for an extra long show.

Sky vs. Raw Materials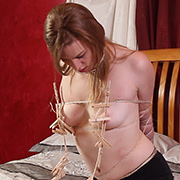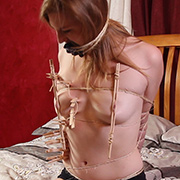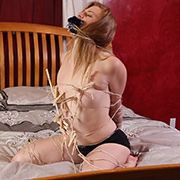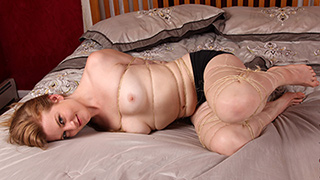 As Sky finds out it doesn't take much to tie up and torment a pretty girl. A few strands of twine and some dowels and she's not going anywhere. The thin braids do plenty to discourage most attempts anyway. Sky's predicament doesn't end there; she has a bit of a challenge before I'll let her free. Nothing big, just a couple clothespin zippers down each side that she needs to pull off. Maybe a few more on her nipples for an extra challenge.

Sarah vs. Her Icy Predicament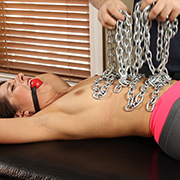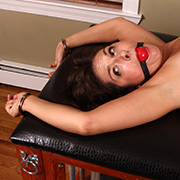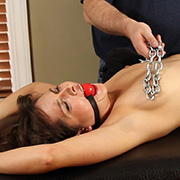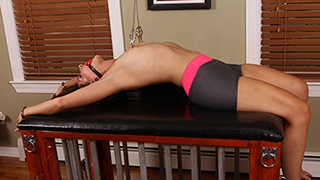 It only takes a few sets of handcuffs to immobilize Sarah on top of the cage. Nervously she tests her bonds knowing there is no hope for escape without a key. From the kitchen I return with a black bag; a close chill running up her sides as I set it down next to her. The humid summer air is already frosting the ice cold metal chains about to be laid over her body. The handcuffs do their job admirably as chain after chain is laid over and under her bare flesh. Sarah's torment is only just beginning as a pair of clover clamps are put on her sensitive nipples, brought to attention by the cold. Just when she doesn't think she can take anymore the magicwand instantly makes it all worthwhile; skyrocketing her to a massive orgasm.