Rachel vs. An Easy Bait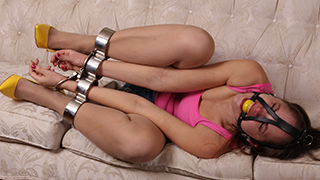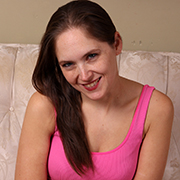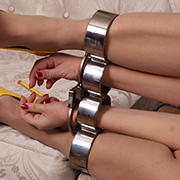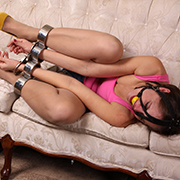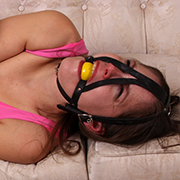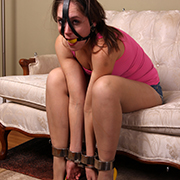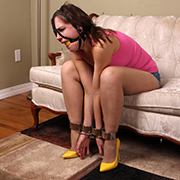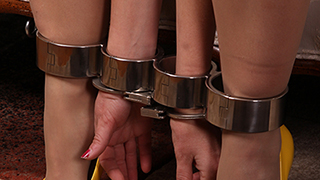 Rachel and I have had plenty of friendly wagers in the past with both winning some and losing some. So when I proposed a wager that she couldn't escape from the steel stocks she didn't think twice. She knew her hands could slide right out of them but unfortunately for her, so did I. Even through her gag I could see her cocky grin dreaming of the moment I would have to pay up. In her distraction, she doesn't notice the addition of handcuffs until it's too late. With them tight around her wrists, she has no hope of slipping out. Confidence switches to dread as she realizes she'll be spending the next several hours bound in this uncomfortable position. Rachel tries to concede hoping for another fate but she knows the rules and I've never bent them yet.

Naomi vs. Her Chain Ball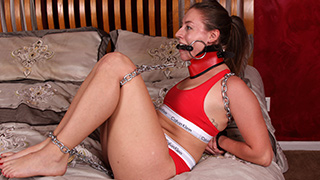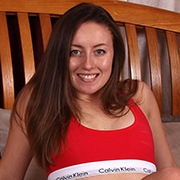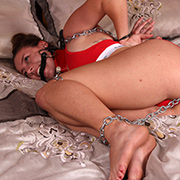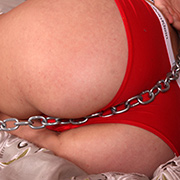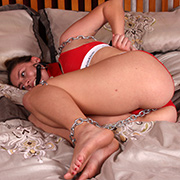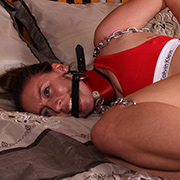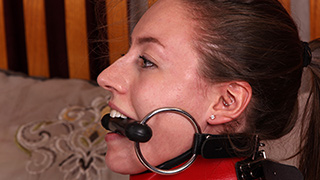 What looks like leg cuffs with a very long chain to Naomi turns out to be more than it appears. Wrapping the chain behind her neck and under her arms the handcuffs end in the middle of her back. A few clicks of the cuffs and she's left in a partial reverse prayer, unable to escape. The awkward position only foreshadows what's to come as more chain leaves her unable to move at all. To make matters worse the key to her release in only a couple feet away but might as well be miles. The ball tie seems innocent enough at first glance but renders the sub, Naomi, quite helpless. All points of leverage that allow even the slightest movement are useless and serve only to leave her exhausted and out of breath.

Maggie vs. Her Chastity Prayer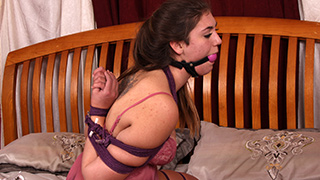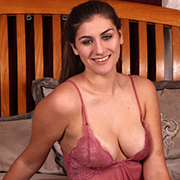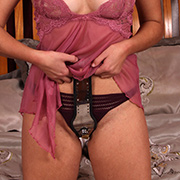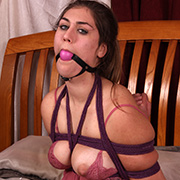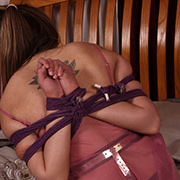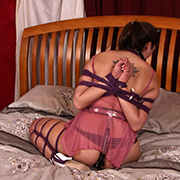 I could tell you that Maggie deserved to be punished. That if she manages to get free of her ropes that I'll have mercy and give her the keys to her belt. I could say these things, but they wouldn't be true. Maggie is tightly bound in a reverse prayer because I want her bound that way. She's in a chastity belt until I decide it comes off. While it's no secret I do these things for my own enjoyment but more importantly, I do them because she wants me to.

Raven vs. A Pink Bind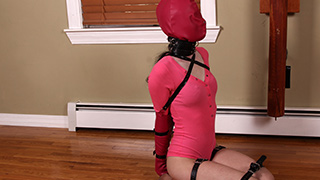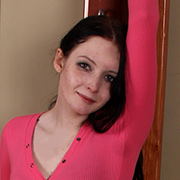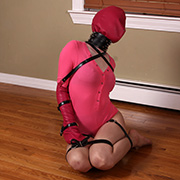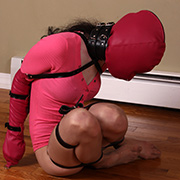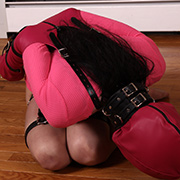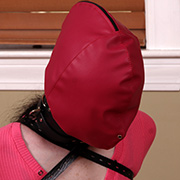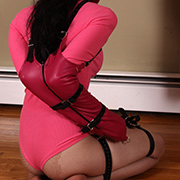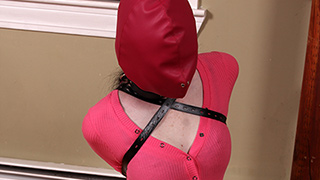 As with many things in life, the devil is in the details. Raven had tried the armbinder on previously but without the two small belts. It had taken her a bit of effort but as a self-titled escapist, she was confident she could escape and did. So on the main stage, a ballgag in her mouth, hood on her head, and posture collar pulled tight she was ready to escape again. Raven didn't even notice anything was different until all the restraints were in place. The wrist belt, in particular, turned out to be quite vexing. With it pulled tight it didn't matter how flexible she was, there was simply no way to pull her hands-free. With her hands and fingers tucked away Raven knew she was beaten.

Amie vs. Her Stock Training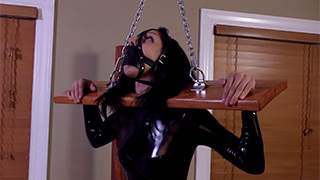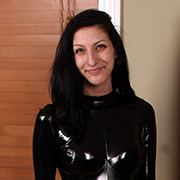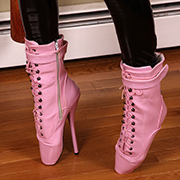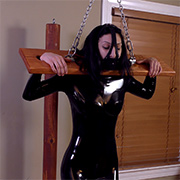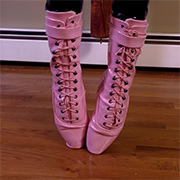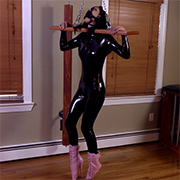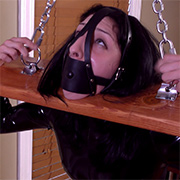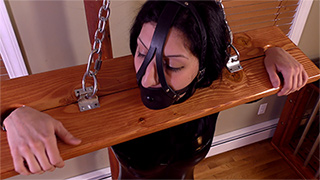 Amie spends the afternoon testing out her new toys and gets a bit more than she bargained for. Starting with ballet boots and ending with her head and arms in wooden stocks, her predicament is obvious. It won't take long before her legs and toes need a break but the stocks won't let her. Struggling as hard as she can, the magnetic seal holding the stocks together is simply too strong. Her only recourse is to accept her fate and learn to stand in her new boots for a very. long. time.