Faith vs. Her Quick Chill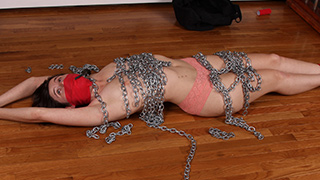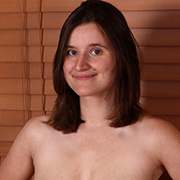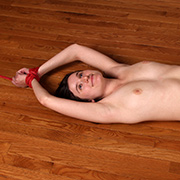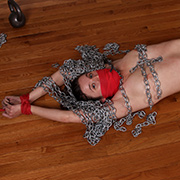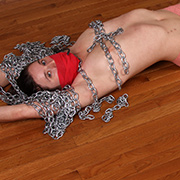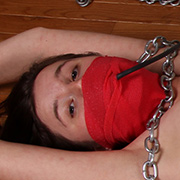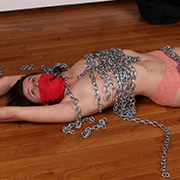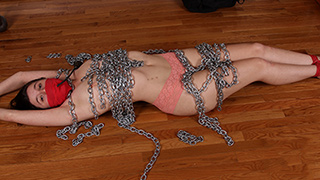 Faith may be as green as they come to bondage but came determined to challenge herself. With it being her first time in ropes, handcuffs, or well, any bondage she takes to it like a fish to water. Even with her arms and legs tied to opposite ends of the room, she's got a huge grin on her face. Her only complaint? Even stripped down to her panties it's still too hot. Near 100F/38C degree days with air conditioning will do that. Always a problem solver I pull a bag of chains from the freezer which instantly gets a reaction. Helpless and naked I lay them across her body forcing her to squirm but it's no use. One by one they crisscross her body, the cold metal making sure Faith get's her wish to escape the heat.

Kim vs. The Cheap Stuff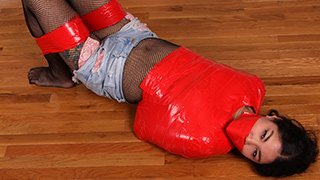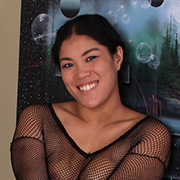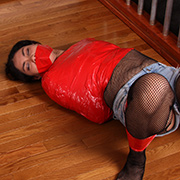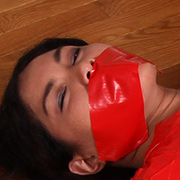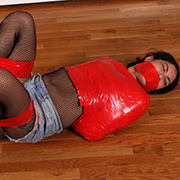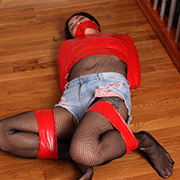 When fishing through the bargain bin for duct tape I came across an interesting red roll. At 3 inches wide it wasn't messing around and surprisingly wasn't paper thin. All this doesn't bode well for our newbie Kim. Wary of being mummified I assured her it would only cover her arms. Surely a few strips of tapes wasn't going to keep her bound for long right? Despite its cheap origins it managed to be stronger than its more expensive counterparts. By 5 minutes in, Kim was well aware that she wasn't getting free anytime soon. She didn't stand a chance against the tape.

Hannah vs. Heavy Lifting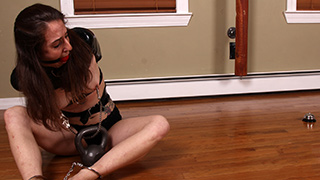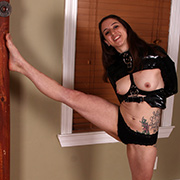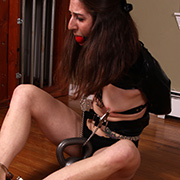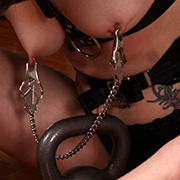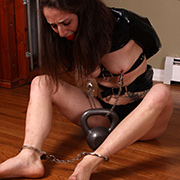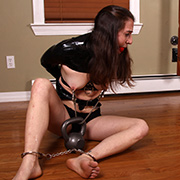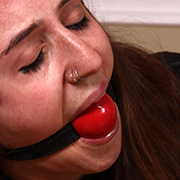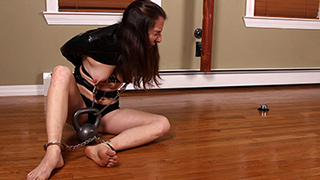 With Hannah looking amazing in a rubber straitjacket it stood to reason I wanted to be sure that she couldn't go anywhere. Using clover clamps I put them on her exposed breasts; looping the chain through a 10-pound weight. To torment her a bit I told her if she could ring the bell across the room I'd let her out. What I didn't expect was her to use her poor nipples to actually pull it across the floor. Grunting, wincing, and carefully pulling she inches across the floor. I should have known that any challenge she'd give it her all. Now we will see if she can trek the entire distance.

SB Challenge: Kaecie's Risky Tie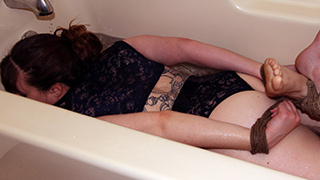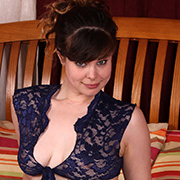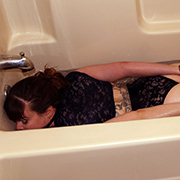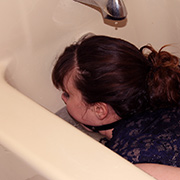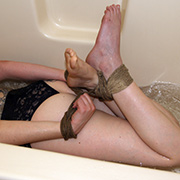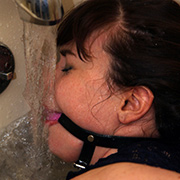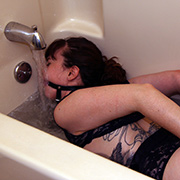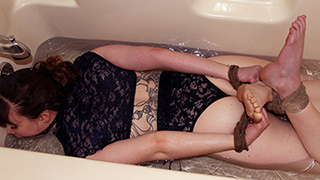 Kaecie is no stranger to challenging self-bondage adventures. For this challenge, she's asked to try something she's always wanted to try but never wanted to risk it. On the surface it seems simple enough, just a ballgag and a rope hogtie. It's a tie she's escaped from before although with a fair amount of effort. What makes this special is she's doing it in a bathtub with a rising level of water. Making sure her scissors are handy she cinches the last knot. With the water halfway up she gives everything a test to make sure she's secure before a much-needed escape. Despite her planning and skill, there's a reason self-bondage is dangerous. First, her scissors fall with her hogtie preventing her from reaching them under the water. Her attempts to do so only manage to soak her ropes causing them to cinch up tight. Realizing the dire situation she's in she looks for help. Kaecie is reminded, like all self-bondage challengers, I'm there to keep her safe and not to set her free. Where's the challenge in that?

Gmoras vs. A Delicate Balance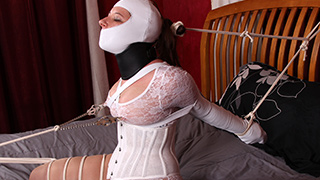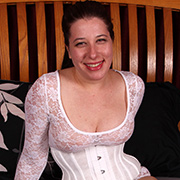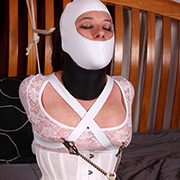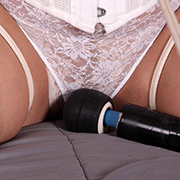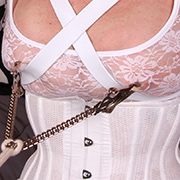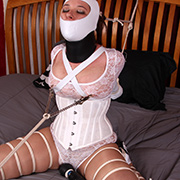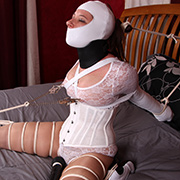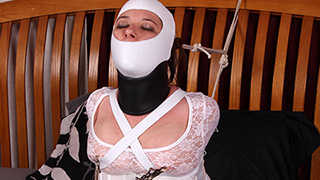 This was one of the more elaborate rigs I've done in a while. Then again, when you have a canvas to work on like Gmoras it's hard not to throw everything at her possible. Hood, posture collar, armbinder, nipple clamps, corset, strappado, and some fun with the magicwand thrown in. With everything in place, she finds herself pulled back by her arms and hair and slightly off center. Her clover clamps pulling her forward she must use her stomach muscles to keep from falling backward. The wand does its part in keeping her distracted though. All in all, it makes for a very happy Gmoras. You can't see it, but trust me, there's a big smile under that hood.